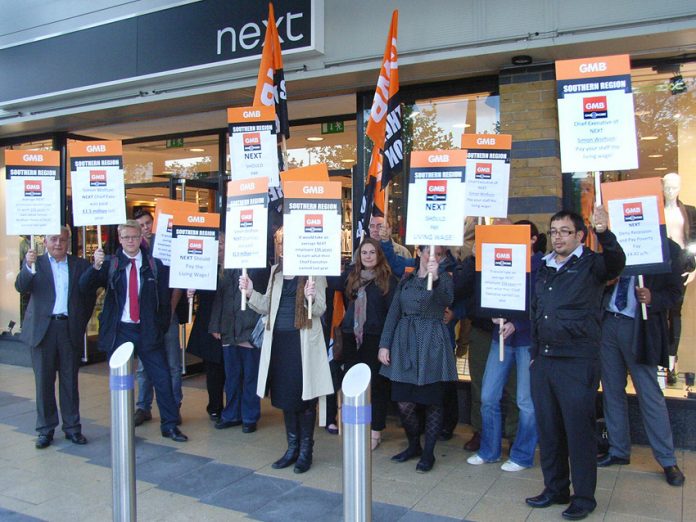 MONDAY night's Channel 4 Dispatches programme claimed the Next shopping chain has slashed £2.5m off its wage bill by employing hundreds of low-earning apprentices, while giving them inadequate training in return.
The pay rate in 2015 for apprentices aged 16-18 is £3.30. The programme, called Low Pay Britain, investigated whether high profile companies, including Leicestershire-based Next, were paying the ultra-low wage in return for poor training.
The programme came on the back of a report, issued earlier this year by education watchdog Ofsted, in which Next's management, teaching and assessment of its apprentices was rated as 'inadequate'. The report also rated apprentices' learning and outcomes as inadequate.
In the highly critical report, issued in July, Ofsted inspectors said support provided for apprentices at Next's stores across the country was inadequate, and did not ensure they remained on their apprenticeship to complete their qualification.
As a result, said inspectors, too many of Next's apprentices were withdrawing from learning. The report said initial information, advice and guidance given to apprentices did not ensure they understood the demands of learning and working in retail and call centres.
Target setting and feedback were not effective in helping apprentices make good progress, said the report. They did not receive sufficiently comprehensive nor timely assessment of their English and maths skills, and when the need for tuition was identified, they were not given prompt access to it.
The head of OFSTED has described the apprenticeships on offer as 'a waste of time'.
Sir Michael Wilshaw said the drive to increase the number of apprenticeships available has 'diluted' quality. In a speech to business leaders Wilshaw said that despite a surge in numbers 'very few apprenticeships' are delivering the skills to the sectors that need them most.
Ofsted said the increase has been mainly in retail, customer service, administration and care sectors.
The report by the education watchdog stated that 'too many low-skilled roles are being classed as apprenticeships'. It emphasises that the 'rise in poor quality' courses has 'devalued the apprenticeship brand'.
The report was put together after interviews with over 1,400 people and visits to 45 providers. It found one third 'did not provide sufficient, high quality training that stretched the apprentices'. In some cases individuals were not even aware they were on an apprenticeship. Wilshaw commented on the fact that too many employers 'are wasting public funds' and 'abusing the trust' placed in them.
He described many courses as simply 'cheap labour' and called upon business leaders to take responsibility. Wilshaw said: 'Those apprentices are being sold short, spending one year doing a pretty worthless job – not really an apprenticeship – and having no employment prospects at the end of it. That's not fair and it's not doing the economy any good and it's certainly not doing those youngsters much good either.'
Kurt Gregory, 20, is on a customer service apprenticeship at Bournville College in Birmingham, which has job prospects. His first apprenticeship, however, was an accounting one, which he left because it was so poor. I thought I'd learn how to do accounts but it just wasn"t what I was expecting,' he said. "I just wasn't progressing anywhere and I wasn't learning anything. I left really good at shredding … and making tea.'
Ellis O'Rourke, 24, is also on an apprenticeship scheme at Bournville College for business administration. She says her first experience of a previous hairdressing apprenticeship was negative and was 'basically babysitting'.
'It was basically you make clients their drinks, which was expected, but it was also their (the employers) drinks and their post run.'
Dr Mary Bousted, Association of Teachers and Lecturers' (ATL) general secretary, said: 'It is disgraceful big companies have been given public money to pay for shoddy apprenticeships which are of little benefit to the young people on them.
'We, and others, had warned about a disregard for the quality of apprenticeships as the Government drives towards achieving its highly ambitious goal of three million new apprenticeships by 2020. Channel 4's documentary also exposes the misdirection of taxpayers' funds to low level apprenticeships in retail, despite the CBI saying that 36% of employers think they will struggle to fill STEM apprenticeship vacancies over the next three years.
'While the Government constantly talks about the need for high level technical skills, we are left wondering whether it is simply hell bent on achieving the three million target irrespective of whether this benefits the economy or the young people trying to achieve their first steps on the career ladder. 
'Channel 4's findings are supported by Ofsted's annual report, published last week, which says the surge to two million apprenticeships over the past five years has mainly been in retail, customer service, administration and care with many of these apprenticeships only providing low-level skills.
'It is worrying the Government insists apprenticeships are employer-led through employer-designed trailblazers and the newly announced Institute of Apprenticeships. The Government introduced legislation to protect apprenticeships from misuse, but this does not apply to programmes delivered by employers so it seems large employers will have all of the rights but none of the responsibilities.
'ATL is arguing for a more learner-centred approach to apprenticeship development and delivery. An apprenticeship should be a job with a productive purpose and progression opportunities, and include high quality training and personal development. Apprentices should receive fair pay and a training contract signed by the employer, training provider and apprentice.
'In ATL's response to the Government's consultation on the apprenticeship levy we recommended employers should be required to meet targets for the conversion of apprenticeships into good quality, permanent jobs. This would avoid apprentices getting only a few hours' work a week on completion of their programme.'