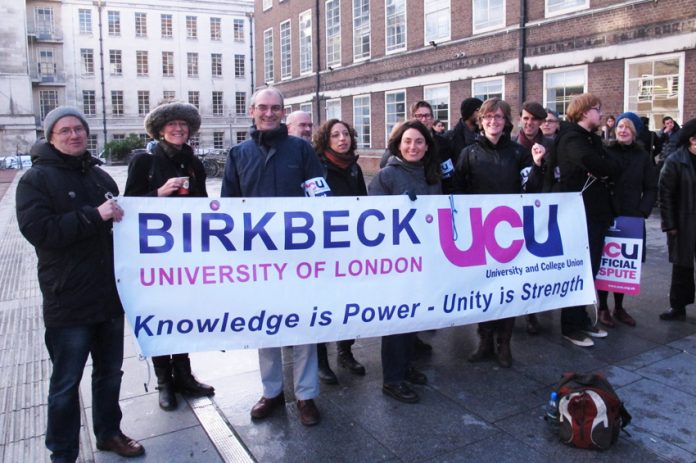 THE ONLY way to stop the nationwide shutdown of almost every university in the country, beginning on Thursday 22nd February, is for university management to stop the attack on our pensions. This is the message from the general secretary of the University and College Union (UCU) demanded at a London conference today (Saturday 10 February).
Sally Hunt will be speaking less than a fortnight before UCU members at 61 universities are due to walk out in a row over changes to the USS pension scheme that the union says would see a typical lecturer lose around £10,000 a year in retirement.
UCU leader Hunt will say that the time for corridor diplomacy is gone and only vice-chancellors prepared to speak out can stop universities drifting into weeks of industrial action and more negative headlines. Not ruling out the possibility of a deal before the first walkout on Thursday 22 February, Hunt will say that Universities UK need to 'stop spinning and start talking'.
Taking particular exception to Universities UK's efforts to spin plans to slash the pensions as an 'agreement', Sally Hunt will say that this would be the first time in history that an agreement leads to months of disruption. She will also say that any vice-chancellor who tries to explain away the strikes to a student or parent as the result of an agreement is a brave one.
Speaking at UCU's 'Cradle to Grave' conference, Hunt will reiterate that the union is happy to go into talks led by the mediator Acas – something that the National Union of Students has called for.
Sally Hunt will say: 'As things stand, in 12 days' time tens of thousands of staff – including many in this room – will begin 14 days of strike action.
'When the employers first set out their plans to axe the guaranteed pension for USS members I said it was the worst offer I had seen in 20 years of negotiating for university and college staff.
'Our members agreed – in overwhelming numbers – with 88% voting for strikes on a record turnout.
'We are running out of time to stop what will be, if it happens, the most substantial disruption of universities ever in the UK.
'Yet, while UCU is working hard to resolve the dispute if we can, what we have from Universities UK is obfuscation and delay.
'How else to explain their briefing of journalists that an "agreement" had been reached on the same day that UCU announced that strike action would go ahead.
'It's a funny kind of agreement where the employers say one thing and the union another.
'This would be the first time in industrial relations history that an "agreement" had been followed by a month of disruption. 'But good luck to any vice-chancellor who tries to explain to students or their parents that the cancelling of classes is the result of an agreement.
'My message to Universities UK is simple: stop spinning and start talking. 'Students have called for both UCU and UUK to go to Acas and UCU is happy to say yes to that. We believe it is still not too late to reach an agreement that avoids disruption.
'I have spoken to many vice-chancellors in the past few weeks who are deeply unhappy with what is being done in their name by UUK.
'Unhappy with the proposal, yes. But also with the perception that goes with it of an uncaring, unyielding employer who refuses to negotiate. 'My message is that you can only change that by speaking out. We are long past the time when corridor diplomacy works – what we need now are university leaders with courage.'
The National Union of Students (NUS) has pledged its support for lecturers. A joint NUS/UCU statement at the end of last month said: 'As representatives of students, NUS is worried that the imposition of these cuts in the face of sector wide opposition will lead to a demotivated and unhappy workforce and consequent recruitment and retention problems as staff vote with their feet and move elsewhere.
'As representatives of staff, UCU is concerned that alongside recent cuts in the real terms value of pay and the very high rates of casualisation, these proposals are seen as yet another kick in the teeth for hard working staff. 'We believe that the current policy of paying ever higher salaries for VCs and Principals while cutting pensions for those who do the work sends a hugely damaging signal to both students and staff.
'In sending its full solidarity to UCU, NUS asks its members to:
• Continue to call for the university employers to recognise the seriousness of the situation and agree to meaningful negotiations either directly with the union or via ACAS.
• Write to their institution head to complain about the impact the strike will have on their learning.
• Participate in local demonstrative solidarity action during the strikes in support of UCU members.
'In response, UCU agrees to:
• Work closely with NUS to explain to students why action is taking place.
• Commit to meaningful negotiations in order to settle the dispute if possible.
• Continue to support NUS in our wider struggle for a fair and just education system.
Hundreds of staff working for The University of Cambridge are set to receive a boost to their pay packets after the university signed up to the living wage, the Unite union, said on Thursday, 8 February. The union hailed the move as Cambridge is one of the most expensive cities in the UK in which to live.
Enshrining the payment of the living wage, currently £8.75 an hour outside London, is understood to start in the summer and will cover all staff, including contractors who will have to offer the living wage by 2020. The Living Wage Foundation recommends the rate (£10.20 in London) which is voluntary and not to be confused with the lower paying national living wage which is compulsory.
Unite regional coordinating officer Ian Maidlow said: 'This is a very welcome pay boost for hundreds of hard working people in a region with a very high cost of living.
'This cost of living in and around Cambridge is largely driven by the very presence of the university and its world-class status as an institute of learning, teaching and research.
'The university has belatedly recognised that its workforce is not solely made up of high-earning academics, and that technical and support staff play an essential role in the smooth running of the university.
'The fact that there is now a commitment to pay the living wage to those lower-paid people whose hard work enables the university to maintain its global reputation for excellence is good news, but it should not stop there.
'This must be a milestone on the journey towards paying everybody a real living wage wherever they work and live. 'All the recognised unions – including the students' union – should be congratulated for their work in achieving this, as should the Labour-controlled city council and Cambridge's MP Daniel Zeichner who have strongly supported the campaign.'
Unite senior rep at the university Will Smith said: 'We welcome this as a sign the university recognises that lower waged staff are struggling with the cost of living in Cambridge.'
Unite has about 500 members at the university in mainly technical, laboratory, estates and maintenance roles. Last year, the Lloyds Bank annual Affordable Cities Review ranked Cambridge as the fourth least affordable city in the UK when it came to house prices as a multiple of earnings.