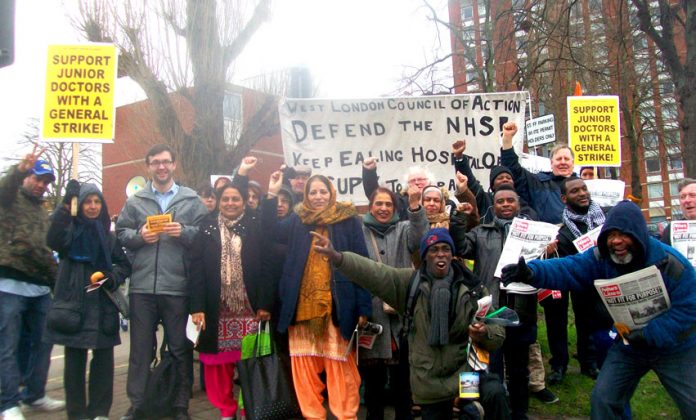 'EALING Hospital is the beating heart of the whole community, leave our hospital alone!' local resident Prempal Dhaliwal said on the mass picket of the hospital last Friday.
'Defend Ealing Hospital! Re-open Maternity!' and 'Victory to the junior doctors! Call a general strike!' rang out on the megaphone as over 50 local residents and supporters demonstrated outside the hospital yesterday. The mass picket was called by the West London Council of Action who organise a daily picket of the hospital Monday to Friday from 7am until 9am.
Prempal Dhaliwal continued: I was born at Perivale Hospital and that got knocked down. My son was born in the Maternity at Ealing Hospital and now that has been shut down. They built a new building for the Mental Health Department at Ealing and now they have knocked that down!
'I worry for my mum who is elderly, I worry for my son, myself and my whole community. We are all working class people, this is a working class hospital. If the high and mighty fall ill then they can go private. Hands off our Ealing Hospital, it is for working class people and it is ours!'
Regular picket Jaswinder Pannu said: 'I am so happy that there is a hospital nearby because my mum is an 86-year-old woman and we live only 15 minutes from the hospital. The treatment is good. To get to other hospitals, you need to take many buses. That is why I want to save this hospital. A lot of people in my Southall branch are working very hard, we need this hospital.'
Martin Pennel, a patient at Ealing Hospital said: 'It is outrageous that they want to close down the A&E at Ealing Hospital. The government are trying to find ways of cutting back on services. We need urgent action to save our A&E. The louder we are and the more action we take, the more the general population will join in the fight.
'The trade union leaders are weak, as long as they are getting their subs once a month they are happy. We are dealing with human life here and human life is more important than money. That is why the trade unions must call strike action to save Ealing Hospital.'
Anselm Adims, a recently-retired nurse who worked at Ealing Hospital and now attends the picket every day, said: 'Our picket of Ealing Hospital has been gaining momentum. Many workers, passers by, mental health workers, doctors and nurses support us.
'I come here everyday and sell the News Line and interview Ealing Hospital workers to find out what is happening in every department at Ealing Hospital. For example they are bringing in casual workers in to some departments. They must re-open the Maternity, we must defend our A&E.
'We need clinical expansion at Ealing. We need more specialised departments, not less. 'That is why I support the junior doctors strike. There must be a unity between nurses, junior doctors and all health workers, they must all come out together.'
Jasmal Grewal said: 'I used to work in Maternity at Ealing Hospital and it was such a good department. Everyone was looked after very well, the patients loved it. We had a new building for Maternity and new equipment and they closed it all down last June. They must re-open it. Due to the Maternity closure a lot of our community find it very difficult to go to other hospitals and they are not getting the care that they need.
'The A&E at Central Middlesex and Hammersmith have been shut down for some time now. Now there is a four hour wait to be seen at the A&E in Ealing. If they close the A&E here the other hospitals will not be able to cope. We have to stop the closures here.'
Daily picketer Kaushalya Gussar said: 'We are going to win this battle and we will keep our hospital here forever! We want the Maternity Department re-opened and we will not let them close down our A&E. This is a local hospital for everyone who lives here in Ealing and in Southall as well. The whole town relies on Ealing Hospital. The health workers, junior doctors and nurses must take action now, they must strike!'
Medical Student and BMA member, Aaron Brown, working at Ealing Hospital told News Line: 'It is the wrong course of action to close down Accident and Emergency Departments. We see more and more need for A&Es, attendance is going up, it is harder to get GP appointments so patients end up coming to A&E.
'It is not just a problem in west London, this is the case all over the country. The best plan that the government can come up with to reduce costs is to close down A&Es. At the end of the day, as a result, the ones who are really suffering are the patients. I am also against the government's attempts to impose a contract on the junior doctors.
'The new contracts are the most ridiculous central proposal I have ever heard of. I do not know why you would offer an already overstretched workforce less pay to work more hours and expect to get away with it. This contract must not come into effect.
'I the support junior doctors strike. They are striking for our generation.'
Daniella Dzurova, a nurse in the RCN union coming off her night shift said: 'The other nearest hospital, Hammersmith is already full up and there is no A&E there, it has already been closed down. As a nurse I work 12 hour shifts. We need more staff, more equipment and more wages, especially for nights and weekends.
'This is why junior doctors are striking. If they take away the junior doctors anti-social hours payments they will come for us next. We need to try our best to support our lives and the lives of others and that means that we need to strike!'