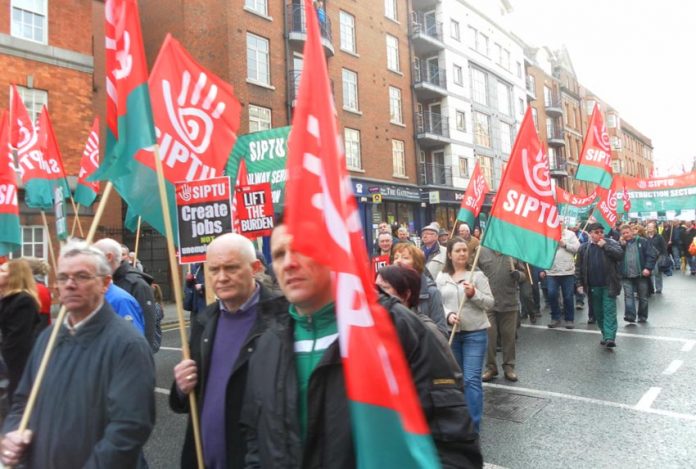 DUBLIN'S Luas tram drivers are taking their 12th day of strike action tomorrow (Friday), with their union SIPTU accusing management of being 'out of control'.
In a provocative letter to SIPTU, management has declared that Luas drivers will lose a full day's pay if they engage in planned four-hour stoppages in the weeks ahead. Luas is run by Transdev, whose managing director Gerry Madden wrote: 'If the four-hour strike actions take place on May 26th, June 3rd and June 7th and employees do not commit in writing not to engage in strike action and work to rule and to working their full designated shifts in advance of those dates, we will no longer accept part performance of the duties required under employees' contracts of employment and will not pay employees at all for any shifts on which the employees are rostered in circumstances where the employees engage in strike action for any part of those shifts.
'In addition, if any employee engages in unofficial industrial action, we will impose the full costs and losses associated with the unofficial action on employees involved in such action.'
Transdev has already imposed a ten per cent pay deduction on drivers who are engaged in a work to rule. The company has also suspended tram drivers from a sick pay scheme in operation at the company. Drivers are set to stage a 12th day of strike action tomorrow as part of a campaign for improved pay and conditions.
Siptu divisional organiser Owen Reidy accused the company of 'pouring fuel on the fire'. Speaking on Tuesday, he said: 'They are making what is a difficult situation worse.
'It seems that every day there is a new initiative from Transdev to break the collective agreement, and break the rules of engagement.
'We had the pay cut, we had the unilateral breach of the sick pay agreement, and now we effectively have Transdev saying a four-hour stoppage is going to become a 12-hour stoppage. We have a company out of control, operating in a very reckless way. They come on the media offering rhetoric saying that they want to resolve this, yet every day they write to us threatening new action which in many cases are a breach of the law and there's not a whimper from Transport Infrastructure Ireland, who own the Luas, or the Government. If the union operated in that way we'd be injuncted.'
Reidy said that Transdev were effectively going to shut down the Luas not the workers.
'We have these stoppages because the company won't talk to us. They haven't talked to us since the 25th of April. In the absence of the company talking to us, having effectively locked us out of that process, the workers have to continue their action. All of this is avoidable. Transdev is reckless and out of control. Quite regrettable.'
Patricia King, General Secretary of the Irish Congress of Trade Unions, said: 'The last set of proposals in this dispute were rejected by 165 votes to two. To suggest that you can settle a dispute on lesser terms, and to suggest that the only way you will settle the dispute is on those lesser terms is not conducive to parties coming to a settlement. At this moment in time I see no indication, unless something changes, I don't see any early settlement to the dispute unfortunately.'
Last week, Transdev suspended all tram drivers from its sick pay scheme with immediate effect after they announced further strike days. Siptu said it shows Transdev is attempting to 'rachet up' the dispute. In another provocative letter to Siptu last Friday, Transdev managing director Madden claimed the absence rate for drivers is currently running at about 12 per cent, compared to 4.5 per cent for 2015.
Madden wrote: 'The company is suspending all individual drivers from the regular sick pay benefit scheme and will not be processing any regular sick pay payments in the May payroll and thereafter pending a return to normal absence levels.'
Reidy said that Transdev has effectively locked them out of talks, but that the union 'will not beg for talks'. He said: 'We have not been in touch with them since we served notice on 11th May. But we're not going to beg for talks.
'We said we're available for talks, but it seems Transdev, after 19 days having cut off the talks, don't want to negotiate. We don't know if they want to humiliate or force their own employees into submission, but that won't happen.'
Reidy said it was '19 days since Luas management broke off negotiations with us. They need to decide whether they want to resolve this dispute or not. Since that time, they have spent their time cutting pay by 10 per cent, threatening to take people off the pay roll, forcing people to work through their breaks and not facilitating people with their annual leave,' he said.
Full list of scheduled strikes:
• Friday 20th May 2016
• Thursday 26th May 2016 – 4 hour stoppage (3-7pm)
• Friday 27th May 2016
• Thursday 2nd June – 4 hour stoppage (3-7pm)
• Friday 3rd June – 4 hour stoppage (9am-1pm)
• Tuesday 7th June – 4 hour stoppage (9am-1pm)
• Wednesday 8th June – 4 hour stoppage (6-10pm)
• Thursday 9th June – 4 hour stoppage (6-10pm)
• Friday 10th June – 4 hour stoppage (6-10pm)
• Meanwhile, Siptu warned the government that it needs to talk to all unions over a new public sector pay deal immediately, or face widespread industrial disputes.
Reports earlier this week suggested that the government is planning pay rises for nurses and doctors, but that they would not extend to teachers and other public sector workers. SIPTU President, Jack O'Connor warned: 'I do think it's important to recognise that there is an outstanding issue in relation to the restoration of pay which was deducted during the economic collapse.
'I do think it's important that whoever is in government adheres to the principle that pay is collectively bargained. I think that if we don't, we're going to have industrial disputes and we're going to have immense difficulty.'