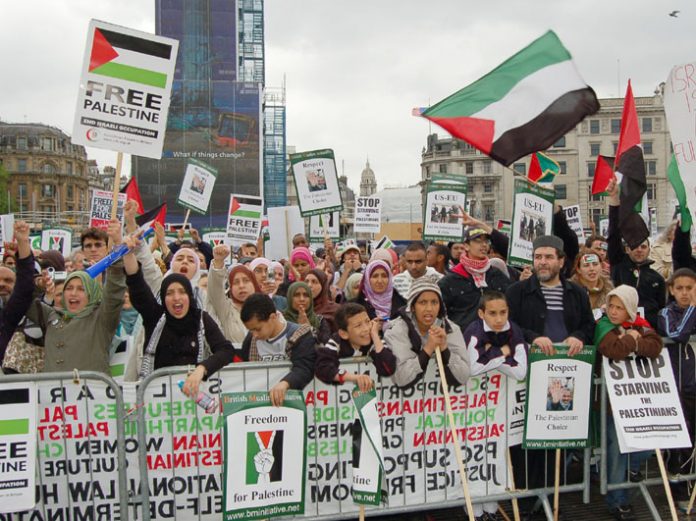 Israel has grabbed 100 acres more of occupied Palestinian land for the expansion of illegal Jewish colonies as the Israeli Occupation Forces (IOF) killed three Palestinian women and a four-year-old son last Saturday.
Israel also acknowledged the extra-judicial assassination of a top-ranking anti-occupation activist on Saturday, but denied any attempt on the life of the Palestinian intelligence service chief, General Tareq Abu Rajab, who survived a bomb blast on the same day.
The IOF last week signed an order for the expansion of the Beitar Ilit Jewish colony, built on occupied Palestinian land, near Jerusalem by 100 acres, the leader of the Israeli 'Peace Now' group, Yariv Oppenheimer, said on Saturday.
Israel Radio reported on Sunday that, in addition to Beitar Ilit, the Zionist settlements of Givat Zeev, Oranit and Maskiot in the West Bank have been expanded by order of the Israeli 'defence' ministry.
The orders were signed by Defence Minister, Amir Peretz, the radio said.
Oppenheimer condemned the expansions, saying they were apparently an attempt to take more Palestinian land ahead of Prime Minister Ehud Olmert's plan to unilaterally lay down Israel's final borders by 2008.
Meanwhile, the Israeli forces acknowledged they had extra-judicially assassinated top-ranking Palestinian anti-occupation activist, Mohammad Sha'ban al-Dahdouh (Abu Obaydah), in an air raid that also killed Hanan Aman, 32, her four-year-old son Mohammad and female relative Naima Hamdi Aman, 25, in Gaza city on Saturday.
Al-Dahdouh was identified as a leading Islamic Jihad activist.
Yossi Beilin, the leader of the Israeli Meretz party, called for the Olmert government to stop its policy of assassination strikes that kill innocent people as well.
He said on Israeli radio that the killing of al-Dahdouh was insufficient justification for the killing of a small boy, his mother and grandmother.
Beilin was referring to the fact that the females and the son were bystander victims of the assassination of al-Dahdouh.
Separately, Israeli sporadic gunfire overnight Sunday killed another Palestinian woman in the northern West Bank refugee camp of Balata, near Nablus.
Palestinian witnesses said the 48-year-old woman was shot by IOF troops, who were patrolling the camp, after she left her home to see what route her husband, a cleaner, should take to avoid the soldiers. Medics later pronounced her dead.
An IOF spokeswoman denied the troops killed the woman and said the incident will be investigated.
The IOF missile strike on Gaza city occurred hours after Palestinian General Intelligence chief, Tareq Abu Rajab, 59, survived an assassination attempt.
Israel denied any involvement.
He was hit in the chest in an explosion that tore through his heavily-guarded headquarters in Gaza city on Saturday and was first taken to Shifa Hospital in Gaza City, where doctors requested that he be transferred to Ichilov Hospital in Tel Aviv due to the severity of his wounds.
Abu Rajab, is a senior member of Fatah and survived another attempt on his life in August 2004, when he was hurt in a drive-by shooting.
Abu Rajab's bodyguard and nephew, Ali Abu Hassira, was killed in a blast while more than ten others were wounded.
Abu Rajab was appointed to his current post by President Mahmud Abbas in April 2005.
Abbas, attending the Economic World Forum in the Sinai resort on the Red Sea in Sharm el-Sheikh, Egypt, condemned the 'assassination attempt', and said that it 'threatens the Palestinian Authority with grave danger'.
'This a very unfortunate incident and annoying at the same time and threatens (the Palestinian National Authority) with grave danger,' Abbas said as he emerged from a meeting with US deputy secretary of state Robert Zoellick.
Palestinian lawmaker, senior Fatah legislator and former deputy premier and information minister of the Palestinian National Authority (PNA), Nabil Sha'th, who was accompanying Abbas, said the attack was an attempt to push Palestinians into a civil war.
'Some people want us to accuse Hamas,' he said, adding: 'They want to push us into a civil war with Hamas.
'I don't know if Hamas did it, but if someone from Hamas did it they should be put on trial.'
There was no immediate claim of responsibility for the explosion, which hit Abu Rajab as he entered an elevator with his aides and bodyguards.
Abu Rajab's deputy, Tawfik al-Tirawi, said that 'mercenaries' had infiltrated the PNA security forces and were planning to kill top Palestinian leaders, including Abbas. 'We are all being threatened,' he said.
He added that he was concerned for President Abbas' safety.
'We're concerned about the safety of the president and all the leaders and senior officials because of the anarchy and lawlessness,' al-Tirawi said in the West Bank town of Ramallah.
Strongly dismissing claims by Interior Ministry spokesman, Khaled Abu Hilal, to the effect that the explosion may have occurred when Abu Rajab's bodyguard accidentally dropped a hand grenade, al-Tirawi confirmed the explosion came from a home-made bomb that had been planted beneath the private elevator of Abu Rajab.
Abu Hilal later retracted his hand grenade theory.
The Palestinian Minister of Interior, Saeed Siyam, said the ministry will launch an investigation into the incident and pledged to bring those responsible to justice, regardless of their factional affiliation.
Ghazi Hamad, the spokesman for the Hamas Prime Minister, Ismail Haniya, said also the explosion would be investigated: 'We are asking not to make early judgments, accusations or responses that might lead to tension on the Palestinian streets,' Hamad said.