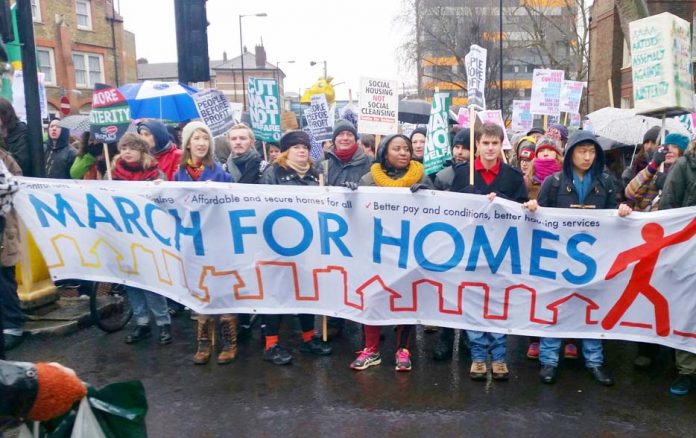 NEW independent research published by Crisis and the Joseph Rowntree Foundation on Wednesday revealed the huge and increasing scale of homelessness in England.
The Homelessness Monitor: England 2015 shows how official homelessness figures are masking the true scale of the problem, with 280,000 cases of people facing homelessness last year – a 9% rise on last year, but not reflected in the headline statistics.
The independent study, which analyses the impact of economic and government policy developments on homelessness, draws on a survey of councils combined with a new statistical analysis and in-depth interviews with homeless individuals and families.
It reveals how welfare cuts and other changes have left growing numbers struggling to keep a roof over their heads, with more than half of councils fearing worse is actually yet to come and this year is going to see an even worse situation arising.
There is a clear rise in the number of people becoming homeless due to the loss of a private rented home, which now accounts for 30% of all statutory homelessness cases.
Furthermore, nearly two thirds of councils think that headline figures no longer reflect local trends as they increasingly rely on more 'informal' approaches to homelessness that are recorded separately.
The annual independent study – which drew on a survey of England's 326 councils in 2014 – said that the rise in the number of people facing homelessness was in part the result of benefit cuts and sanctions.
The study also blamed a 'woeful lack of affordable housing' which meant growing numbers of people were having to live away from their area.
The study combined the official 'homelessness acceptances' figure from last year (52,270) with the number of homelessness 'prevention and relief' cases (227,800) – where councils had taken steps to tackle the problem.
The study also found that:
• Increasing numbers of people are being forced to move away from their local area to find affordable housing.
Almost one in four (24%) of placements last year were 'out of area', marking a massive 26% year-on-year increase.
• Rising numbers of people are facing debt problems.
In 2013-14, councils dealt with 50,000 cases of debt advice or financial assistance, showing a 47% year-on-year increase.
• A sharp increase in the number of people becoming homeless after losing their privately-rented home, which now account for 30% of cases.
• Homelessness is rising fastest in London, with a 12% increase in the number of people facing homelessness in the last year.
• Only one in 10 councils think the homelessness impacts of welfare reform have largely run their course – while 53% of councils believe that worse is still to come over the next two years.
The research was compiled by academics who were based at Heriot-Watt University, the University of New South Wales and the University of York.
Jon Sparkes, Chief Executive of Crisis, said: 'Today's report reveals the true scale of homelessness in England, which headline figures no longer reflect.
'Council officials are clear that benefit cuts and sanctions are taking a dreadful toll on people's lives, with rising numbers facing the loss of their home at a time when councils are being forced to cut services.
'This is a desperate state of affairs.
'What this report clearly shows is that political choices have a huge impact on homelessness.
'As we approach the general election, we want all the parties to take homelessness seriously as an issue.
'We want to see manifestos that commit to tackling the woeful lack of affordable housing, reviewing sanctions and cuts to housing benefit and to funding and supporting local homelessness services.'
Julia Unwin, Chief Executive of the JRF, said: 'This research highlights the growing divergence between regions, with London and the South reporting much higher levels of homelessness than the North, confirming that structural problems in the housing system are one of the main drivers of the under-reported surge in need.
'Homelessness can be catastrophic for those of us who experience it.
'If we are to prevent a deepening crisis, we must look to secure alternatives to home ownership for those who cannot afford to buy – longer-term, secure accommodation at prices that those on the lowest incomes can afford.'
Young and homeless research has found:
• 52% of those seeking help with homelessness are under 25. 
• Councils are preventing homelessness amongst homeless young people in just 1 in 5 cases.
• More than half of young people become homeless because of a relationship breakdown, mainly with their parents.
• Homeless young people face a range of complex problems – more than 6 in 10 are not in education, employment or training for example.  
• Half of agencies believe the problems faced by young people have got worse since last year. 
• Charities report that homelessness caused by financial problems due to benefit reductions has increased six-fold. 90% believe sanctions have affected young people's ability to access accommodation. 
• 74% of homelessness organisations were unable to support a young person due to limited capacity.
• A third of charities report increasing support for young people.