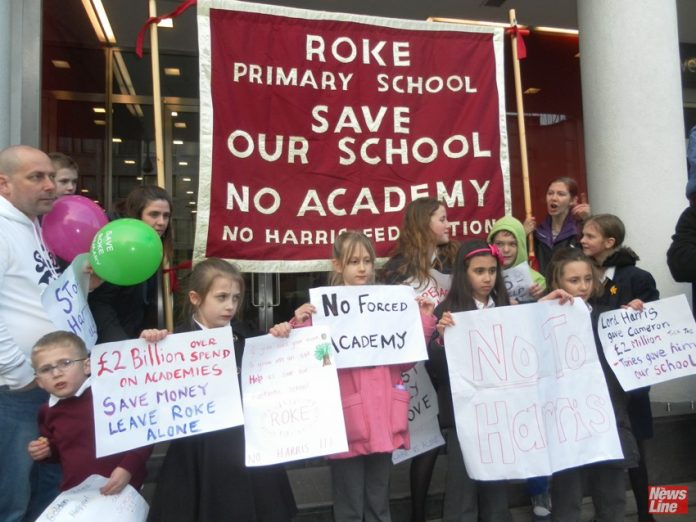 A DAMNING report, just released, exposes the misuse of public funds in privately run academy schools, the huge pay packets academy bosses receive while highlighting the government's own failure to provide assurances on the management of asbestos in schools.
The report of the Commons Public Accounts Committee (PAC) entitled 'Academy Accounts and Performance', has prompted the National Education Union (NEU) to call for all academies to be taken back under the control of their local councils.
Kevin Courtney, Joint General Secretary of the NEU, said: 'This report provides deeply uncomfortable reading for Damian Hinds. 'The report lays bare the many ways in which parents, staff and local communities are being ignored or side-lined by academy trusts.
'It highlights the need for Ofsted to report on the impact of funding cuts on the quality of education in schools. 'Alarmingly, the report also points to the Department for Education's failure to provide assurances on the management of asbestos in schools. 'The academies programme has drastically reduced transparency and accountability of schools, with parents having little say or access to information about how academies are run.
'The DfE is unable to confirm that "appropriate" arrangements for complaints are in place in all academy trusts. On top of which, Regional Schools Commissioners are not responsive to parents and are failing to intervene even when alerted to serious problems.
'This is completely unacceptable, and flies in the face of assurances back in 2014 that RSCs would provide oversight and scrutiny. Eyewatering sums of taxpayers' money have been spent getting us to this sorry place. 'Oversight and intervention is sorely lacking at the DfE, too.
'Scandals such as Whitehaven Academy are a direct consequence of Government failures to act. 'And delays in investigating Wakefield City Academies Trust are a clear sign that the Education and Skills Funding Agency (ESFA) is not fit for purpose.
'From executive pay packets to related party transactions, they are failing to prevent abuse.
'This report is absolutely damning for both the DfE and the ESFA. One senses a growing irritation in the PAC that the DfE is not responding to their demands for greater transparency for academies. 'The problem for the DfE and the ESFA is that they have neither the resources nor the legal means to achieve greater transparency because of the haste and inadequacies of Michael Gove's 2010 Academies Act.
'This absolutely damning report shows the need to restore local accountability and democratic governance to all schools. 'The NEU believes this can best be done by ensuring that all schools are overseen by local authorities.
'We agree with the PAC's recommendation that, whilst academy trusts still exist they should be required to make available financial information at school level; that there should be sanctions with teeth to deter, punish and prevent malpractice among academy trustees;
'That all academy trusts must publish complaints procedures with named individuals to whom parents can escalate concerns; and that the Department and ESFA should publish reports into trust abuses in a timely and transparent manner. 'These are all demands that the NEU has been making for some time.
'We would further add that related party transactions should be banned once and for all. No trustee should be allowed to profit from their involvement in running state schools. 'We agree with PAC that Ofsted should examine and report on whether the quality of education and the outcomes schools achieve are being adversely affected by the need to make savings.
'It beggars belief that the HMCI told the PAC that Ofsted inspectors were not seeing an impact of funding cuts on educational standards. 'They cannot possibly have been asking the right questions.
'Our members tell us that teachers and support staff are being cut, the curriculum is being narrowed, there are insufficient resources in schools and, most alarmingly, that the education of children with SEND is being disproportionately impacted by funding shortfalls.
'The NEU also shares PAC's concerns about asbestos management in schools. 'Failure to provide the DfE with information about management of asbestos in schools is putting lives at risk. 'These delays show that academy trusts and local authorities who bear overall responsibility for health and safety in schools are not facing up to their legal responsibilities.'
Meanwhile parents at two schools in Lewes were rejoicing at the news that after their hard fought campaign, plans to force their schools to become private run academies were withdrawn. After the privatisation plans were withdrawn parents, children and teaching staff celebrated their victory.
The Save Lewes School campaign was formed to try and prevent six schools in the town from becoming academies. They are Lewes Priory, Southover CE Primary, Western Road Community Primary, South Malling CE Primary, Wallands Community Primary and Iford and Kingston Primary Schools.
But Western Road and Southover have withdrawn from the discussions.
Governors of Southover CE Primary made a unanimous decision to withdraw from the MAT (Multi-Academy Trust) Working Group.
Jonathan Sharpe, chairman of governors, said the school remains committed to working with other Lewes schools and praised the energy shown by parents over the last few months.
Meanwhile, campaigners celebrated outside Western Road Community Primary after it also voted to withdraw from discussions as well. Holly Atkins, whose son attends the school, said: 'I am absolutely delighted that Western Road School has withdrawn from the MAT proposal.
'I actually shed some tears of joy and relief when I read the email from our chairman of governors. Susan Kelly, whose daughter attends Southover CE Primary said: 'Everyone at Save Lewes Schools is so pleased that Western Road governors have voted unanimously to withdraw from plans for a MAT.
'We've been overwhelmed by the strength of feeling for the schools in this town. Parents are giving up so much of their time to support this cause. 'Save Lewes Schools will continue to do everything we can to help the remaining four schools find alternative options to forming a MAT.'
The National Education Union (NEU) is working with the four remaining schools.
Phil Clarke, NEU secretary for Lewes, Eastbourne and Wealden, said academies represent a threat to staff pay and conditions. He added: 'We are very pleased by the governors' decision and our members at Southover and Western Road schools are looking forward to continuing to work in successful, thriving schools within the local authority family.
'Our members very much hope governors in the other Lewes schools follow suit so staff can build joint working across the schools without the spectre of privatisation hanging over them.'
One of the country's largest multi-academy trusts was lent more than £1 million by the government to help 'cash flow management' last year, the second such settlement it has negotiated to takeover struggling schools.
Ormiston Academies Trust, which runs 37 schools across England, received an extra £1.1 million from the Education Skills Funding Agency last year to take on two schools built under private finance initiatives. The interest-free loan, one of two the trust has received in recent years, does not have to be paid back for nine years!
Ormiston's 2017-18 accounts, published earlier this month, state that the 'financial environment … continued to be challenging', with all academies identifying 'economies and efficiencies wherever possible'.
A spokesperson for Ormiston said the latest loan was to 'support the conversions' of two academies, built using PFI contracts. She said the trust would not have been able to take on the Ormiston Meridian Academy, near Stoke-on-Trent, in September 2017 without a loan from the ESFA because of the school's precarious 'financial position'.
Academy trusts are expected to repay any additional funding once they have reached a stable financial position. But accounts show the trust has had another interest-free loan from the ESFA. It has four years to pay back a £320,000 loan to help with low numbers at the Endeavour Academy. They also show that the pay of Nick Hudson, its chief executive, rose to £184,000, up from a £160,000 to £170,000 bracket in 2016-17.
A former academies minister's trust is failing to meet government guidelines over good governance – and has seemingly been allowed to expand without having to update its arrangements. Newly published accounts for Future Academies, founded by Lord Nash, show a majority of the trust's members are also trustees.
One governance expert said this level of overlap was 'not robust', and went against the department's recommendation for best practice. The 2017 academies financial handbook – signed off by Nash who was academies minister at the time – advises trusts that most members should be independent of the board of trustees.
Of Future's four members, three are also trustees. The 2017 handbook, which recommended trust boards have five members, says that if members also sit on the board of trustees this 'may reduce the objectivity with which the members can exercise their powers'.
Nash wrote a foreword for the handbook explaining how advice had been 'strengthened' to emphasise how 'having separation between those individuals who are members, trustees and employees promotes objectivity and reduces concentrations of power'. Emma Knights, chief executive of the National Governance Association, said there was 'too much overlap' in Future's structures.