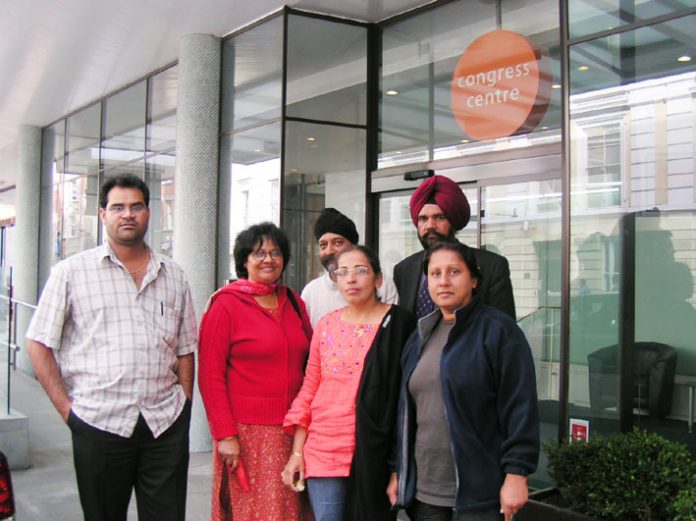 The European Court of Human Rights is considering an important case for returning Croatian Serb refugees, says Amnesty International.
The Grand Chamber of the European Court of Human Rights and Fundamental Freedoms is considering Blecic v. Croatia, 'a case that could impact the fate of tens of thousands of Croatian Serb refugees who lost their occupancy rights to socially owned flats after fleeing the 1991-95 armed conflict in Croatia', explains Amnesty.
The human rights organisation's statement says: 'Kristina Blecic, an ethnic Serb/Montenegrin, had held since 1953 the occupancy right to her socially owned flat in Zadar, Croatia.
'In July 1991, shortly before the full escalation of the armed conflict in Croatia, she left Zadar to visit her daughter in Italy.
'The shelling of Zadar began in mid-September 1991 and, because of the deepening armed conflict, Kristina Blecic decided to remain in Italy with her daughter.
'On her return to Zadar in May 1992, she found that her flat had been illegally occupied since November 1991 by an ethnic Croat family who prevented her access to her home.
'In October 1992, the Zadar Municipal Court terminated Kristina Blecic's occupancy right to the flat on the grounds that she had not occupied it for six months, disregarding the circumstances that prevented her return: a state of armed conflict and the fact that she was prevented access to the flat by the new occupants.
'Kristina Blecic unsuccessfully initiated administrative proceedings, as well as criminal complaints against the occupants, to evict them and return to her flat
'To date she has been unable to regain access to her home and the cancellation of her occupancy right was confirmed by the Croatian Constitutional Court in November 1999.
'The Blecic v. Croatia case relates to the termination of Kristina Blecic's occupancy rights to her flat in Zadar and was referred to the Grand Chamber after the European Court of Human Rights and Fundamental Freedoms held in July 2004 that the rights of the applicant had not been violated.
'In her application, Kristina Blecic argued that Croatia had breached her right to respect for her home, as provided in Article 8 of the European Convention for the Protection of Human Rights and Fundamental Freedoms (ECHR), and her right to peaceful enjoyment of her possessions (Article 1 of Protocol No.1 to the ECHR).
'In deciding that Kristina Blecic's rights had not been violated, the Court determined that the termination of her occupancy after her absence could be justified by the objective of Croatia to provide housing for other citizens.
'Amnesty International considers the case of Kristina Blecic to be illustrative of the adverse human rights consequences of a pattern of discriminatory terminations of occupancy rights to socially owned flats during and after the war in Croatia.
'Provisions ending the occupancy right, in those cases where the property had been vacated for six months, were in the vast majority of cases strictly applied only against Croatian Serbs (and Montenegrins).
'In applying such provisions, the Croatian authorities typically failed to take into consideration the circumstances of the war which may have prevented Croatian Serbs from remaining in their flat.
'These circumstances included violent attacks, harassment and discrimination against Croatian Serbs and, in some cases, their forced eviction by members of the Croatian Army and police forces.
'In its latest background report on refugee return in Croatia, issued in July 2005, the Organisation for Security and Co-operation in Europe (OSCE) Mission to Croatia noted that "up to 30,000 households throughout Croatia, almost exclusively Serb, who used to live in former socially owned apartments as holders of occupancy/tenancy rights (OTR) lost these rights and physical access to their homes during and after the war".
'The OSCE report added that the individuals concerned form the largest remaining category of refugees and internally displaced persons in Croatia without a housing solution.
'Amnesty International considers that one of the greatest obstacles to the sustainable return of thousands of Croatian Serbs has been the failure to date of the Croatian authorities to provide adequate housing solutions to Croatian Serbs who were stripped of their occupancy rights, including where possible by reinstating occupancy rights to those who had been affected by their discriminatory termination.'
Amnesty concludes: 'Approximately 300,000 Croatian Serbs left Croatia during the 1991-95 conflict, of whom only some 115,000 are officially registered as having returned.
'According to the UN High Commissioner for Refugees, some 200,000 Croatian refugees, mostly Croatian Serbs, are still displaced in neighbouring countries and beyond.
'Many of these refugees, especially those who formerly lived in urban areas, cannot return because they have lost their occupancy rights to socially owned apartments.
'Lengthy and in some cases unfair proceedings, particularly in lower level courts, remain a major problem for returnees pursuing their rights in court. Croatian Serbs continue to be discriminated against in access to employment and in realising other economic and social rights.
'Some cases of violence and harassment against Croatian Serbs continue to be reported.'