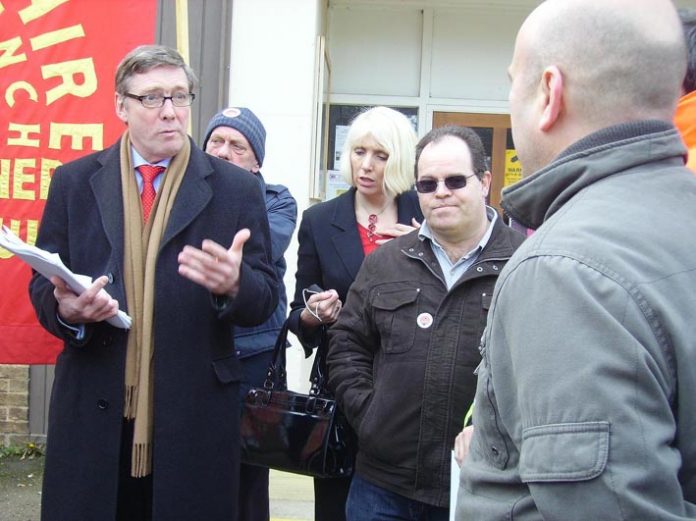 POSTAL workers received overwhelming support from the public last Friday when they collected petitions and letters opposing the government's plans to part-privatise Royal Mail.
Corby delivery members are incensed by the Labour MP Phil Hope's refusal to support a completely publicly owned Royal Mail despite his previous opposition to privatisation, and commitments given by the government to retain a wholly publicly owned Royal Mail in its 2005 manifesto.
Mick Fitzmaurice, CWU Branch Secretary said, 'When I handed Mr Hope the letters and petitions I asked him outright if he was supporting the government manifesto for a wholly publicly owned Royal Mail and he refused to commit to this.
'He claimed that there is a debate going on surrounding partly privatising Royal Mail to secure jobs and pay for the pension deficit, which is an absolute nonsense and completely out of synch with what the voters in Corby want.
'We did not meet with one person on Friday that supported Mr Hope's desire to privatise parts of Royal Mail and there is a strong feeling of betrayal and hypocrisy amongst the people that we spoke to.
'The public are not naïve enough to believe that a private company would put the delivery service before profit and the evidence is clear that jobs would be far less secure because a private company would cut wherever possible to maximise its profits.
'I think it is a bit disingenuous of Mr Hope to even attempt to use such arguments to try justifying his stance.
'The people of Corby are generally loyal Labour Party supporters but Phil Hope will be making a massive mistake if he continues to put his personal ambitions or views before that of his electorate.
'I suggest that he also engages with the public because his response to the Communication Workers Union is way out of tune with what the Corby public is telling us.
'The CWU is planning further actions over the coming weeks, this will involve more public stalls and this week we will be delivering a leaflet to the rural areas of Corby making them aware of how privatisation will damage the delivery service which they have become accustomed to.'
A national rally & lobby of parliament is being held by the CWU on the 24th February as it steps up the political campaign.
Phil Hope has been invited to attend as he is the only Labour MP in Northamptonshire who has refused to challenge the government over its attempt to renege on its 2005 manifesto.
Mick Fitzmaurice said that there would be no let-up in the CWU campaign where MPs like Phil choose not to put the local people before their career.
'I have written to Phil again reminding him of the Labour Party's historic opposition on Royal Mail privatisation and the government's commitments to a wholly publicly owned Royal Mail, not a partly owned which he is currently promoting.
'I have asked him to reconsider his position and I am awaiting a response but I believe that he will be making a vital error to continue throwing his support behind Peter Mandelson's wish to privatise when he knows that the people of Corby are bitterly against it.'
Gareth Eales, CWU Deputy Branch Secretary said: 'What Phil Hope's lacklustre position actually means is that he is in favour of a part-privatisation of Royal Mail as a means to fund the company's pension deficit.
'It is immoral that the government can find billions of pounds of taxpayers' money to bail out bankers who have brought the country to its knees, but the only solution they can find for the future of Royal Mail, a company they own, is to sell it off.
'Sickening stuff' added Eales.
The Corby postal workers have addressed the following leaflet to all Corby residents.
'To: Corby Members of the Public
OPPOSE ROYAL MAIL PRIVATISATION
In December of last year the Government announced they were considering the part-privatisation of Royal Mail and selling some of the company to Dutch postal operator TNT. This proposal was led by Lord Peter Mandleson the Business Minister and must be opposed.
What the current recession demonstrates is that the private sector has failed the British public and cannot be trusted to run and maintain such a major service as the Royal Mail.
It is therefore ludicrous for the Government to consider selling off one of the nation's most prized assets and a 350- year-old institution.
We need your help to get the government to think again before embarking on such an ill-considered and damaging course of action.
HOW CAN YOU HELP?
You can sign the below e-petition at the 10 Downing Street website and oppose the privatisation of Royal Mail: Visit:
http://petitions.number10.gov.uk/Royal-Mail-Sale/
You can also write to your local MP and tell him you oppose the government's plans to sell off the Royal Mail.
Your MP Mr Phil Hope has not been prepared to oppose the Government's proposal. Let him know how you feel.
Contact Phil: Tel: 01536 443325.
Or write to: Phil Hope MP
Fax: 01536 269462 Chisholm House
Email: hopep@parliament.uk
The Royal Mail – Better in the Public Sector.'