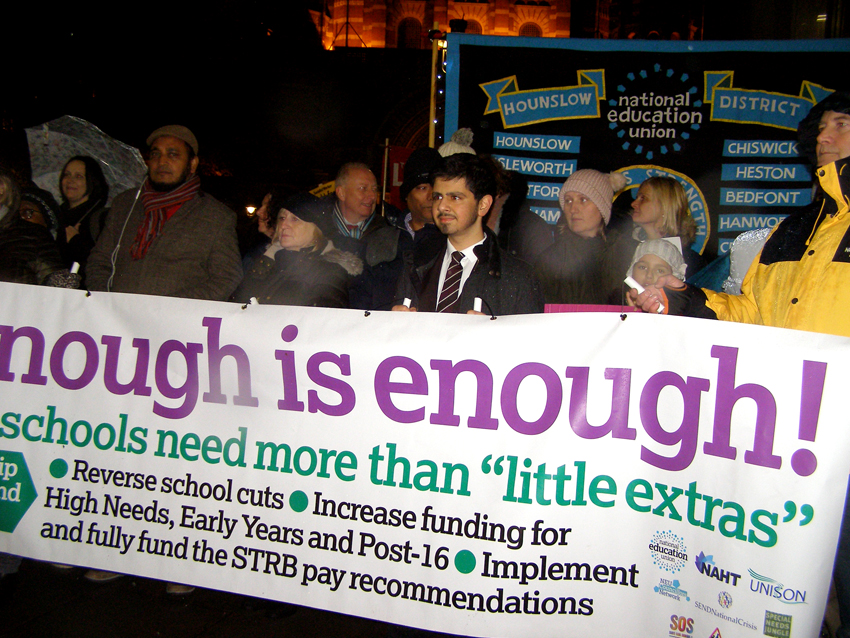 NATIONAL Education Union (NEU) class size analysis shows a rise in 474 England constituencies since 2010.
One in three teachers sees 'reducing class size' as the top priority for the next government.
The NEU analysis of class sizes in England between 2010-19. According to the government's own data found:
474 out of 533 England constituencies have seen an increase in average class size since 2010;
Average class size has fallen, often only slightly, in just 59 constituencies over the same period;
Almost a million pupils – 961,127 – are in classes of 31 or more, up from 747,531 in 2010. This is a 31% increase;
There are now 63,566 pupils in classes of 36 or more, up from 44,093 in 2010. This is a 42% rise;
Since 2010, there has been a 258% rise in the number of secondary pupils in classes of 36 or more. The leap is from 6,107 to 21,843;
The NEU also revealed that 34% of teachers have nominated a reduction in class size as their absolute top priority for the next Parliament, regardless of who enters 10 Downing Street.
NEU members were recently asked to identify which policy change would be most critical for the next government, in order to directly improve the quality of pupils' education.
'Reducing class size' came top, with 39% of secondary staff and 21% of primary staff choosing it above all other issues. This averages 34% of those polled.
This strong sentiment is in the context of:
Department for Education data (census January 2019) showing that 8.4% of all secondary school classes contain 31-35 pupils;
The most recent OECD Education at a Glance report found that Britain has the largest primary school classes in the developed world, averaging 27;
The percentage of secondary pupils in classes of 31 or more is at its highest (13%) since 1981. The average class size in primary is at its highest level since 2000;
Pupil numbers have risen year-on-year in secondary schools, but real-terms funding cuts have squeezed schools' ability to keep class size down;
There are 420,000 more pupils but 3,500 fewer teachers than in 2015;
Teaching assistant numbers in secondary schools continue to fall, by 3% in the last year alone and by over 15% in the last five years.
NEU analysis of class size data shows:
The 20 constituencies with the largest primary classes are: Christchurch; Eastbourne; Bournemouth East; Stoke-on-Trent Central; Mid Dorset and North Poole; Sutton and Cheam; Sheffield, Hallam; Dartford; Warley; Basildon and Billericay; Ilford South; Epsom and Ewell; Castle Point; Woking; Fareham; Bolton North East; Chelmsford; Maidstone and The Weald; Southend West; and Gravesham.
All have an average class size of 28.8 or more. The European average is 20.
The 20 constituencies with the largest secondary classes are: Worthing West; Barnsley Central; Winchester; Thurrock; Brighton, Pavilion; Fylde; Tunbridge Wells; Great Yarmouth; Sheffield South East; Bridgwater and West Somerset; Wakefield; Stockport; Barnsley East; Shrewsbury and Atcham; Colne Valley; Harlow; New Forest East; Gosport; North Devon; and Nuneaton.
All have an average class size of 23.8 or more. The European average for lower secondary is 21.
The 20 constituencies with the largest increase in class sizes are: Clacton; Nottingham East; Bassetlaw; Birmingham, Northfield; Birmingham, Edgbaston; West Suffolk; Chatham and Aylesford; Maidstone and The Weald; Burnley; York Outer; Carlisle; Hereford and South Herefordshire; Rochford and Southend East; Liverpool, Walton; Fylde; Stone; Bolton West; Dartford; Jarrow; and Sheffield, Hallam.
There are 263 constituencies with 100 or more pupils in classes of 36 or more.
The constituencies with the most children in classes of 36 or more are: Ilford North; Bury North; Bermondsey and Old Southwark; Stoke-on-Trent Central; Stoke-on-Trent North; Middlesbrough; Chesham and Amersham; Manchester, Gorton; Old Bexley and Sidcup; Harrogate and Knaresborough; Bolton North East; Wantage; Barking; Stoke-on-Trent South; Poplar and Limehouse; Thurrock; Wyre and Preston North; Oldham West and Royton; Sheffield, Brightside and Hillsborough; and East Ham.
Commenting on the analysis, Dr Mary Bousted, Joint General Secretary of the NEU, said: 'Pupils are experiencing the inevitable result of several government policies which have conspired to put a squeeze on schools.
'The real-terms funding crisis has had catastrophic effects, including a direct impact on class size.
'Today's analysis will ring true for every parent who has witnessed their school cutting teaching assistant posts, reducing subject choice, or organising fundraiser events and begging letters. This is sadly all too common and a growing issue.
'In addition, teacher recruitment continues to lag behind the rise in pupil numbers, especially in secondary, with not enough done to attract subject specialists to the profession. Government targets are missed year upon year.
'A continued depression in teacher pay combined with high levels of workload, means the government has been vastly more effective at driving people out of teaching than in retaining them.
'Parents are no fools. They can see with their own eyes the impact of funding pressures on their children's education, and the reduction in individual contact time that their child has with their teachers.
'Voters will scrutinise manifestos closely, and it would be foolish of any party to underrate the impact of education pledges, not to mention legacy, on the result. In this election the public knows that to value education, they must vote for education.'
• After a successful Super Saturdays launch last weekend, our second week sees the events head to the eastern and south east regions of the UK, said the NEU.
Bousted said: 'The NEU's Super Saturdays are an opportunity for parents, teachers, school staff and all who are interested or concerned about education, to come together to find out more about the challenges facing schools and colleges.
'We have fought a long campaign against real-terms school cuts – the government has moved ground, but it is nowhere near far enough. Staff are being cut, class sizes are increasing, and school buildings remain in long-term disrepair.
'Be in no doubt that the outcome of this election affects every child in this country. Voters will be looking to the education pledges of each party in order to make an informed choice at the ballot box. That is what Super Saturday is for – to give people the facts, not the spin.
'This election is about more than Brexit. If you value education, you must vote for education.'
This second Super Saturdays are in:
Canterbury – leafleting from 11am-1pm followed by speeches at The Lounge, St George's Centre, CT1 1UT, until 2pm.
Southampton Itchen – leafleting from 11am-1pm followed by speeches at St Mark's Institute, 31 Victoria Road, Southampton, SO19 9DY, until 2pm.
Stevenage – leafleting from 11am-1pm followed by speeches at 6th Form Area, Barnwell Upper School, SG2 9SW, until 2pm. Speakers include Kevin Courtney (NEU).
Thurrock – leafleting from 11am-1pm followed by speeches at Angel Cafe, All Saints Church, Beacon Project, Drake Road, Chafford Hundred, Grays RM16 6RW, until 2pm.
Forthcoming Super Saturdays will visit:
23 November: Dudley North, Ashfield, Northampton North, Hastings and Rye;
30 November: Camborne and Redruth, Crewe and Nantwich, Bolton West, Newcastle under Lyme;
7th December: Keighley, Pudsey, Hull West, Barrow and Furness, Middlesbrough South and East Cleveland.