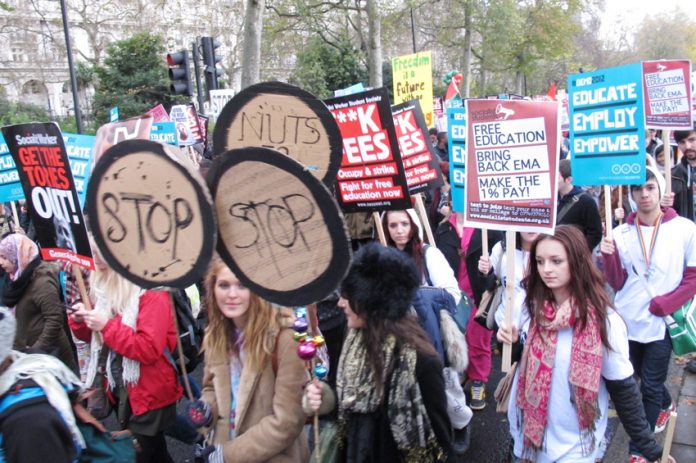 THE number of UK children living in poverty has increased to more than a quarter as a result of austerity measures introduced following the 2008 recession, Unicef has said in a report released on Tuesday.
The 'Children of the Recession' report showed that 2.6 million children were living in poverty in the world's most affluent countries as the result of spending cuts.
This brings the total number of children in the so-called 'developed' world living in poverty to an estimated 76.5 million.
The charity said it was 'no accident' that child poverty rates have risen in the UK, but fallen in 18 other countries including Poland, Germany and Canada – blaming low pay and benefits cuts.
A global report into the effect of the economic crisis on vulnerable children between 2008 and 2012 put the UK 25th out of 41 developed countries, after child poverty increased by 1.6% to 25.6%.
The report also found there was an 'unprecedented increase' in severe material deprivation – which measures factors including whether families can pay the rent, heat their homes and afford reasonable diets for their children – in the UK along with Greece, Italy and Spain.
The charity called for an immediate review of the impact of economic policies on children to determine the continuing impact of the recession and ensure that imbalances are 're-addressed as a priority"'
David Bull, the executive director of Unicef UK, said: 'It's disappointing to see that 18 countries have managed to reduce levels of child poverty during that difficult economic period and the UK has seen it get worse.
'This report shows it is possible in difficult times to protect the wellbeing of our poorest children. If they can do it in Poland, Canada, Germany and Australia, why can't we?
'It really should be a wake-up call for this country that we need to do something different. It is no accident – that's the key message from the report. It's possible to make better choices than we've made. We have to pay attention to what we're doing.'
'We need to look at decisions about taxation, welfare, benefits, minimum wage. It's the sum total of all those policies and decision that is leaving us in a position where child poverty is worsening.
'Living in poverty can have serious impacts for children. It can set back a child's ability to achieve and be successful in education and damage their entire life chances.'
The child poverty rate was measured using a relative poverty line defined at 50% or 60% of median annual income in 2008, which in the UK amounted to £202 per week for a single parent with two children aged under 14 and £288 per week for a couple with two children aged under 14.
Bull said the majority of the vulnerable children have working parents who are 'not being paid enough' and not receiving enough contributions from the Government to escape poverty.
He warned that the report shows a 'worrying trend' in child poverty rates which are likely to worsen.
'What's important is that we haven't seen the worst of this austerity and its impact,' he said.
'This report only goes up to 2012 and everybody agrees there's a lot more austerity measures to come and if we don't really focus out attention on making sure the most vulnerable are protected then things are going to get worse when they need to get better.'
'Many affluent countries have suffered a "great leap backwards" in terms of household income, and the impact on children will have long-lasting repercussions for them and their communities,' said Jeffrey O'Malley, Unicef's Head of Global Policy and Strategy.
'Unicef research shows that the strength of social protection policies was a decisive factor in poverty prevention. All countries need strong social safety nets to protect children in bad times and in good – and wealthy countries should lead by example, explicitly committing to eradicate child poverty, developing policies to offset economic downturns, and making child well-being a top priority,' O'Malley said.
A spokesman for the Department for Work and Pensions said: 'UNICEF is drawing distorted comparisons with this data.
'UK official national statistics show that under this Government, around 300,000 fewer children are in poverty or growing up in workless families.
'Our reforms are improving the lives of some of the poorest families by promoting work and helping people to lift themselves out of poverty.'
However Alison Garnham, chief executive of Child Poverty Action Group, said: 'UK families with children have been among the hardest hit by austerity cuts with the result that more than a quarter of our children are growing up poor.
'It's a shaming fact and a problem that is likely to worsen unless there is priority action. Independent forecasts show that close to one million more children will be in poverty by 2020 as a result of real-terms cuts to tax credits and benefits.
'Yet as Unicef's report confirms, strong social protection policies can make a critical difference in cutting poverty.
'Politicians from all parties need to commit to prioritising children and provide a clear roadmap for how child poverty will be reduced.
'We need measures to protect children's benefits, to support families with costs such as childcare and housing, and to ensure that work always pays.'
Other significant findings of the Unicef report, which was released at an event co-hosted with the Italian Presidency of the Council of the European Union and Ministry of Labour and Social Policy, include:
• In 23 of the 41 countries analysed, child poverty has increased since 2008. In Ireland, Croatia, Latvia, Greece and Iceland, rates rose by over 50 per cent.
• In Greece in 2012 median household incomes for families with children sank to 1998 levels – the equivalent of a loss of 14 years of income progress. By this measure Ireland, Luxembourg and Spain lost a decade; Iceland lost 9 years; and Italy, Hungary and Portugal lost 8.
• The recession has hit 15-24 year olds especially hard, with the number of 'NEETs' rising dramatically in many countries. In the European Union 7.5 million young people (almost equivalent to the population of Switzerland) were classified as 'NEET' in 2013.
• In the United States, where extreme child poverty has increased more in this period than during the recession of 1982. Child poverty has increased in 34 out of 50 states since the start of the crisis – In 2012, 24.2 million children were living in poverty, a net increase of 1.7 million from 2008.