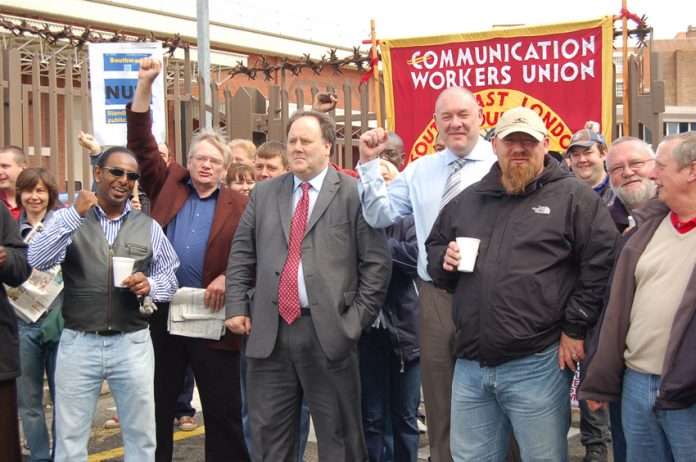 ROYAL Mail managers replaced 100 striking postal workers with 250 managers to cover last week's strike . . . yet still refuse to settle a dispute over workload in Bristol.
Despite talks with ACAS, CWU members in Bristol took a second day's strike action yesterday over various issues, including deliveries, bullying, harassment and working extra Saturdays.
One problem is the sheer volume of post arriving at their sorting office: they are given five hours to deliver what takes up to seven hours.
Bristol branch secretary Dave Wilshire commented: 'When we return to the sorting office with some post we haven't had time to deliver, managers are saying we aren't working hard enough.
'But it's not physically possible to deliver such a large amount of post in such a short time.'
And as if to prove the point, last week Royal Mail bussed in – and put up in hotels – 250 managers from around the country to carry out the tasks of the 100 striking workers.
Dave Wilshire said: 'It also asks the question, what is the day job of these managers if they can pack in their normal work and come down here at the drop of a hat?'
The union wants Royal Mail to review the delivery system, to hold an independent review of all bullying and harassment grievances. and for a further commitment that the workforce will not be forced to work extra Saturdays.
Wilshire added, 'After two days at ACAS we were still been unable to conclude an agreement and the strike action on Monday therefore had to go ahead.'
The striking workers normally deliver to the BS4 and BS14 areas of Bristol, which includes Knowle, Knowle West, Brislington, Stockwood and Whitchurch.
Meanwhile, cleaners and engineers who work on contracts at Royal Mail will walk out on Friday 21st December over an insulting pay offer.
The Communication Workers Union members are employed by facilities management company Romec – which is 50 per cent owned by Royal Mail.
The workers voted 91 per cent for strike action in a secret ballot.
They have been offered a below inflation 1.5 per cent pay rise which would leave most of them below the level of the living wage – while their bosses have trousered bonuses of between 9 and 15 per cent.
CWU national negotiator Ray Ellis said: 'The company's behaviour has been totally hypocritical and the workers are furious.
'We have been taking part in talks this week at the conciliation service ACAS and urge management to avoid the strike by upping their offer.'
Billy Hayes, CWU general secretary, said: 'The whole union is behind the Romec workers.'
The 1,900 union members clean, maintain and repair Royal Mail premises and equipment across the UK.
The strike could leave facilities unrepaired and premises not cleaned – with consequences for health and safety.
Romec – which is a joint venture between Royal Mail and Balfour Beatty – exceeded all its business targets last year.
CWU national co-negotiators Bob Gibson and Ray Ellis say the workers are furious with the company.
Ray added that Romec had paid out 'generous bonuses' to managers on the grounds that the company had met all of its targets and asked: 'How can it be fair that they refuse to also reward our hard-working members who've actually done the work and created this success?
'This is quite unbelievable hypocrisy and our Romec members are rightly furious.'
Bob said that the 1.5 per cent rise on offer 'is some considerable way below current inflation and goes nowhere near meeting the needs of our members, who have been waiting since January for their annual wage rise.'
The union members – who clean, maintain and repair Royal Mail premises and equipment – have voted 91 per cent in favour of strike action.
The CWU is considering its next move, while inviting the company to improve its pay offer to avoid a strike.
The Communication Workers Union has also launched a major campaign to highlight the threat to the UK's universal postal service and jobs within the industry.
It states
• Unfair competition is threatening the universal service
• Ofcom must step in to address unfair competition
• Competitors should match Royal Mail pay, but be forced to pay Living Wage as minimum
• CWU will arrange a boycott of competitors' mail if nothing is done
Billy Hayes said: 'We're launching a major initiative to protect postal services in the face of mounting threats to jobs and services.
'Under unfair competition we've seen prices rise, services diminish, closures and job losses.
Competition and privatisation are old-fashioned theories which have had their day. What's important is decent services and jobs and that's what we're standing up for.'
CWU is concerned that unfair competition is undermining the sustainability of the universal service – the six days a week, one price goes anywhere service which Royal Mail provides to all addresses in the UK.
The union is also concerned at the impact on jobs across the industry, in particular the quality of pay and conditions for postal workers.
Private postal company mail makes up 45% of letter volumes delivered by Royal Mail, a figure which has consistently grown under competition arrangements.
New end-to-end competition is a worrying expansion further undermining the USO.
Dave Ward, CWU deputy general secretary, said: 'What we're seeing is private companies being able to do what they want with little concern for how it affects postal services in the round. For example, TNT is conducting end-to-end deliveries without having to meet any quality standards while paying people little more than minimum wage.
'That will lead to a race to the bottom on pay which will be bad news for the economy in general and postal workers in particular.
'It's not a coincidence that thousands of Royal Mail jobs have been lost and mail centres and delivery offices closed since the UK postal market was opened up to liberalisation ahead of the rest of Europe in 2000.
'If it's not addressed, the effects on postal services for everyone could be catastrophic. We can't have competition being driven by poverty pay and reduced service standards.
'We want a fair deal for all workers across the postal sector with decent pay and conditions, but current competition means cutting costs at the expense of decent jobs. TNT competes by paying poverty wages.
'When TNT boasts of creating 20,000 jobs over five years, this means 20,000 jobs below the living wage, not on full-time hours and reducing fairly paid jobs elsewhere in the industry. We need fair competition between postal operators not competition at the expense of living standards.'
The CWU is calling for the postal regulator Ofcom to step in and redress the balance of unfair competition to:
• Protect the universal service and end cherry-picking in delivery
• Maintain quality, affordable postal services
• Prevent competition on the basis of low wages, insecure jobs and poor conditions.
The CWU will hold a consultative ballot of its members in Royal Mail in the New Year with the intention of boycotting competitors' mail.
This would mean that any mail sent via a company other than Royal Mail would not be delivered. If no progress is made by the regulator then the boycott will be put in place.
Dave Ward continued: 'We're not prepared to stand by and watch the jobs of our members be ruined by unfair competition which could be avoided. Boycotting parts of the mail which are damaging services is a proportionate response to the threat posed by unfair competition.'
The CWU is the largest trade union in the postal sector representing people working in all parts of Royal Mail Group, as well as the Post Office, UK Mail and elsewhere. It has over 200,000 members.
• CWU understands that TNT is paying delivery workers £7.10/hr in London and £6.50/hr outside London.
• This is below current living wage rates of £8.55/hr in London and £7.45/hr outside London.
• Royal Mail pays delivery workers £11.67/hr in inner London, £11.03/hr in outer London and £9.30/hr elsewhere in the UK plus additional allowances and benefits.
• The minimum wage (as at October 2012) is £6.19/hr for over-21s, £4.98/hr for 18-20 year olds and £3.68/hr for 16-17 year olds.
Private mail companies (ie not Royal Mail) handle 45 per cent of all UK letters, including 75 per cent of bulk mail.
That's almost 7.2 billion items out of 16.4 billion items delivered each year (2011-12).
This campaign only concerns the 'letters' part of the postal industry.
Parcels and courier services have always been fully liberalised and largely unaffected by stringent competition arrangements which are damaging the letters part of the mail industry.
Royal Mail is one of the biggest employers in the country with over 160,000 directly-employed staff.