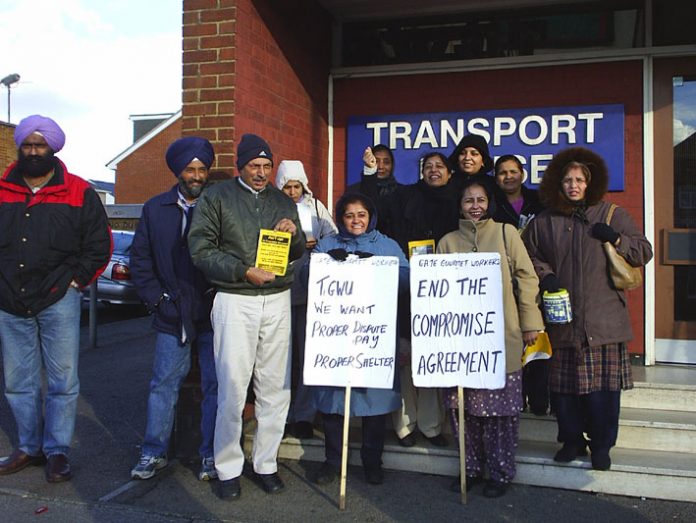 TONY Woodley, the TGWU general secretary, commenting on the sacking of one of the leading members of the TGWU by BA yesterday, and the disciplinary actions being taken against two other shop stewards at BA, said: 'The T&G is surprised and disappointed at these decisions. We believe that there is no basis for serious disciplinary sanctions – let alone sackings – against our shop stewards.
'We will fully exhaust the appeals process in line with British Airways procedure. We remain fully committed to supporting our shop stewards at Heathrow and will review all our options after the conclusion of the third disciplinary hearing now pending, and appeals procedure.'
This is definitely not a statement that will throw fear into the hearts of the BA and Gate Gourmet bosses. This statement in favour of the 'reviewing of all options' is a crude signal to the BA boss Walsh that the TGWU leaders do not intend to take the only kind of defensive action that the airport bosses understand, strike action.
The BA statement is of quite another character. It says that 'British Airways has today dismissed one of the three employees disciplined for orchestrating un-balloted and illegal industrial action at Heathrow airport during the summer.
'The dismissed employee has been found guilty of gross misconduct for playing a leading role in the walk out. A second employee, also found guilty of gross misconduct, has been issued with a final written warning, suspended without pay for one month and banned from staff air travel privileges. . . Disciplinary proceedings continue for the third employee, who remains suspended from duty with pay.'
Tony Woodley must be the only person on the planet who is 'surprised. . . at these decisions' by BA, since the company has been telling the Sunday media for weeks that it was going to sack two of the three shop stewards, to get the Woodley-led TGWU onto its knees by publicly humiliating it.
BA yesterday quoted its QC, Robert Webb. He said of the sacking and the other disciplinary measures: 'These decisions are a measured and appropriate response given the evidence in front of the managers hearing these cases. Our customers must always be able to book their flights with confidence that they will not be subject to unlawful industrial stoppages.'
Webb has stated Walsh's law – that the appropriate response to industrial action is the sack.
In fact, Heathrow is a battleground. Gate Gourmet began the war, launching its pre-emptive strike to sack an entire workforce and bring in its survival programme and new workers to work it.
The Woodley-Gold TGWU leadership are already collaborating with Gate Gourmet. Their motto is why risk your skin seeking to defeat them when you can join them.
Today, TGWU and GMB builders working to erect Terminal Five are out on strike, while Walsh has let it be known that he wants 6,000 redundancies and the adoption of his own survival programme, dumping all of the established terms and conditions of employment, before the move to Terminal 5.
He is looking for the same kind of assistance from Woodley-Gold as Gate Gourmet is receiving from them. It is vital that all trade unionists at Heathrow and all TGWU members tell the TGWU leaders they must either defend their victimised members or resign.
The TGWU must declare that if the three victimised shop stewards are not fully reinstated in their final appeals there will be a ballot for official strike action throughout BA.
Further, that in preparation for this action the TGWU leaders must rip up the rotten compromise agreement that they signed with Gate Gourmet and revert to their original position, that every locked out Gate Gourmet worker must be returned to their jobs on their original terms and conditions of service. This must be done without delay.