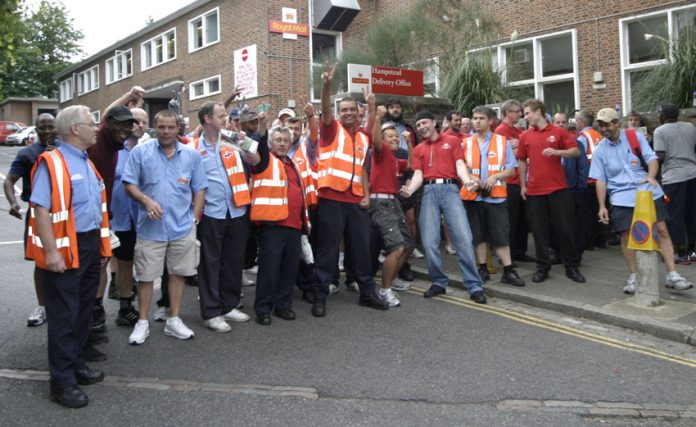 'We're still on continuous strike until we get a sensible resolution and restore the correct adoption of the Managing the Surplus Framework Agreement,' Stoke-on-Trent Communication Workers Union (CWU) Area Processing Rep Mick Brennan told News Line yesterday.
'We're very angry. There's over 100 workers involved in the strike in defence of jobs and national agreements since August 11. Management want to transfer work from Stoke to Wolverhampton, which is due to take place on September 7th.
'This has been an ongoing struggle over the past two years. First they removed the late shift, then the night shift, which affected some 300 jobs. Now they want to remove the remaining jobs. We're not having any of that.
'There is a national strike ballot due and we will probably still be out by the time the national strike takes place.'
Meanwhile a new round of post strikes is taking place today with Royal Mail drivers out in London, Essex and the Midlands. In addition, all of London deliveries, collections and sorting with the exception of Mount Pleasant and London Airport Mail Unit will be on strike.
In northwest London, Hampstead Delivery Office Deputy Unit Rep John Taylor said: 'Managers at Cricklewood called members in for a staff briefing at 8am this morning and told them the strike was off.
'That was after Billy Hayes was interviewed on the radio. But we will all be out again in London tomorrow against job cuts, changes in duty and losing pay over it all.
'Some people are losing £140-£150 a week. There are more offices out than ever now, than there were in the 2007 national strike. We're pushing for the national strike.
'People have been angered by letters to reps telling them that night shifts will be ended in September. That means that there will be later deliveries because the work that was done the night before will have to be done in the morning.'
Peckham, south east London, CWU rep Billy Colvill said: 'Royal Mail are pressing ahead with their agenda of job cuts, turning full-time jobs into part-time jobs, bullying and harassing staff and making them work over their hours for no money.
'This is happening now. We want leaders who are going to defend their members, not leaders like Billy Hayes who spend all their time pleading with this government and Royal Mail.
'We need to go forward to a big "Yes" vote for national strike action. And we need a public sector alliance to act jointly and build for a general strike, to bring down this government and go forward to a workers government.'