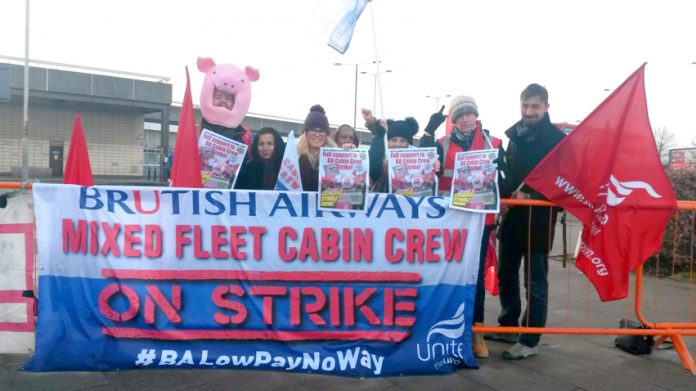 'WE WANT support from the whole airport and wider,' striking BA mixed fleet cabin crew member and Unite rep Charly Bacon said yesterday.
She was speaking at the Hatton Cross picket line at Heathrow airport as the approximately 3,000 cabin crew started a new phase of strike action over poverty pay which is set to conclude this Saturday. She told News Line: 'BA is renowned for good pay and conditions and people are so shocked to hear what we are on – £12,000 a year basic.
'And they are offering us just 6 pence an hour increase. Meanwhile, Willie Walsh is on £8.8 million a year.' Charly added: 'It was wrong to create a two-tier workforce in 2010 but we won't accept poverty pay any longer, we are going to win.'
Striker Jaydee Wright said: 'We are winning and determined. This is a very important struggle. It's setting the tone for all future people joining the company. I've been with the company for four years. We all accept companies have to bring people in at a certain level.
'But you expect to progress and be rewarded for that progression and experience and loyalty. But for us, we do very high quality work without being rewarded. In fact, we're living in real hardship and constantly worried about unexpected bills. We are proud of this fight. We are part of a wider struggle, including transport workers, health workers and everyone else put in a position to strike.'
Unite rep Gareth Theobald said: 'The support we've had is amazing. The whole airport is behind us, also our ICC (international cabin crew) colleagues who've also had struggles with the company.
'The creation of a two-tier workforce in 2010 was an underhand tactic to cut costs. This is a hard battle to win, because your first battles are the hardest, but it is the most important, it sets the precedent. The fact that they are not recruiting to any of the other fleets is testament to the fact that they want everyone on mixed fleet conditions.'
Gareth concluded: 'We are the third fastest growing branch in Unite, we've got a large sway in what happens in this union and we are determined to win this struggle.'