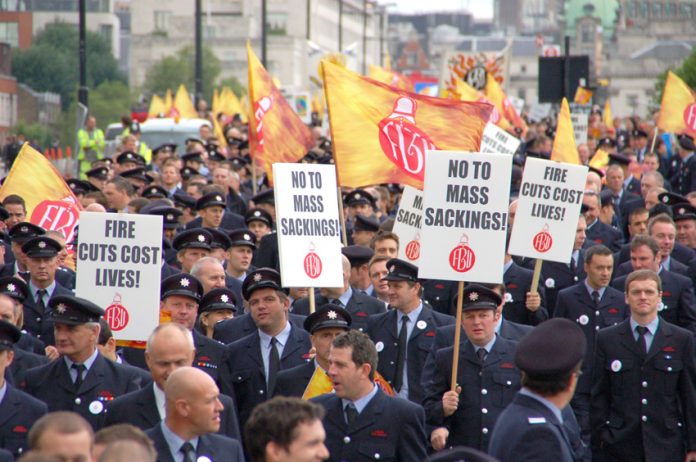 Two people were killed and 13 injured when a helicopter crashed into a crane on top of a tall building under construction in Vauxhall, central London at 8am yesterday morning.
The pilot, named as Pete Barnes, was one of those who died. The other fatality was on the ground.
Firefighters were on the scene within four minutes and the fire was rapidly brought under control, within 25 minutes.
Part of the crane was left hanging from the side of the building, which was shrouded in mist, and the fire from the helicopter ignited two buildings.
London Fire Brigade said part of the tail section of the helicopter landed on the roof of the building, with the main section landing in Wandsworth Road, hitting two cars and bursting into flames, setting fire to several nearby buildings.
A man was rescued from a burning car by firefighters.
Paul Neale, London FBU South West Area organiser, and a firefighter for 27 years, told News Line: 'It was a very serious incident and as ever the firefighters of London have done a highly professional and fantastic job.
'It could have been a lot worse.
'The first two fire engines that arrived at the scene were from Clapham Fire Station, which is earmarked for closure.
'Westminster fire engines were also in attendance and that is another of the 12 London fire stations set for closure.
'Does this not prove that the 12 threatened fire stations in London must not be shut, as this will seriously reduce our capability to attend such incidents in the future?
'Reducing our capability to respond to incidents such as this will put the safety of Londoners and firefighters in jeopardy.
'I really would ask all Londoners now to contact their MPs, the London Mayor and local councillors to ask them to stop these reckless station closures.
'If you look at the management report into the last terrorist incident it stated that we were stretched to our limit.
'How, by shutting fire stations, can we give the people of London the service that they need and deserve.
'We are lobbying the fire authority meeting next Monday to show our utter disgust at what is being threatened to the London fire service.
'We are calling on all people to come and support us at London Fire Brigade HQ, Union Street, at 1.30pm next Monday.'