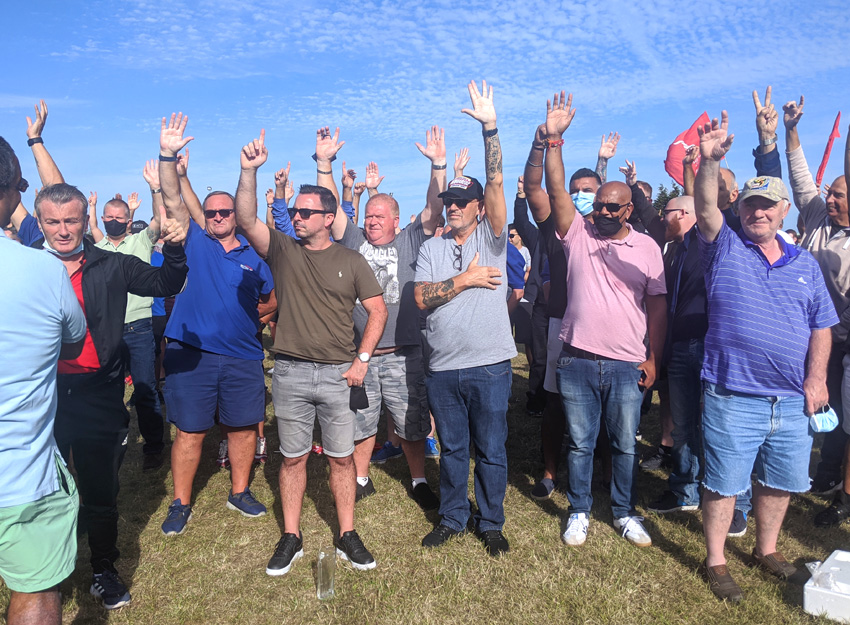 BRITISH Airways Cargo workers begin nine days of strike action on Christmas Day, however their union, Unite, has called off all pickets.
Under BA's fire and rehire plan, workers are losing up to 24 per cent of their pay, which amounts to between £5,000-£11,000 per annum.
Strike action will begin at 00:01hrs on Friday 25 December and will end at 24:00hrs on Saturday 2 January.
Unite said: 'As a result of Heathrow being in Tier 4 and the very high levels of Covid-19 in the capital, and despite workers having the right to picket, Unite has chosen not to organise pickets during the initial strike and it will not be organising any physical demonstrations for the same reason.'
Heathrow Airport workers have condemned Unite's announcement that it is banning picket lines during the nine-day strike of 840 British Airways (BA) Cargo workers which begins on Christmas Day.
The union's statement went on: 'Unite has reached agreement with British Airways in all the other sections of the company where it represents workers, to mitigate its proposals to slash workers' wages, but has been unable to do so for the cargo workers due to the ongoing intransigence of management.'
This 'agreement' which the Unite leadership has reached with management in the other sections of the company has meant the imposition of huge pay and conditions cuts on tens of thousands of BA workers, without their agreement.
This was in defiance of a unanimous 1,000-strong vote in favour of strike action at a mass meeting of BA workers at Bedfont football ground in August – the only mass meeting of Heathrow workers held this year.
BA and other Heathrow Airport workers told News Line yesterday that the Cargo strike should be defended by picket lines and that the union must call the whole airport out to defeat the wholesale jobs, pay and conditions-cutting which is going on.
BA ground staff and Unite member Mohamed Osman said: 'There should be all out strike action against the pay cuts.
'Our Cargo colleagues are striking against exactly the same permanent pay cuts that the company has imposed on the rest of us.
'We want to support them on their picket lines. Unite has helped the management by keeping us separate and by banning picketing it's just more of the same.'
Heathrow Airport Limited (HAL) worker and Unite member Raj Singh said: 'I'm surprised there are to be no picket lines. If the strike is going ahead there should definitely be picket lines, otherwise how is anyone else supposed to know what's going on?
'The whole purpose of strike action is to garner support and the basic way you do that is to hold strong picket lines.
'We were on strike last week and our picket lines were effective, although it would have been nice if we could have had more on them.
'There were 4,000 of us on strike, but Unite restricted our picketing to just three picket lines of six pickets each.
'I'm working on Christmas Day and if there was a BA picket line I would have stopped by and supported it.'
Cabin crew and Unite BASSA (British Airways Stewards and Stewardesses Association) member Depak Masuria said: 'It's not right, of course there should be picket lines of the Cargo strikers for us all to support.
'Unite should be uniting all the different BA sections and organising a proper, united strike. BA have imposed a really big cut in pay on cabin crew.
'I've taken a £10,000 pay cut. It's the unfairness of it all. They've given thousands of us a permanent pay cut. Unite should ballot everybody for strike action. Cabin crew are still in dispute and we want to be balloted for strike action.'