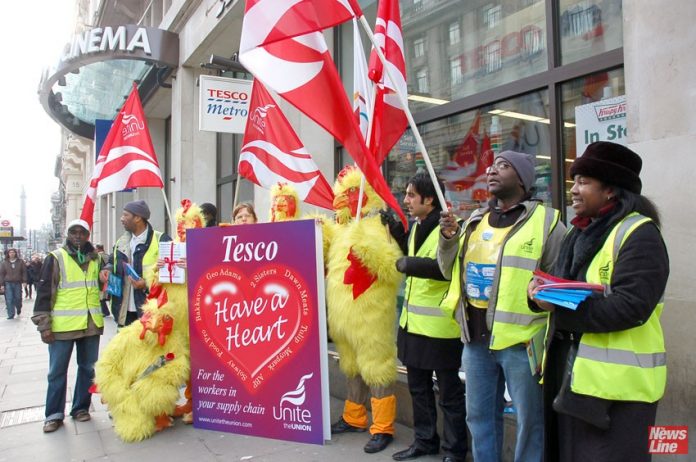 TESCO confirmed yesterday that 9,000 jobs are to be axed, as the supermarket giant looks to scrap the fresh food counters, including the in-store bakery, delicatessen, and fresh fish counters.
Staff canteens are also to be replaced with vending machines. The cuts are part of a plan to slash £1.5bn from Tesco's cost base as chief executive Dave Lewis tries to 'rebuild profits'. The plans would affect most of Tesco's 732 largest stores.
Since 2014 there have been many rounds of job cuts. This time last year 1,700 employees were cut in middle management. It also closed its Cardiff call centre with a loss of 1,100 jobs.
With more than 300,000 UK employees and more than 3,400 stores, Tesco is the UK's biggest private sector employer. Unite yesterday called for urgent talks with Tesco bosses. The union is recognised at four distribution centres – Belfast, Didcot (Oxfordshire) Doncaster and Thurrock in Essex – with about 1,000 members who deliver to stores across the UK.
Unite national officer for retail distribution Adrian Jones said: 'Our top priority this week is to arrange a meeting with Tesco's management to get a clear picture of what the supermarket is planning, following media reports at the weekend that up to 15,000 jobs could be at risk.
'This is a very worrying time for our members who deliver to Tesco stores across the UK. While the reports centre on job losses in-store, such as at the bakeries and deli counters, we still need to know what this could mean for our members.'
Usdaw, the shop workers' union, also condemned the threat of more job cuts. Pauline Foulkes, Usdaw National Officer, said: 'Reports and speculation in the media about significant job cuts are distressing for Tesco staff and it is appalling that they should hear about the future of their jobs in this way.
'Usdaw is seeking an urgent meeting with the company to clarify the situation, to examine the details of what changes they are proposing and what this means for staff.'