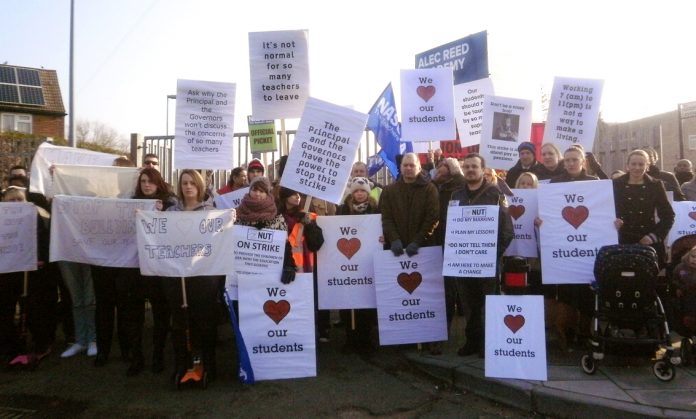 TEACHERS, parents and pupils have won a victory at the Alec Reed Academy in Northolt.
'Management at Alec Reed Academy has agreed our terms for suspending our planned three-day strike next week to go to ACAS talks on Monday or Tuesday along with the NASUWT,' said Ealing NUT rep Nick Grant on Saturday.
Management also agreed to suspend their attacks on NUT and NASUWT members' terms and conditions.
Grant continued, 'No subject reviews are occurring next week, nor are scheduled for the foreseeable future. No mock-Ofsteds, learning walks or drop-ins are occurring next week and none are scheduled for the foreseeable future.'
There had been huge support for the teachers' action. Speaking to News Line on the picket line last Thursday, parent Trudy Bees said: 'I definitely support the teachers. Since it became an academy, this school has gone right down and the grades have really deteriorated.'
Year 12 students Stuart, Rohan and Kumal said: 'These are good teachers and they don't deserve to be treated like this. They are being made to do extra work and there is a massive turnover of staff, which is really disruptive. There should be no private companies in education.'
• Teachers are being exploited by unscrupulous supply agencies, NASUWT general secretary Chris Keates has warned.
Commenting on feedback from teachers attending the NASUWT UK Supply Teachers' Seminar held last Saturday in Birmingham, Keates said: 'Supply teachers have expressed deep anger about their treatment at the hands of private sector supply agencies.
'The practices of many offshore umbrella companies are proving to be damaging to supply teachers who are being forced into signing dubious contracts which seek to deny them basic legal rights and entitlements and allow these agencies to dodge their tax and national insurance liabilities.
'Over three-quarters of supply teachers polled at the event said they had been asked to sign contracts with tax-avoiding umbrella companies or face the prospect of being denied access to work.
'Many supply teachers told us that they are simply too frightened to speak out about their treatment by some of these agencies due to threats of "blacklisting" by agencies which have a monopoly over the provision of an essential support service to schools.
'It was equally disturbing to hear that many supply teachers are being asked to sign contracts which include gagging clauses designed to cover up a range of illegal practices. Whilst supply teachers are being short-changed, schools and taxpayers are also being ripped-off by these supply agencies.'