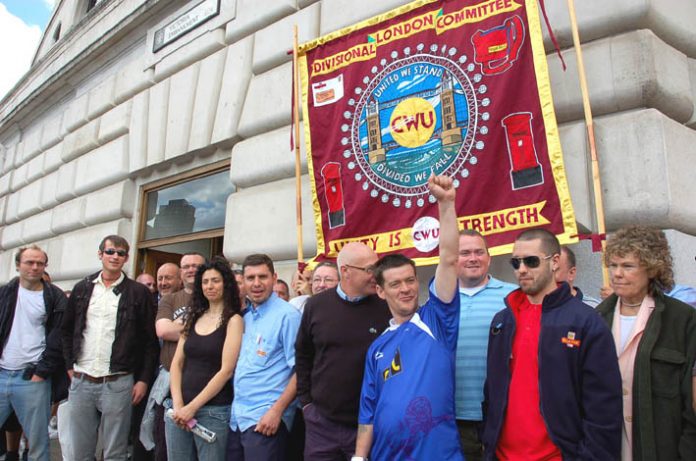 'No more cuts! Sack Adam Crozier!' shouted angry postal workers outside Royal Mail's London headquarters yesterday, as 10,000 members of the Communication Workers Union (CWU) walked out on strike across the capital.
Postal workers at 139 London offices joined the 24-hour action, but the CWU cancelled strikes at the big Nine Elms, Mount Pleasant and Rathbone Place sorting offices, after threats of legal action by Royal Mail bosses.
The strike was 'rock solid', London CWU leaders said, adding that over 90 per cent had voted in favour of taking action.
CWU General Secretary Dave Ward, London leader Martin Walsh and Labour MP Kate Hoey addressed a rally outside Royal Mail's HQ in the Unilever building in Blackfriars, with Ward warning Royal Mail that strike action would spread nationwide, unless it stopped making 'arbitrary cuts by diktat.
'Our members are fed up with the amount of job cuts,' Ward said.
'You're looking at 20 per cent job cuts at offices across London.
'The consequences of our union not doing anything to defend our members would see the decimation of Royal Mail.
'Our members are very angry at the way they're being treated,' he said, adding that postal workers were now 'physically at their limit'.
He said the strike 'will spread across the country if we can't find a resolution. There is already strike action in Scotland today and tomorrow.'
Ward said the bosses 'want to line their pockets with the benefits of privatisation – and we'll fight them every inch of the way.'
Around 180 Labour MPs are opposed to the government's bill to 'part-privatise' Royal Mail, and Labour MP Kate Hoey said that she would do whatever it takes to make sure that, one way or another, the bill is killed off.
London CWU leader Martin Walsh said postal workers in some offices stood to lose '£5,000 a year'.
He concluded that if the government does not get Royal Mail to back down, then there will be a ballot of London CWU members on whether to continue funding the Labour Party, 'and we will then ask our members to withdraw their political levy.'