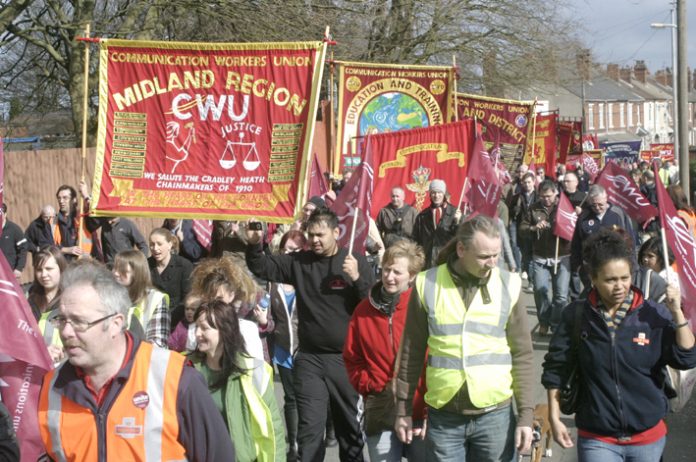 Stoke-on-Trent Mail Centre delivery staff walked out on unofficial strike for the third time yesterday after being ordered by management to cross their processing and distribution staff's picket lines or be taken off pay.
Stoke Communication Workers' Union (CWU) Area Processing Rep. Mick Brennan told News Line: 'We are still out on continuous action.
'Our national officers came up to see us on Friday.
'The letter they received from management treated them with contempt over the return to work agreement we are seeking.
'The processing and distribution staff are out on official continuous strike.
'Now the delivery staff at the office have come out on unofficial strike over bullying by local managers.
'They came out on Friday, came out again on Saturday, and their strike is still continuing today.'
Brennan explained: 'Delivery staff were given an ultimatum on Friday.
'They were told to cross our picket lines in vans, which they refused.
'Managers have been crossing our picket lines in vehicles.
'But on Friday they told workers to cross picket lines.
'Management gave delivery staff a letter saying that if they would not cross the picket line in vehicles they would be taken off pay for the day.
'They went back to work Saturday morning and were given the same ultimatum, so they walked out again.
'They went back to work this morning and they were given another ultimatum, so they came out again today.
'Management are provoking the action and further harassment within the workplace is also provocative.
'Our national officers are engaged with talks with Royal Mail but Royal Mail are not making a viable response.
'We will stay out. We are still showing strong resolve.
'We will continue to stay out until we get a satisfactory return to work agreement.
'We've asked the national union to support us to get the Managing the Surplus Framework Agreement implemented properly.'