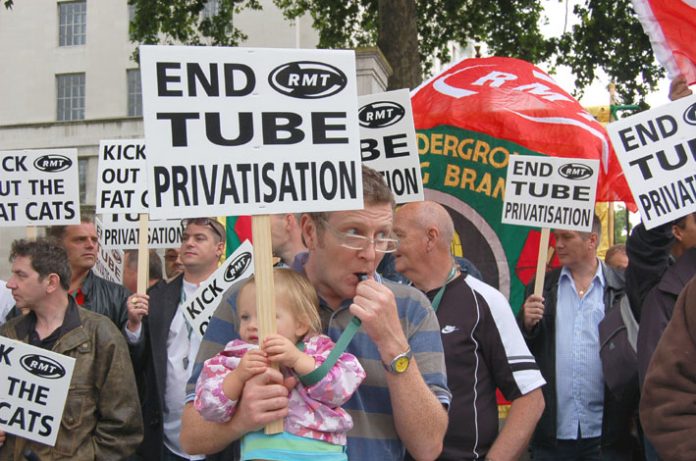 EMERGENCY brake problems that led to the suspension of the Hammersmith and City, Circle and District lines were first raised on Tuesday, London Underground's biggest union, the RMT, said yesterday.
Services on all three lines were suspended or severely disrupted after several trains were found to have the same fault, in which the 'dead man's handle' emergency brake's failsafe system failed to operate.
The fault allows emergency brakes on the 1972 'C' stock to be released and the train to continue motoring without the driver having to reset the system.
RMT general secretary Bob Crow said yesterday: 'The problem was raised in the depot on Tuesday and, after it repeated itself on Wednesday despite assurances that it had been rectified, we asked for emergency talks with LUL's safety chief.
'The same fault has subsequently been found in at least four trains, but seven hours after we asked for an emergency meeting we received a message from the director of safety refusing to meet us over what he described as a "storm in a teacup".
'The fault has since been demonstrated to Metronet and LUL engineers, yet last night (Wednesday) we were no nearer finding out what the cause is, and LUL managers failed to inform our safety reps of the problem.
'We had no alternative but to issue a safety notice and it was only after drivers refused to move trains in service that this morning's emergency meeting was finally arranged.
'It is clear that we need urgent checks on the entire fleet, but we also need to understand how and why the fault is occurring and why the daily checks on the stock have not picked it up.'
Drivers union ASLEF confirmed to News Line: 'A tube train driver discovered a fault on the braking system of trains on the Circle Line on Tuesday.
'He reported it and management agreed to remedy the situation. In the interim a similar fault was discovered on other trains on the Circle and Hammersmith and City lines.
'On Wednesday it became apparent that the fault had not been remedied and drivers declined to take out trains which were faulty and a potential safety risk.
'A meeting has been called for 10 o'clock this morning (Thursday) to discuss the position and to see what progress management has made in rectifying the defective trains.
'Once the necessary safety modifications have been made, the service will gradually return to normal.'