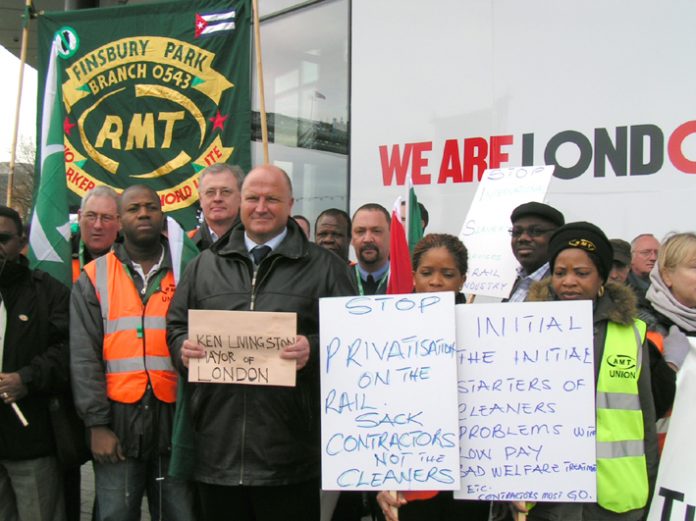 OVER 100 angry RMT members staged a lobby outside City Hall, Tower Bridge, yesterday, demanding an emergency meeting with London Mayor Ken Livingstone over plans to sack 209 cleaners on the Underground.
The union said the private contractors should be sacked, not the cleaners, who should be returned to direct employment by Transport for London.
The RMT said it has members who clean the London Underground receiving pay rates of little more than £5 an hour with private companies.
The sackings announcement comes just days after dramatic above-inflation fare hikes on tube, bus and rail journeys were introduced.
The cleaners are employed by contractor ISS to work for tube maintenance privateer Tubelines.
RMT General Secretary Bob Crow said: 'Tubelines has made nearly £160 million in profits in just three years, but that is clearly not enough for them because now they want to squeeze even more profit out of the people who already do the dirtiest jobs for the lowest pay.
'There is no way that levels of station and train cleanliness can be maintained on the Jubilee, Northern and Piccadilly lines with a loss of 27 per cent of the cleaning workforce.'
Addressing his members outside City Hall, Crow said: 'It's no different to what happened at Gate Gourmet at Heathrow Airport. They're all passing the buck.
'Clearly Tubelines is trying to make cuts in jobs purely on the basis of putting profits up.
'Taking 200 bodies out of the system, you can't maintain the same standards of safety and cleanliness,' Crow added.
'We were told there would be no reduction in levels of safety and cleanliness.
'And on top of that, the rates of pay are atrocious.'
Crow said he was delivering a letter to Mayor Livingstone and continued: 'We're demanding a meeting with him within the next 14 days.
'He must tell Tubelines he is not prepared to accept these cuts.'
Crow concluded: 'The RMT does not accept compulsory redundancies.
'If compulsory redundancies take place, then we will have to consider some kind of industrial action.'
Alex Ansah, RMT secretary for cleaning grades on London Underground, told News Line: 'I work for ISS.
'They have contracts with Tubelines and Metronet.
'The conditions are very poor.
'All that they do is pay the minimum wage.
'Some people have been working with them for the last ten years – on nights – and still all they receive is £5.39.
'ISS want to use the workers like slaves,' he charged. 'That's why we call them "International Slavery Services''.
'For example, if you go to Stratford depot in the night, you will see the workforce queueing up going to put their hands in the fingerprint machine, like slaves.'
Ray King, an RMT ticket office member on GNER, told News Line: 'It's time for the unions to fight for an end to privatisation.
'These private firms have milked the railways without putting enough money back into them.
'This goes right across the board – cleaners, station staff, train drivers – it affects everybody.'