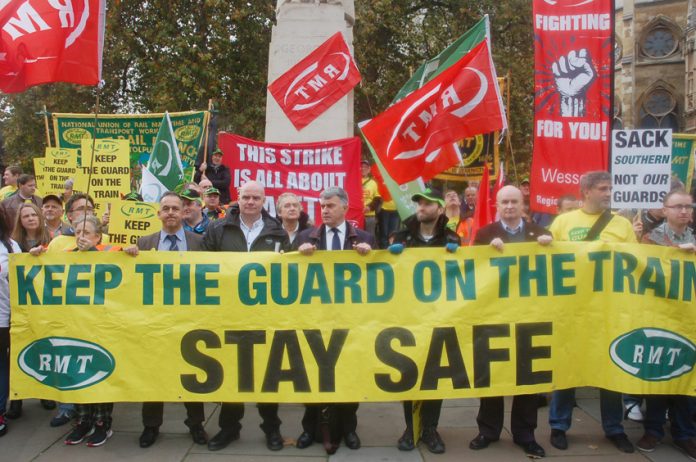 THE RMT has announced strike action against two of the country's rail privateers – a 48-hour strike on Virgin Trains East Coast and a 24-hour strike on Arriva Rail North, both commencing at 00.01 on Friday 28th April.
The union executive registered its disgust at the ever-increasing contempt being displayed to members on board trains, on stations and in travel centres by the employers. At Virgin East Coast, passenger complaints have soared and the employer has responded on its official Twitter feed by disgracefully blaming staff sickness for problems that are wholly down to the employer.
Virgin/Stagecoach is now planning to force through dramatic changes to stations and travel centres, despite RMT making it crystal clear that the union will not stand by and accept the spread of chaos to other vital departments within the company. RMT General Secretary Mick Cash said: 'It is simply appalling that Virgin East Coast have refused to give the most basic assurances on the safety-critical role of the guard on their trains continuing into the future.
'On top of that, chaotic, operational changes have been bulldozed through and there is now an additional threat to stations and travel centre staff that leaves our members on a knife-edge.
'This contemptuous attitude has unleashed a tidal-wave of anger at the grass roots and the action we have agreed to put on is simply a reflection of the disgust and frustration at months of ducking and diving by Virgin/Stagecoach.'
RMT also confirmed a further 24 hour strike on Arriva Rail North on Friday 28th April after the company failed to offer any progress at all in talks last week over the guards' and drivers' safety dispute. As well as digging their heels in on the crucial issue of the guarantee of a second safety critical member of staff on their trains, the company have also reiterated that they fully intend to introduce a minimum of 50% driver-controlled operation across the franchise upon the introduction of the new rolling stock – a move that they know is wholly unacceptable to the union.
General Secretary Cash said: 'RMT commends our Arriva Rail North Members on their rock-solid display of strength, resolve and unity during the action so far in opposition to the introduction of driver-controlled operation and defence of the guards to guarantee a safer, securer and more accessible railway for all.'