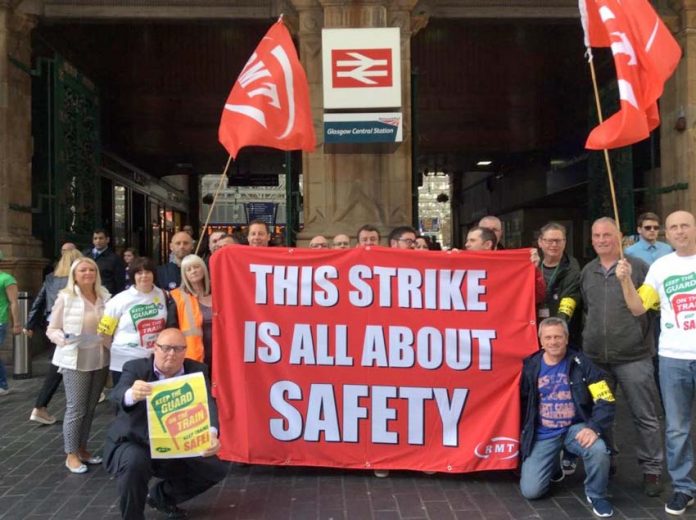 ON THE second day of the ScotRail strike, the RMT revealed that the Dutch-state parent company and top bosses are raking it in at expense of jobs and safety.
The RMT said: 'New figures reveal that Dutch state railways are raking it in at the expense of jobs and services on Scotland's rail services. ScotRail/Abellio's parent company, Dutch state-owned Nederlandse Spoorwegen, annual report for 2015 states: "Revenue from passenger transport increased by 821m euros (£644.8m) primarily due to the start of the ScotRail franchise on 1 April 2015."
'At the same Dominic Booth, MD and Senior Director of Abellio ScotRail, received £525,790 for 2014, an annual pay increase of nearly 35% (£136,246). The Scotrail Franchise was awarded to Abellio in October 2014.'
RMT General Secretary Mick Cash said: 'This morning I pay tribute to RMT members on Abellio/Scotrail who are fighting for the safety of our railways in the teeth of a campaign of bullying and dirty tricks by this Dutch-owned outfit. The action is solid and determined right across Scotland again this morning.
'The public will be rightly demanding to know why the Scottish government are sitting on their hands and allowing this mob to rip apart the safety culture on the railway. They should get involved, drag Abellio/Scotrail to the negotiating table and force them to start talking seriously with the union with no pre-conditions.
'While our members are on strike again today, defending jobs and safety on Scotland's railways, Abellio/Scotrail refuse to talk and are instead holed up in their bunker counting out the cash they have lifted out of passenger and taxpayers' pockets.
'This Great Train Robbery, propping up services in Holland at the expense of Scotland, is a national disgrace and must be brought to an end. It is about time that the Scottish Parliament, and their Dutch counterparts, started taking this scandal seriously.
'Our members striking again today know that any extension of DOO (Driver Only Operation) or DCO (Driver Controlled Operation) is a clear attack on both the safety of the travelling public and hard earned terms and conditions. RMT members should not have to face the risk of their role and responsibilities being reduced and undermined.'