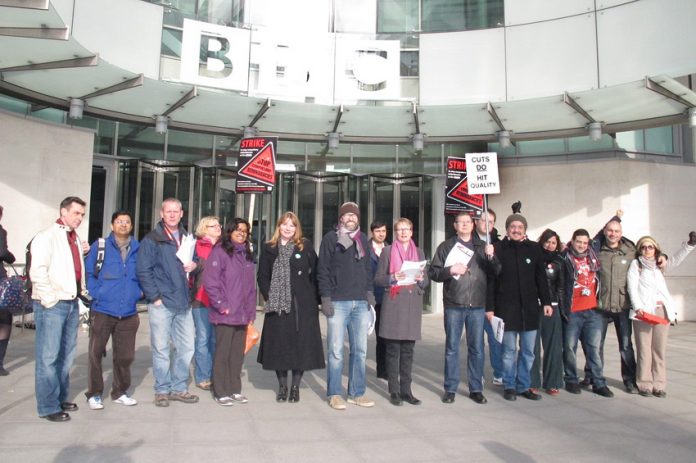 'WE will be balloting for further action, this issue is not going to go away,' NUJ General Secretary Michelle Stanistreet told News Line yesterday.
Speaking at the picket outside Broadcasting House in central London, she said: 'It's a brilliant, solid turnout for the strike today.
'It demonstrates the huge support the NUJ has across the BBC from its journalists and we've recruited new members because the level of support over this issue is so high.'
One of the NUJ pickets, Harshad Mistry, a factual production development producer, said: 'I'm supporting my colleagues who are threatened with compulsory redundancy.
'The bigger issue is defending the quality of journalism in the BBC.
'The cuts affect that. Journalists have professional standards in their work and will continue with extremely long hours to ensure quality journalism.
'But you can't keep cutting away and not expect the quality not to suffer.
'The cuts are due to continue for the next two or three years. The issue is, what kind of BBC do we all want.'
BBC NUJ Mother of the Chapel (Radio and Television), Rita Johnson, was on the picket line at The Forum, Norwich
She said: 'What's happened is the BBC has made a series of cuts.
'2,000 people have lost their jobs. At the end of this there are 30 or more people who they seem to want to make compulsorily redundant.
'Now there are still volunteers, what we've asked is that the BBC gives another six months to these people to help them find a job within the BBC.
'The BBC has a redeployment process but really it hasn't been using it properly, it wants to make 30 people redundant, compulsorily redundant and we say no you can't, you don't need to, there are jobs, there are opportunities.
'We've asked them for another six months, they've said no.'
She continued: 'In terms of cuts to the public sector, I'm a trade unionist and wherever people are losing their jobs, if they are being made compulsorily redundant just like the NUJ and the BBC, I would be there supporting my colleagues in the trade union movement, as would all the members here at the BBC.'