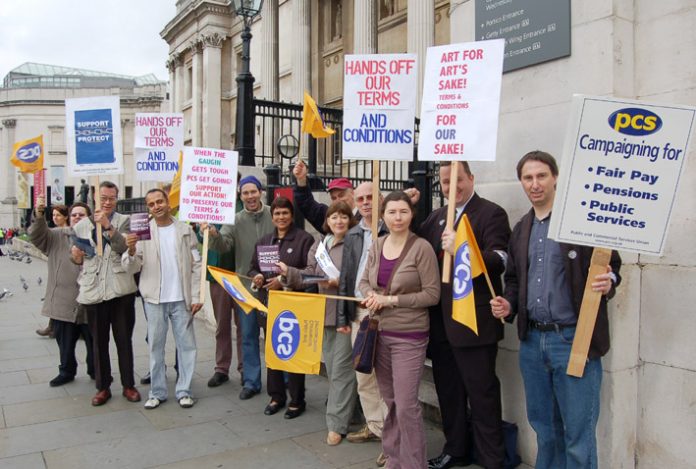 THE opening of the long-awaited Velázquez exhibition was disrupted yesterday, as 140 non-shift attendants walked out for the first one-day strike in the 200-year history of the world renowned National Gallery.
Pickets were out at the gallery entrances in Trafalgar Square over attempts to impose changes to their terms and conditions which would see holiday entitlement cut.
The one day strike called by the Public and Commercial Services Union (PCS) follows the resounding success of their first two hour walkout on 11 July.
Staff are angry about gallery management's plans to impose changes to terms and conditions that include the withdrawal of the extra three days holiday staff receive in recognition for working Christmas Day, Boxing Day and New Year's Day when the holiday falls on a weekend.
Management are replacing this entitlement with two days unpaid special leave and a one off payment of £100.
The attendants, known as warders, who protect one of the finest collections of paintings in the world are amongst the lowest paid in the culture sector, earning as little as £13,562 a year with many earning a basic rate of pay of just over £6 an hour.
PCS branch secretary at the National Gallery, Zbisiu Orzechowski told News Line on the picket line:
'This strike comes as the culmination of cuts in our terms and conditions over the last five to six years.
'The final straw was when we had our Christmas bank holiday which fell at the weekend last year. The extra days everyone else had in the country, we worked.
'But management refused to give us other days off as paid bank holidays, which was in breach of a 1999 agreement – which they have conveniently lost all the documentation for.
'This comes after losses to our break time – we now get a 45 minutes lunch break instead of an hour and we've had our afternoon breaks reduced.
'We have five different contracts. People on the first contracts are getting better rates of overtime and premium bonuses for weekend work than those who have joined the gallery since.
'Also, members are being held back on increments. You can never get top grade, even after working here 20 years.
'This is the first time anyone has gone on strike at the National Gallery in nearly 200 years.
'We want to sit down and talk about the whole situation but all the gallery has offered is a £100 lump sum and two days off without pay.
'We would never get our bank holiday entitlement back again if we accept this.
'We already have further action planned.
'Every week, we will be taking action on Wednesday evening between 6pm-9pm.
'That's because management have informed us they will be taking people's premium payment away, as well as a day's pay, for today's Day of Action.'
PCS general secretary Mark Serwotka said: 'Our members taking action today are some of the lowest paid in the culture sector protecting one of the finest collections in the world, enabling the public to see great works by artists such as Cezanne, Degas, Turner and Raphael.
'Management's decision to withdraw the entitlements that staff working over Christmas receive runs contrary to other sectors in the economy.
'Management need to step back from such a blatant attack on staff's terms and conditions and negotiate meaningfully with the union to reach a suitable agreement.'