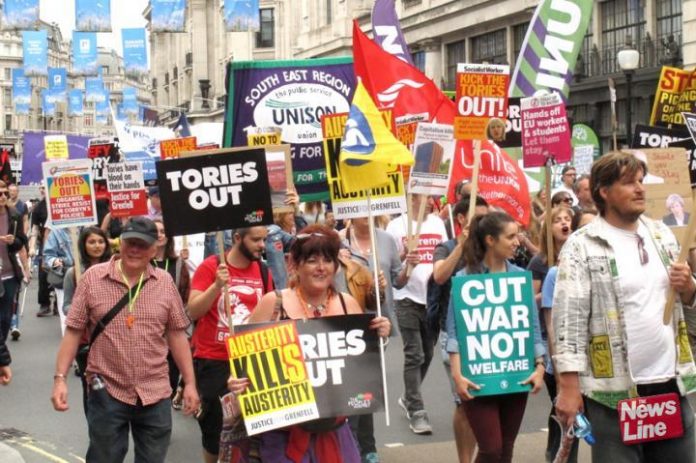 TWO Labour MPs who lost no-confidence votes among local party members have told constituents they will not quit. Former minister, and chair of Labour Friends of Israel Joan Ryan, the MP for Enfield North, blamed the 95-92 vote defeat on 'Trots, Stalinists, Communists and assorted hard-left'.
Gavin Shuker, Luton South Labour MP tweeted a message to his constituents: 'It's not part of any formal procedure, so it changes nothing about my role as Labour MP for Luton South.' Members of Enfield North came out in large numbers to vote after a motion of no confidence had been called on the right-wing MP.
Before the vote, one Jewish member at the meeting stood up and defended Corbyn saying: 'All the media has been attacking Jeremy Corbyn and I don't think it is anything to do at all about anti-Semitism.' After a lengthy meeting which included six speakers debating either for or against Ryan, the near 200 members in attendance cast their votes. When asked 'do you support the motion of no confidence in Joan Ryan?' The results given were 95 yes to 92 no.
After the results were announced, members were filmed clapping and cheering at the news of Ryan's no confidence defeat. Luton South MP Gavin Shuker said he was 'sorry a handful of people' wanted to overturn his 2017 win.
Both are among MPs who have criticised Jeremy Corbyn and faced no confidence votes in their local parties.
Others include Frank Field, who quit the parliamentary party last week citing the handling of the anti-Semitism row and a Brexit-backing Labour MP Graham Stringer, who won his no confidence vote. No confidence votes carry no official force within the Labour Party but local activists could hold a 'trigger ballot', where sitting Labour MPs can be forced to compete for selection as a candidate against all-comers, ahead of the next general election.
Ryan, who chairs the Labour Friends of Israel group and has been critical of Corbyn, said on Twitter: 'Just to be clear, I am not resigning. I am Labour through and through and I will continue to stand up and fight for Labour values.' She added that losing 92 to 95 votes was 'hardly a decisive victory. It never occurred to me that Trots, Stalinists, Communists and assorted hard left would have confidence in me. I have none in them.'
Shuker commented; 'I'm really sorry a handful of people in the Labour Party want to overturn your vote of confidence in me last year. Their actions say far less about me – and you – than they do about the face of today's Labour Party. 'I've not changed, but the Labour Party has.'