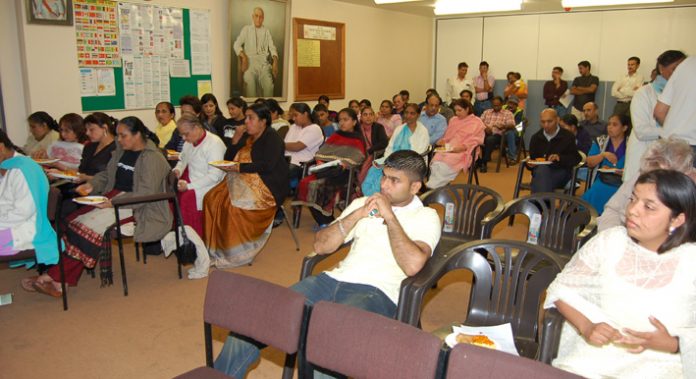 THE GMB are calling for recognition as the independent union voice for the 2,500 mainly Asian migrant workforce producing ready meals for all the UK's supermarkets in three plants in Park Royal north west London.
The plants supply Tesco, Sainsbury, Waitrose and others.
The plants, trading as Katsouris Fresh Foods, are owned by the Icelandic Bakkavor Group. GMB has a large, mainly Asian membership employed in the factories.
Katsouris management are refusing to recognise the union to bargain for these workers or to look after their health and safety.
The management has actively taken steps to discourage workers joining the union. They are promoting a management appointed staff body as an alternative to an independent union.
The company has refused to allow the union an input to improve the dreadful health and safety regime in what is a very dangerous working environment with very fast machines and lines.
Several union members have been badly injured and disabled by these machines.
Park Royal sites have had seven Health & Safety improvement notices issued against them in the recent past by the Health & Safety Executive – the worst record of any food production company GMB has ever dealt with.
The company have recently made plans to move to a fourth facility in Park Royal and introduce new work patterns with zero consultation with the workforce
80 per cent of the workforce at Katsouris is paid the national minimum rate of £5.35 per hour.
Those with families have to rely on the taxpayer to fund family tax credits to make ends meet.
By contrast, at the Bakkavor-acquired Katy's Kitchens – nearby in north west London, the lowest grade workers organised and represented by the GMB are paid  £6.21 per hour i.e. 16 per cent higher while the skilled workers are on hourly rates which are 31 per cent higher.
The company is highly profitable. In 2005 there were gross profits of £209 million on a turnover in excess of £1 billion.
Eamonn Coy, GMB officer for members at Katsouris, said: 'Bakkavor need to get real about what is happening at the Park Royal sites.
'BBC Radio 5 Live on 26th November reported on cutting corners on health and safety and on food hygiene in these plants. These reports cannot be dismissed with an unsubstantiated denial as Bakkavor have done.
'These 2,500 Bakkavor mainly migrant workers need a trades union to negotiate for them and improve health and safety.
'In recent times for example the company have had zero consultation or negotiations with the workforce over the move to a fourth facility at Park Royal that involves new work patterns for existing employees.
'Bakkavor are denying workers in Park Royal independent trades union representation by GMB for very simple economic reasons.
'They know that GMB will seek parity on pay and conditions for our members with those in the sister plant down the road. This would give these low paid workers a pay rise of at least £36 per week.
'This would cost Bakkavor £5 million in additional wages per year. That is the reason they are keeping GMB out.'