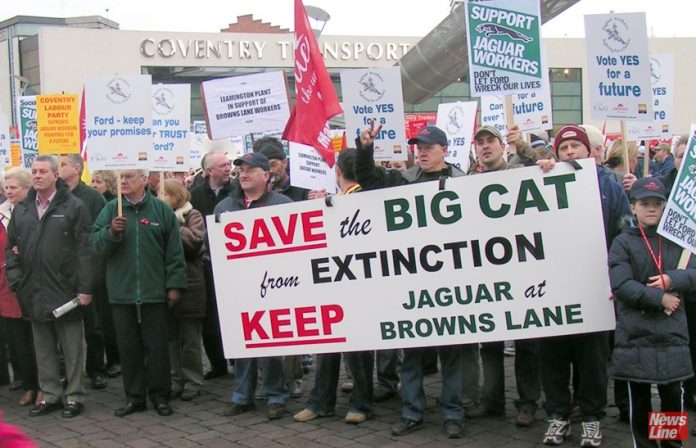 JAGUAR Land Rover (JLR) announced yesterday it is cutting up to an eighth of its 40,000 strong UK workforce with up to 5,000 car workers jobs to be axed. Meanwhile, Ford announced it is to cut thousands of jobs across Europe including jobs in the UK to go .
Jaguar said that the layoffs are part of a £2.5bn 'cost-cutting plan'.
Yesterday's job losses come on top of cuts made last year.
In Solihull, 1,000 agency workers were laid off in 2017.
At Halewood in Merseyside, 180 agency staff were cut.
In Castle Bromwich, 1,000 employees were put on a three-day week for the last three months of 2018.
Jaguar recently announced it would move all production of the Land Rover Discovery to a new plant in Slovakia with plans to hire up to 3,000 workers.
Meanwhile, Ford is currently in on-going talks with the trade unions about 'measures to reduce costs'. This includes focusing on 'more profitable models' and 'exiting less profitable markets', to 'concentrate more in future on electric and hybrid technology'.
Ford of Europe has 54,000 employees, with 13,000 in the UK. As well as the UK engine plants, it has other operations in Germany, France, Turkey, Spain, Russia, Romania, and Belgium.
Trade union Unite said it was 'working closely with Ford to safeguard jobs in the UK and look after the interests of employees' claiming it expected the impact of cuts on jobs in the UK 'to be limited'.
Ford operates two engine factories in the UK, at Dagenham, east of London, and Bridgend in Wales, as well as a joint venture with the gearbox manufacturer Getrag on Merseyside.
The announcement is likely to renew concerns about the long-term future of the Bridgend plant in particular. It is already due to lose a major contract to build engines for Jaguar Land Rover in 2020. Profits at Ford of Europe fell 82% last year.