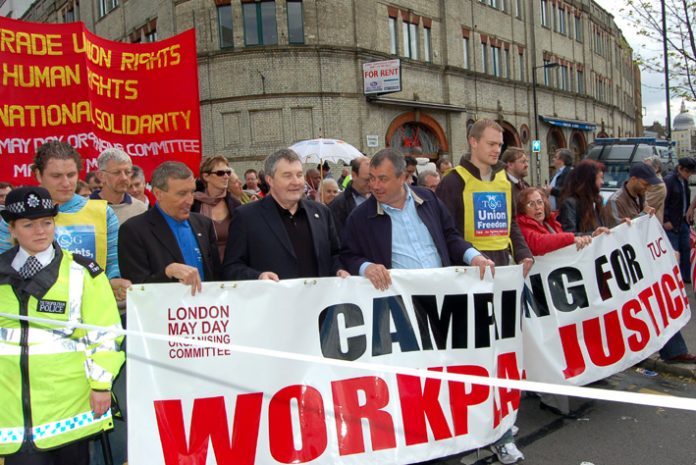 The Unite trade union yesterday confirmed it is in talks with Jaguar Land Rover over fears of a further 1,300 job cuts.
Unite sent News Line a statement by joint general secretary Tony Woodley which fell far short of unconditional rejection of redundancies.
Woodley said: 'At this point in time we will not be accepting a single redundancy at Jaguar Land Rover.
'While we are having discussions with both the company and the government regarding short-term working and how these workers can be kept in their jobs and off the dole, we will resist all redundancy proposals.
'Clearly, Jaguar Land Rover is facing severe difficulties and urgently needs help, including the commercial loan from the government which we have been pressing for now for months.
'But our strong view is that these difficulties are short-term and that it would be seriously damaging to the long-term future of the company if we lose skills and workers now only to pay the price when the upturn in demand comes.'
Jaguar Land Rover (JLR) has already announced 450 job cuts last week.
On Monday JLR announced that it had halted work at its car plant in Castle Bromwich, Birmingham, for two weeks.
The factory assembles all the Jaguar XF, XJ and XK models, and currently employs about 2,000 workers.
• Italian carmaker Fiat and US giant Chrysler have agreed to create a global strategic alliance, the companies said in a statement yesterday.
Fiat will get a 35% stake in Chrysler and in return, the US firm will get access to Fiat's fuel-efficient vehicle technologies.
Chrysler hopes for 'substantial cost savings opportunities' and has been promised access to Fiat's distribution network in 'key growth markets' outside the US and its global supplier base.
The statement said: 'Fiat has been very successful in executing its own restructuring over the past several years.'
However, the agreement does not commit Fiat to funding Chrysler in future.
Meanwhile, German carmaker Daimler said it was still interested in selling its 20% stake in Chrysler.
• A leading food firm that supplies Marks and Spencer is cutting 820 jobs at several locations across the UK.
Dutch-owned Vion said 470 jobs will be lost at its Haverhill site in Suffolk, 200 at Malton in North Yorkshire and 150 at Cambuslang in Scotland.
The Cambuslang job cuts follow the loss of business supplying food products to M&S.
A spokesman for the Unite trade union said: 'Unite is seeking urgent talks with the Vion Group. Our priority is to resist compulsory redundancies and safeguard jobs.
'This is very concerning as these job cuts show how vulnerable the supply chain companies in the food industry are to the demands of their clients, usually the big supermarkets.'
• Second News story
3.1% INFLATION RATE FOR DECEMBER
THE Office for National Statistics announced yesterday that Consumer Prices Index (CPI) inflation fell to an annual rate of 3.1% in December, down 1% from November's figure of 4.1%.
The Retail Prices Index (RPI) measure fell to 0.9% from November's 3% rate, the biggest fall in 28 years. RPI takes account of mortgage costs, which also declined following December's cut in interest rates.
But these figures bear no resemblance to reality for most families, who have seen huge increases in prices.
The price of gas increased 50.5% over the 12 months between December 07 and December 08, while electricity went up 31.3%, according to yesterday's CPI figures.
The CPI food inflation figure over the 12 months is 11.5%.
The cut in VAT, announced in November and implemented in December from 17.5% to 15%, brought the inflation rate figures down, as well as discounting in shops before Christmas.
Petrol and diesel prices came down in December, but air, bus and coach fares went up, while 11% increases in train fares were held off until January.
The CPI figure is still well above the government's target rate of 2%, but has fallen from September's level of 5.2%.