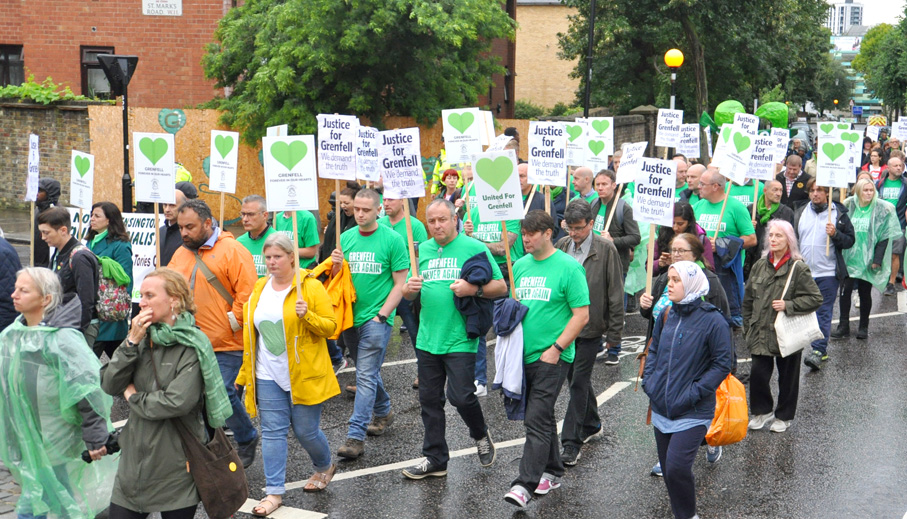 KENSINGTON and Chelsea council have re-housed Grenfell survivors and their families in a block found to have a 'high risk' of fire!
A fire risk assessment of the Hortensia Road block in Kensington, which is currently housing 20 people and was set aside for the survivors of the Grenfell Tower fire, also found that there was 'no evidence' that the cladding of the building had been inspected.
A fresh fire-risk assessment commissioned by the residents and carried out by consultancy Fire-X last month, found three sources of 'high substantial risk' in the building.
As its first substantial risk, Fire-X found 'service penetrations' through the riser walls had 'either been sealed incorrectly or not sealed at all'.
The assessment of Hortensia Road found that the doors leading to the fire escape had gaps larger than the recommended 3mm, meaning fire and smoke could spread through them.
Wednesday evening saw over 300 survivors, local community and their supporters demanding justice attended the Silent Walk on Wednesday evening, the twenty-sixth month after the Grenfell fire which claimed 72 lives.
A delegation of 30 firefighters from the FBU North West region travelled from as far as Cumbria to join  the walk.
FBU North West Region Secretary, Mark Rowe, told News Line: 'Firefighters from Cumbria, Lancashire, Cheshire, Merseyside and Manchester have come down today to show their solidarity and commitment to this community.
'We want to ensure the Grenfell Tower tragedy is never ever repeated anywhere else in the UK.
'From the time of the Summerland fire in the Isle of Man in the 1960s, when over 30 people lost their lives, it was known that certain cladding materials can be a death trap.
'The government removal of "Red Tape" has meant the deregulation of building materials.'
FBU North West Region treasurer Andrew Fox-Hewitt said: 'Due to Thatcher government's deregulation policies carrying out the risk assessment of buildings as safe is driven by the need of profit and taken out of the control of the local authority.'