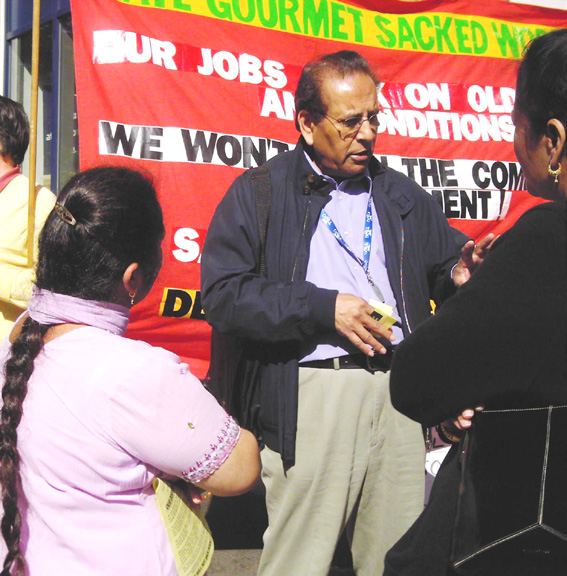 GATE Gourmet locked out workers lobbied the General Council of the TGWU yesterday morning.
They called on their union leadership to reinstate their hardship payments, and make their dispute official.
They also invited general council members to attend their first anniversary rally in Southall on August 20th.
Graham Morgan, Region 6 Food Drink and Tobacco General Council member told News Line: 'It was an absolute disgrace the way that the company planned and plotted to get rid of these workers.
'They should have the full support of the union.'
Mohammed Taj Region 8 Yorkshire said: 'We have been told that the issue is settled. But it is clearly not settled.
'I support the workers and will support their anniversary rally.
'A new regional secretary has been appointed, for Region 1, Steve Hart. He must support these members.
'The way they have been treated from all quarters is appalling.
'I will come with colleagues to their rally in August.'
Iggy Vaid, GC member and worker at Heathrow said the union paid hardship payments from August till January.
'I was not invited to the Monsoon Club meeting in Southall where the Compromise Agreement was proposed.
'As the EC member I should have been invited.'
Gate Gourmet locked out worker Parmjit Baines said: 'We gave them a headache today.
'We told them that our dispute had not finished and we are still fighting for our rights and our jobs.
'A lot of these leaders are scared and ashamed and don't want to come face to face with us.
'They don't want to listen to us. They wish we would go away.
'But we did get support from others, who said that they would come to our anniversary rally in Southall.
'The union must get right behind us. In Skyport (The Heathrow free newspaper) last week, Gate Gourmet said that they had apologised for what they did.
'That means that Gate Gourmet knows that what they did was wrong.
'That is why the union leaders must get right behind us, and then the company will bend even more.
'That is what we said today, and that is what we will continue saying.'
Mohinder Virk said: 'We told them we need hardship payments. Tony Woodley the TGWU leader feels no shame. His members are in struggle and he won't listen. He should resign.'
Parmjeet Sidhu added: 'I requested everybody to join our rally in August. It is going to be a day to show we are on the road to victory.'