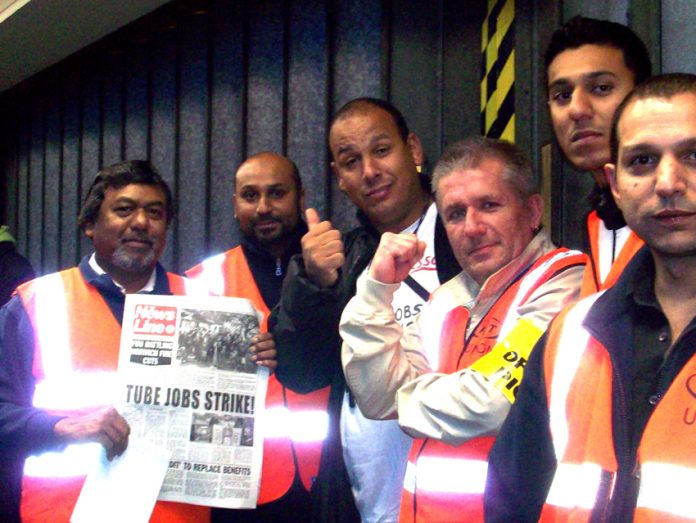 London traffic was gridlocked during yesterday's 24-hour strike, as Tube workers on picket lines expressed their determination to defend jobs and safety.
At Mile End Station, East London, Michael Mungroo Station Supervisor said: 'This strike is much stronger than the last one. It's more effective.
'This issue is No jobs cuts. No closures. It affects not just ticket office staff but station staff as well.
'At Mile End we have lots of incidents – people jumping on the track, fighting, drunkenness. You need the station staff to protect the public.
'We're doing it for public safety not for more money.'
His colleague Wajahat Fiaz said: 'Management try to bully staff to work at other stations e.g. Leyton to Mile End. That's against the framework agreement.
'Safety is the big one – not just for customers but also for staff. We're losing a number of jobs, which means longer periods working on your own, so staff may not be safe themselves.
'They want to cut costs. The bankers messed us up. All workers are affected. I especially support the firefighters.'
Ten pickets at east Finchley tube station were full of fight. RMT picket Mick Crossey told News Line:
'There are other strikes planned. We're not giving in to job cuts. The company has refused to sit down and negotiate.
'It's not only our jobs we're fighting for: it's for the future.'
RMT member Pat Harnett said: 'London Underground are out because of job cuts which the directors claim will involve no compulsory redundancies.
'However, if London Underground wins this dispute, they will take more and more – nitpicking away until the union is decimated.'
At Arnos Grove station, RMT health and safety rep Gary Fitzpatrick said: 'This strike is stronger than the last one.
'Management are breaking every rule in the book to keep trains running and stations open. The health and safety of passengers is being totally disregarded.'
At Finsbury Park station, Tom Mahoney, RMT, said: 'Twenty-three people were on the picket line from about four this morning. The strike is stronger. ASLEF drivers are respecting our picket lines.'
Kim, another RMT member, said: 'If you look at 7/7, the first people to get passengers off the trains were the CSA's and supervisors and the ticket office staff.
'If you have unmanned stations, what happens to people in wheelchairs or any disabled people?
There's no one to help and that's vital.'
Tom said: 'There is another strike on November 2 and the one after is on November 28. The strike is getting stronger.'
There was a lively picket at Harrow-on-the-Hill station despite the pouring rain yesterday.
Maxine Baldwin, health and safety rep and tube driver, told News Line: 'By London Underground's own admission there is 70 per cent no service.
'We are much more solid than last time. There are 90 stations closed.
'It is not just a station staff dispute, it is an all-grades dispute. I'm in favour of other unions coming out with us so we can win our dispute.'
A local TSSA safety rep at Camden station, who did not wish to give his name for fear of victimisation, said: 'London Underground has managers who are not qualified and trained to do the job, working as station assistants.
'They can't do a proper station evacuation.
'Using managers like this puts passengers' safety at risk.
'The unions should call the whole network out to win this dispute and stop the cuts.'