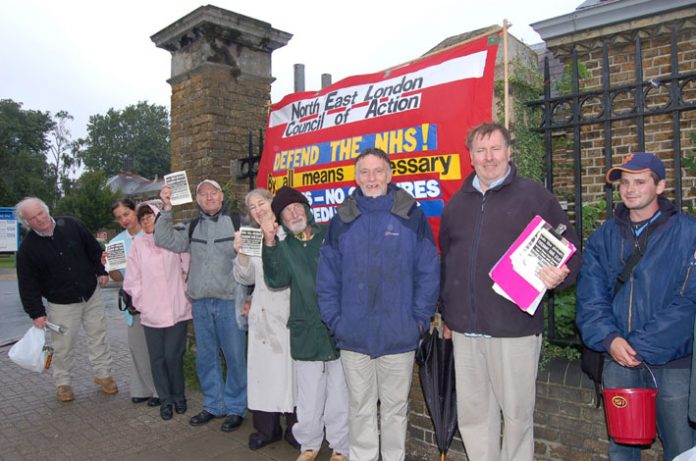 Scores of health workers, youth, patients, pensioners and local residents took part in yesterday's picket of Chase Farm Hospital, organised by North East London Council of Action.
The 7am to 2pm picket called on workers and youth to be ready to occupy to stop the planned closures of the hospital's A&E, Maternity and Paediatrics departments and won big support throughout.
'We can't let them shut the A&E and Maternity, mothers will suffer if they do,' student nurse Maria Nyandoro said. She added: 'I support occupying the hospital to stop the closure. The unions should take action.'
Student nurse Agnes Adeosun agreed: 'I don't support the closure. We should keep the hospital open.
'The unions must support any occupation and take strike action.' Dr Baidyray added: 'I'm opposed to the closure. We have to take action to stop it.'
Local resident, chartered accountant Karl Martins told News Line: 'It's very sad, planning to close the A&E after so many years. I'm opposed to the closure of the maternity as well. We live very close and we made it just in time when my wife had to have a Caesarian birth last Thursday. It was touch and go. Thanks to Chase Farm my wife and child are fine. So we have to keep it open.'
Local resident John Payne added: 'We definitely need the A&E here. The distance between here and Barnet is ridiculous. We have to do everything to stop the closure.'
Angela, who was taking her daughter for an X-ray, said: 'Considering we've heard on the radio that the longer the journey time the less chance you have of surviving, it's nonsense to close this A&E. For most of us, it would mean going to Barnet or the North Middlesex. There has to be a fight to keep Chase Farm open. I would support a sit-in.'
Student Estelle Ayensu said: 'We should keep the hospital open. Lives are more important than property.' Joanne Pethick added: 'I'm expecting in January. It would be a terrible shame if they were to close the A&E and Maternity. I'd support a sit-in, definitely.'
Ambulance staff told News Line that Barnet Hospital Maternity was closed to new patients and patients are being transferred to Chase Farm. An ambulance driver Eva Demus said: 'One of my patients has had three strokes and two heart attacks. He said Chase Farm saved his life. He said: "If this hospital closes and I have to go to Barnet, I'd probably die.
'We have to keep Chase Farm A&E, Maternity, and children's departments open. We have to occupy it and stop them and the unions must back an occupation with strike action.'