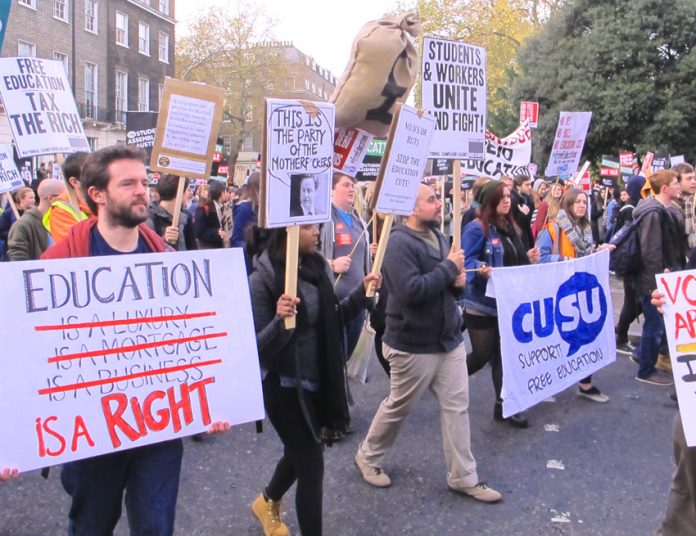 'IT'S time for Labour to come clean on university fees,' the University and College union (UCU) said on Friday, as it called for education to be made free.
Speculation about whether or not Labour will pledge to cut fees to £6,000 if it is elected has been rife for weeks.
The union said Ed Miliband should make a clear commitment to higher education by easing the burden of debt on students and ensuring universities do not lose vital funding.
UCU said access to higher education should be free and pointed to the recent decision by German lawmakers to get rid of tuition fees entirely as an example of a country prepared to prioritise its universities.
UCU believes that free access to higher education could be paid for through a hypothecated Business Education Tax (BET) on the largest companies' profits, collected as part of corporation tax.
This would mean the next government reversing reductions in corporation tax which have given the UK among the lowest tax rates in the G20 for big business, while students pay the highest public university fees.
UCU general secretary, Sally Hunt, said: 'Labour's sideshow on the level of university fees has become something of an embarrassment for the party with even the likes of Peter Mandelson wading in to the debate.
'The time has come for the party to make clear its policy.
'Further delays only allow Labour to be hit with accusations of opportunism.
'The party should make a clear commitment to students and universities by easing the debt of students and guaranteeing vital funding for universities.
'If we are to continue to thrive as a global academic power we need stable funding and if we are to ensure that everyone who would benefit from higher education is able to attend, we need to follow Germany's example and make tuition free.
'We can continue to featherbed big business with a corporate tax regime which is more generous than even the United States, or we can change direction and ask the most profitable companies to pay fair tax in order to fund access to university for the next generation.'