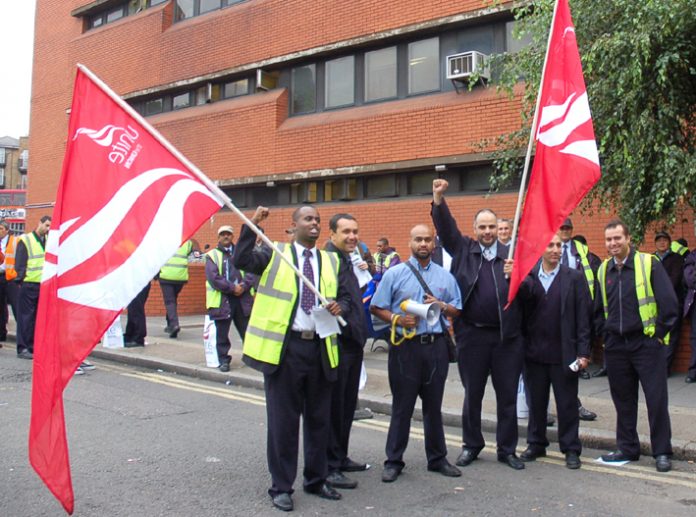 BUS drivers across London and Crawley, working for First Bus, Metroline and Metrobus, are staging a 24-hour strike today, demanding a fair pay rise and fair treatment at work.
Osman Rage, a local Unite bus workers trade union rep. from Westbourne Park, said yesterday: 'The reason the bus drivers are on strike is because we need decent pay rises.
'And we want dignity in our workplace.
'The pay dispute has come about because we've not had a good pay rise for a long time.
'In our company, we have two rates of pay: one for the new drivers and one for senior drivers – the new drivers get £10.52 an hour and the senior drivers get £11.69.
'It's not just a pay rise, it's the way staff have been treated by management, in terms of the way drivers are treated when they return after sickness. The management always call them for a disciplinary hearing.
'And when the staff do have a problem, no one really deals with their problem. They are just being ignored.'
He continued: 'When we had pay negotiations with our company, First Bus, in April this year, we gave them a shopping list of demands and we included in that the demand that we should be paid the same rates of pay as other bus drivers in London.
'The other things on our list were extra holidays and unsocial hours payments, starting from seven o'clock in the evening until seven o'clock in the morning, because now they only pay the drivers unsocial hours after about 10 o'clock in the evening.
'But all they have come up with is they will give us a 3.5% pay offer, which is not anywhere near what we were asking them for.
'The cost of living has gone up in terms of fuel, food – in fact, everything has gone up in price.
'And also, the drivers always do overtime just to get the kind of wages they need to try and survive, which is not fair.
'At the end of the day, if there were no bus services in London no one could go anywhere. It's the bus drivers who are doing the hardest job in the country and they are not getting the respect they deserve.
'So we at First Bus company, and Metroline and Metro Bus, are all coming out on strike tomorrow.
'Metroline and First Bus are the two biggest bus companies in London and they have a similar dispute.'