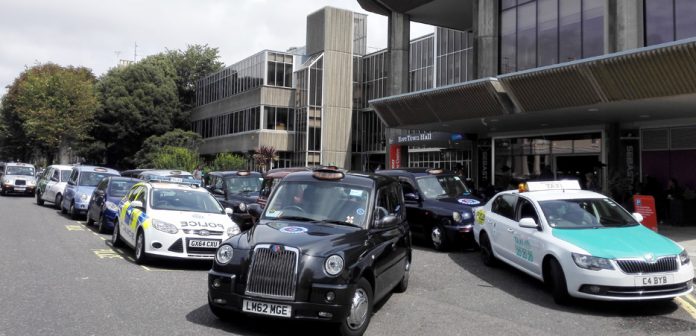 'WE WILL not have a Wild West situation,' for drivers, Steve Garelick, GMB branch secretary for professional drivers for London, said yesterday.
He spoke to News Line as in excess of 40 black cabs descended on Brighton Town Hall as part of an escalating campaign against app-driver companies undercutting black cabs and taking their customers.
Garelick who is also the President for the GMB National Organising Committee for drivers told News Line: 'Brighton drivers, just like Southend drivers, are under the cosh by app-drivers coming from other jurisdictions and raking in work from those local drivers.
'These app-drivers are not licenced to drive out of their licencing area. What we are demonstrating today, is that theoretically two can play at that game, a London taxi could theoretically go anywhere in the country and work.
'The reason we are outside the Town Hall is that the Brighton council have allowed this to happen. They have granted the licences in this case and instead of using local drivers, have allowed the app-drivers free rein. This is duplicated by other councils around the country.
'We are doing a "Lock Down London" in the third week in September. We are all going to Parliament when it opens. Last time we did a "go-slow" around Parliament square – it shut central London down.
'We need to see the law changed to address how cross-border drivers work and also to address driver rights and worker rights. Taxis are calling on Uber to reveal how their app works under the bonnet. The company seems to think they can carry on as they wish, without proving that they operate within the boundaries of the law.
'Only Hackney Carriages are allowed to "ply for hire" on the street – but to all intents and purposes that is what the Uber app allows users to do. We call on Uber to let the public know how their app stays on the right side of the law – people have a right to know.'