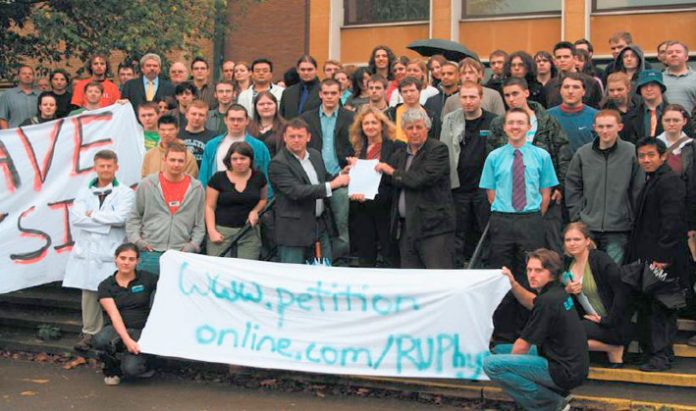 Students and lecturers at Reading University yesterday condemned Monday's decision to axe the university's Physics Department.
Philip Diamond of the Institute of Physics said the decision was very disappointing.
The controversial proposal was approved by the University Council, while over 200 students and lecturers protested outside the meeting which was guarded by university security.
Reading Students Union said: 'It comes with great disappointment to both students and lecturers, after weeks of strong campaigning.
'Huge support came locally, nationally and internationally, yet despite all this Reading is set to lose one of the most fundamental sciences in 2010.
'Students and lecturers came together in solidarity both campaigning and voicing their concerns about the closure.
'Calls were made for a more detailed analysis of the Department's future, the implications of closure and the possibility of alternatives, these were pushed aside by council, and the fate of Physics was sealed with 18 votes for the closure, five against and one abstention.'
Reading SU President Dave Lewis said yesterday: 'With Mechanical Engineering, Music, Sociology and now Physics all disappearing from the Reading portfolio in the past few years, people will be asking which subject is next.'
Ryan Bird, Vice President Education added: 'It comes with great frustration and disappointment that council voted for the closure.
'Six months ago a review concluded that an important and strong, viable physics presence was in line with the corporate plan, yet since then, physics has gone from important to only desirable.
'The only change is in the University's finances, and that should not have been to the detriment of physics.'
University and College Union joint general secretary, Sally Hunt, said yesterday: 'UCU stands by its members and the students here at Reading and across the country and will continue to fight any proposed cutbacks.'
She added: 'We are facing a potentially irreversible decline in the provision of science unless action is taken now.
'Warm words mean very little when scientists are being made redundant, labs are closing and courses are being axed, especially at a time when we need more, not fewer, scientists.
'Government and funders must no longer sit on their hands if we are serious about being able to meet the challenges of the 21st century.'
Wes Streeting, NUS Vice-President (Education), said: 'The Physics Department at Reading had an established reputation for innovation and excellence in teaching. This decision is short-sighted and ill-judged.'