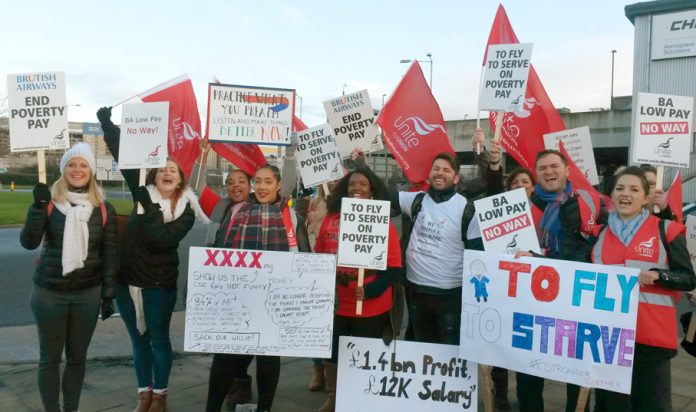 'WILLIE, Willie, Willie – Out, Out Out!' rang out on picket lines around Heathrow Airport in West London yesterday morning, as thousands of British Airways Mixed Fleet Cabin Crew began a 48-hour strike against poverty pay, which continues today.
Willie Walsh is CEO of International Airlines Group and has been CEO of Aer Lingus and British Airways. Pickets told News Line that, as a result of the strike, BA had been forced to cancel at least 69 flights before 8.00am yesterday morning.
'I'm one of the original Mixed Fleet Unite reps,' the union's regional officer Lindsey Olliver told News Line on the Bath Road picket line. 'At the end of 2010 there was no recognition for Mixed Fleet colleagues, now we're fully recognised and have been for three years.
'We are doing exactly the same job as our Worldwide and Eurofleet colleagues but getting a fraction of their pay. We did a survey of our members and 49% have taken second jobs to supplement their pay and 89% said they have suffered stress or depression because of serious financial difficulties. A lot are living with parents or partners.
'The first offer of a 2% pay rise was rejected by 94% of members – 2% of nothing is nothing. What members want is something to have an impact. When members are flying they get an hourly rate of £3 an hour, so 2% equates to 6p, which is nothing. The union went to ACAS with the company in December, but there was insignificant movement. However, members were balloted on the offer and there was a 70% rejection.
'We know we've got the full support of all our BA colleagues and after this 48-hour strike we'll take more action if need be. Although Willie Walsh is no longer head of BA, he's the CEO of the International Airline Group (IAG), so ultimately he's in charge. And he's brought strikebreakers in to carry out some of our flights. Willie – Out!'
Hannah added: 'We rejected the deal they offered in December which was seen as just a reshuffle. We want pay we can live on – it's not as if they can't afford it.' Jonathan added: 'I'm on about £500 a month which is less than I used to earn ten years ago at another airline. This management is greedy.' Harry said: 'We're very solid. This fight has brought us closer together across the whole of BA, not just in Mixed Fleet.'