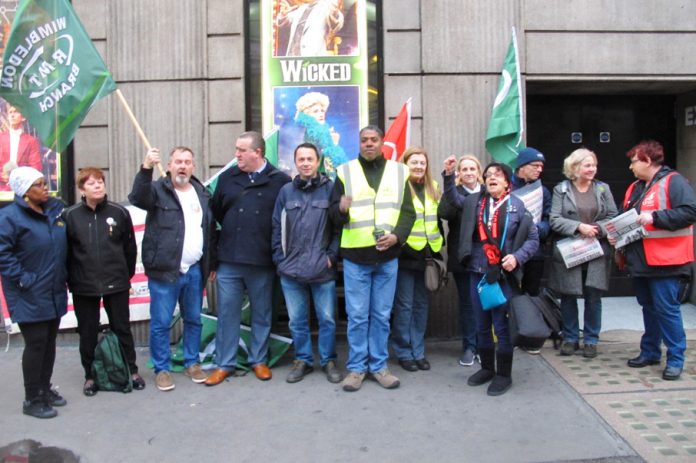 TRAIN drivers in the ASLEF union are to join their RMT colleagues in an escalating struggle against Driver Only Operated (DOO) on Southern trains, where all guards are removed so there is no one on board to ensure that passengers are safe.
ASLEF is to ballot its drivers on Southern Railways for industrial action after last-ditch talks at the union's head office on Monday 17 October failed. We have genuinely sought to reach a compromise with Southern,' said general secretary Mick Whelan.
'We have always been prepared to talk to the company, and we have always been of the view that it is, or should be, possible to do a deal – as we did with ScotRail – but it takes two to tango and the company has not been prepared to negotiate. They want to impose, not to discuss. They have dug in their heels and forced us to ballot our members.
'Our trade dispute with the company is that there should be no introduction and/or extension of new DOO routes on Southern without the agreement of ASLEF.' Ballot papers will go out on Friday 4th November to be returned by Friday 18 November.
Meanwhile, on the first day of the latest three day strike of Southern guards, RMT NEC member Paul McDonnell on the picket line outside Victoria station said: 'We're all up for a general strike against the anti-union laws. We can't afford to lose this.
'We're prepared to make concessions but the company aren't. That's because they are under instructions from the DfT and the government. They are out to get rid of the safety critical guard, putting the public and our members at risk.
'Disabled groups, pensioners and all the passenger groups are behind us.
'The public are fully behind us. Southern can see this but they are bulldozing their plans through.
'They're terminating our contract and have brought in new ones which are basically slavery. It's an attack on the right to strike. It would be nice if the other unions took action with us.
A Chelsea Pensioner stopped by the picket. He said: 'I support the guards' strike, it's in the interest of public safety.' One of the pickets explained: 'The company offered a £2,000 bonus if you signed up for the new "onboard supervisor" role.
'They are claiming 27% of staff are going to work on strike days. But all the depots are solid, this claim is rubbish, just propaganda. We need the train drivers to come out with us. If they sack anyone, all the unions should come out in a general strike.'