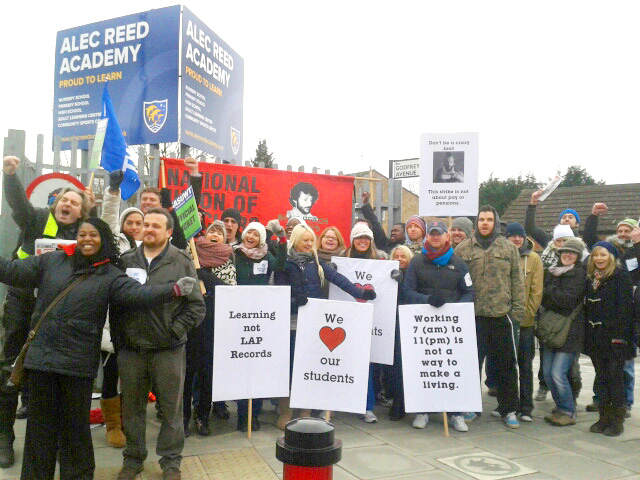 NUT and NASUWT members at Alec Reed Academy in Northolt, Ealing, west London were on strike yesterday, with two more days of strike action planned for next week, then three days the week after.
The dispute is an escalation of the joint-union action short of strike action, caused by the employer's refusal to meet either union to discuss what the unions call 'their many excessive practices'.
Both unions are considering to further ballot for action to win proper union recognition.
Shane Johnschwagar, NASUWT executive member, said: 'We have been unable to secure a meeting with the trustees. They put preconditions on meetings which are completely unacceptable and could lead to the victimisation of individual members.
'There is a climate in the school where members are reluctant to bring their concerns to managers.
'In my opinion the Academy Programme is a disaster for state education.'
PE teacher and NUT member Andy Thomas told News Line on the picket line: 'People have got to the point where the pressure being placed on them is just too much.
'The teachers care for the children. We want them to do their best.
'But the pressure on the teachers, through workload, is too much and it affects the quality of provision.
'Bullying and intimidation should have no place in the workplace, especially in an educational establishment.
'The staff turnover here is ridiculous.
'Children need stability. They need to know that they are not just a grade, not just a number.'
Adrian Crosbie, a parent, said: 'I support the teachers, who are doing their best for our children.
'There is something severely wrong with the management system.
'As much as Alec Reed is a successful businessman, I don't think you can run a school as a business.
'If he thinks he is preparing a future generation of entrepreneurs, then God help us!'
One NUT member, who did not want to give her name for fear of victimisation, said: 'Working conditions are extreme, there is so much pressure, too much paperwork, administration, completely preventing us from doing our jobs properly.
'The needs of the students are put last, and this comes from management.'
Another NUT member said: 'They have immovable policies, no consultation, they're inflexible, they don't think about the children.
'In my opinion, you need state public transport, state education and state utilities. Look at British Gas, who made £50 profit out of every household in the country last year.'