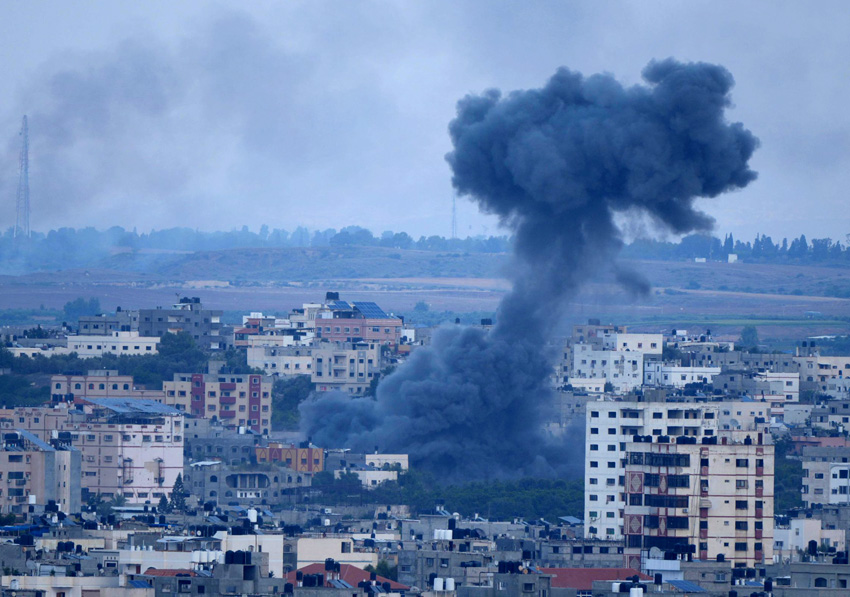 ISRAELI warplanes rained terror on Gaza yesterday, targeting ambulances, market places and refugee camps.
Warplanes fired missiles at the mosque in the centre of Shati refugee camp, west of Gaza City, killing and wounding many people and destroying their homes.
Missiles also hit the centre of Jabalya refugee camp smasing into the crowded market and killing and wounding dozens.
The Palestinian Ministry of Health said the death toll in Gaza and the West Bank has risen to 508, with 2,800 wounded since Saturday.
493 were killed in air strikes in the Gaza Strip and 2,751 wounded, including 91 children and 61 women, while the toll in the West Bank reached 15, including two minors.
The ministry said four were killed in Jerusalem, two in Ramallah, four in Hebron, two in Nablus, two in Jericho and the Jordan Valley and a child in Qalqilya.
Warplanes launched hundreds of successive raids on Gaza, targeting residential towers and buildings and mosques, causing hundreds of deaths, mostly women, children and elderly.
In a statement, the Israeli air force said it had dropped some 2,000 munitions and more than 1,000 bombs on Gaza in the last 20 hours.
'The Zionist enemy's military targeting and bombing of homes inhabited by women and children, mosques and schools in Gaza amount to war crimes and terrorism,' Hamas official Izzat Reshiq said.
The United Nations has said the Israeli attacks have killed multiple members of several families and led to the displacement of more than 123,000 people.
'Over 123,538 people have been internally displaced in Gaza, mostly due to fear, protection concerns and the destruction of their homes,' the UN said, adding that more than 73,000 are sheltering in schools which have been designated emergency shelters.
Israel's Minister of Military Affairs, Yoav Gallant, said the regime is escalating the Siege of Gaza, in place since 2007, to a 'total blockade', including a ban on food and fuel.
Describing Gaza's 2.3 million population as 'beastly people' Gallant said: 'We are putting a complete siege on Gaza – no electricity, no food, no water, no gas. It's all closed.
Israel's military said it has drafted a record 300,000 reservists and is 'going on the offensive'.
It also said more than 700 Israelis have been killed since Hamas launched Operation Al-Aqsa Storm on Saturday, but Israeli newspaper Yediot Ahronot estimated 1,000 Israeli deaths.
Islamic Jihad Secretary General Ziad al-Nakhala has said the number of Israeli forces and settlers captured by the resistance fighters and taken into Gaza amounts to 'dozens and more'.
The United States announced that it is sending additional weapons and munitions to Israel and moving an aircraft carrier, USS Gerald R. Ford, to the eastern Mediterranean closer to the occupied territories.
Meanwhile, the Palestinian Qassam Brigades unveiled a new shoulder-fired air defence system yesterday, issuing a statement saying that it was manufactured in Gaza and has been put into service in the conflict. They released a video showing fighters firing and hitting their targets in the air.
Iranian Foreign Ministry spokesman Nasser Kan'ani said Iran will not hesitate to deliver a crushing response to enemies if they make any foolish move against it.