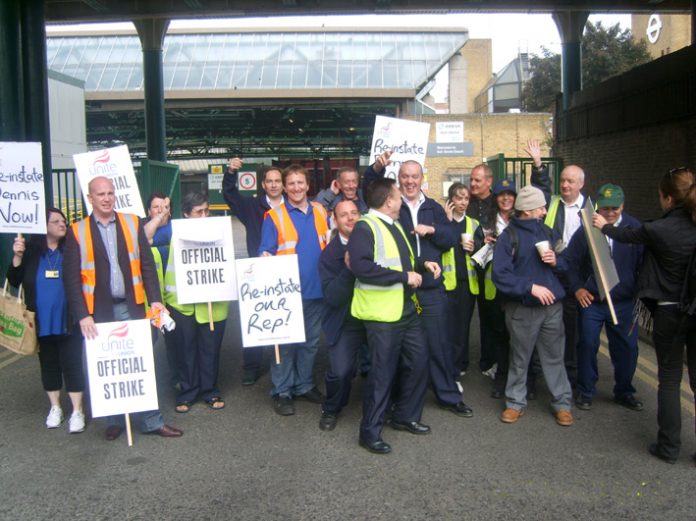 FORTY bus workers had a very lively picket yesterday morning, at Hackney's Ash Grove bus depot in east London, as they staged the first strike in a dispute to demand the reinstatement of their sacked shop steward.
During the course of the picket, they turned away a milk van and a Royal Mail vehicle.
Speaking about the dispute, a spokesperson from the UNITE union claimed: 'The incident started after the shop steward, who was elected only four weeks previously, was suspended for refusing to drive a vehicle with a health and safety defect.
'He was refusing to compromise health and safety, so the company, CT Plus, first suspended him and then held him accountable for the lost mileage.
'They then said that they would incur a fine from Transport for London for the bus not running in service.
'They classed it as a reasonable instruction to drive the bus.
'After suspension, he was put into a disciplinary procedure, which resulted in his dismissal.
'Aside from this, there is an overwhelming tide of discontent amongst the workforce, who suffer low wages and are expected to clean the vehicles, refuel and drive them.
'There is a complete disregard by CT Plus to maintain harmonious industrial relations with the union.
'The door was always kept open to resolve our difficulties.
'We have had a six-hour stoppage today and then there is a further six-hour stoppage on Friday, the 13th, from 1.00pm to 7.00pm in the evening.
'The economic picture at the moment, with the workforce at CT Plus being at the bottom of the league table for bus workers in London, means that the tensions are rising.
'The struggle is well overdue.'