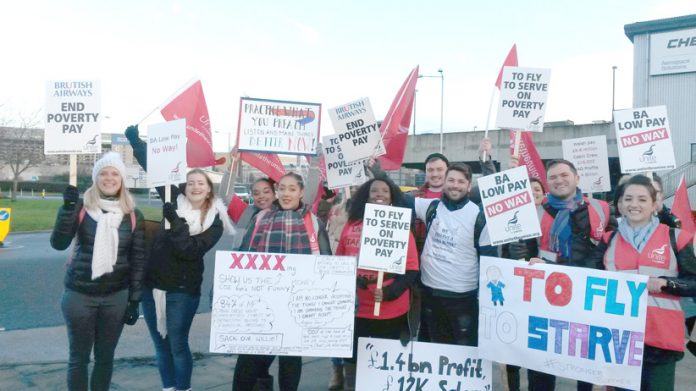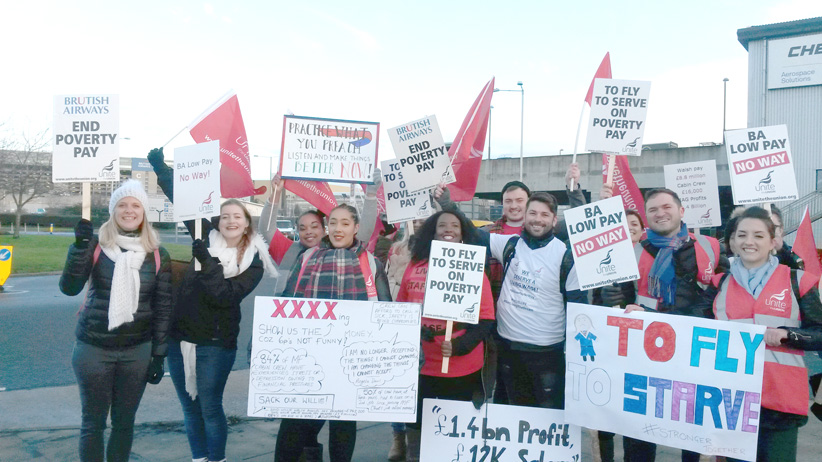 THREE unions – BALPA, Unite, and GMB – representing 25,000 British Airways workers have rejected the company's latest pay deal meaning that a major strike is now looming.
Unite said in a letter to its members: 'Unite met last week to review BA's revised offer and unanimously resolved to reject it on your behalf.
'We have communicated our decision to the company. The offer has also been rejected by BALPA and GMB on behalf of their members.'
Unite added: 'All three unions agreed a historic joint approach to pay. In response, British Airways have made a further offer, which not only falls considerably short of members' expectations but which has changed only marginally from their original offer, which was so overwhelmingly rejected across BA.'
BA's offer is below inflation, which means that it is, in fact, a real terms pay cut.
Unite explained: 'Over three years, the latest offer has the potential to deliver you a below-RPI deal.
'BA's "headline pay" uplift could be described as disingenuous.
'The offer is forecast at around 8% (over the entire three year period) significantly below management's somewhat inflated 11% headline figure.'
Meanwhile, Security guards employed by London Luton Airport will step-up their campaign against 'heavy-handed' shift changes with 12 consecutive days of strike action, including the bank holiday weekend.
The security guards responsible for searches, baggage checks and general security across the airport will strike for 12 days from this Thursday 23 May at 04:30 until Monday 3rd June at 20:59.
London Luton Airport is attempting to push through a new shift pattern affecting around 120 security guards which forces them to work an extra 15 days a year and will only get nine free weekends a year.
The previous series of strikes at the beginning of the month caused significant delays at Britain's fifth busiest airport.
The union has called on the airport to suspend the implementation of the new shift pattern to allow further talks.
A record 16.6 million passengers used Luton airport last year. Unite believes the recruitment of security staff has not matched increasing passenger numbers; instead the airport is putting all the burden on its existing workers, forcing them to work an extra 15 days a year.
95 per cent of the workers who took part in the ballot voted for strike action.