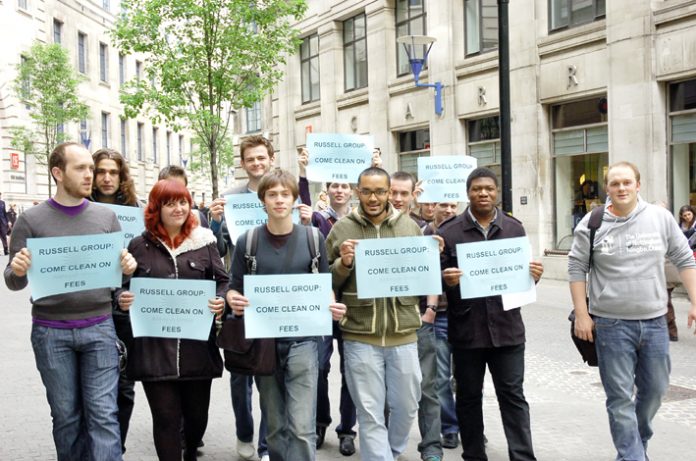 STUDENT leaders went to the Russell Group's headquarters next to Trafalgar Square on Monday, to demand the Group makes public its evidence to the Browne Review on tuition fees.
Students fear that the Browne Review will be influenced by the Russell Group – which represents the 'top 20' universities in the country – to recommend increasing the fees still further.
The fees review is going to be political dynamite when it is published in the next few months.
Fees are already more than £3,000 a year for British students, whilst students from outside the EU are being charged over £10,000 a year for courses.
Emmanuel Akpan-Inwang, Students' Union Education and Welfare Officer at the London School of Economics (LSE), led the delegation to see the Russell Group, which also included student union leaders from Cambridge, Newcastle, Birmingham and other universities.
He said: 'It is completely unacceptable that a document that so directly impacts on our students is being kept hidden.'
He handed in two letters, one addressed to Wendy Piatt (Director-General of the Russell Group), and one to Michael Arthur, the group's current chair.
The letters demanded that the Russell Group publish evidence previously submitted to the Browne Review, and that a date for the publication of their final submission is announced immediately.
He said access to higher education 'should not be based on ability to pay'.
Sam Wakerford, Cambridge University Students Union, said: 'It stretches the concept of public confidence in the Review that they haven't even got a representative of the National Union of Students on it.'
The student union leaders gathered at the London School of Economics (LSE) before walking down to the Russell Group's offices.
They told News Line as they assembled: 'To our knowledge every other body has published their evidence to the Browne Review.
'The 1994 Group and Million Plus have made their publications official – 162 different documents from different organisations have been submitted as evidence to the Review, but the Russell Group has not made their evidence public.
'They said that the evidence they submitted was "draft'' evidence and they wanted it to remain confidential, which we think is very odd and seems to differ from the way in which every other organisation has submitted their evidence.'
Emmanuel Akpan-Inwang said: 'The only reason I'd imagine you'd want to keep something secret is because you're saying it's something you don't want other people to hear.
'We need the submission to be published so we can see what the Russell Group says, so we can have a public debate about whether this is beneficial for the future of Higher Education.'
He continued: 'The Russell Group represents some of the top HE institutions in the world, so what they have to say will carry some weight with the Browne Review.
'So it's vital that not only students, but the general public know what they have to say.
'This is a public review and therefore the general public should know what is being said.
'Those parents who have children who may want to go into Higher Education need to know what these institutions think, because it will affect their children's future.'
Emmanuel said: 'We need to have a sustainable way of funding Higher Education, rather than raising the fees.'
Fabian Neuner, president of Birmingham University Guild of Students, said: 'Our students care deeply about the Browne Review.
'Our students are very aware of the issue and are following the submissions of other groups and they want to know what the Russell Group's view is going to be.
'They are very influential and we want to have the chance to respond.
'We can't respond if we don't know what they're saying.'
He added: 'The average debt our members are graduating with now is £28,000.
'We say if students are going to contribute any more it should be based on what they earn in the future, not how much they can pay now.'
Ryan Wain, the president of King's College London student union, said: 'This review is one which will affect the future of education, not just for the institutions, not just for the government, but most importantly for the students.'
He said publishing the Russell Group's document 'would finally allow the debate on student funding and the cost of education to reach all stakeholders, from the students who are yet to go to university – many of whom will not because of funding – to parents, family members, graduates, and current students as well.
'They should all see this document in its raw format and be able to comment,' he said.
He added: 'Ideally, I'd like to see free education, but approach it practically and I see the need for students to give something back to education through a progressive graduate tax.'
Newcastle University SU student support officer and National Union of Students NEC-elect, Peter Mercer, said: 'The lack of transparency in the Russell Group is shocking.
'Not only will they not reveal their submission, but they won't give us any genuine indication of when it might be revealed.'
He said: 'I believe in an alternative system from the one in place, but I believe that any lifting of the current cap on fees would be devastating to the government agenda of widening participation in Higher Education.'
He continued: 'I think a return to Higher Education funded through taxation, without any charges to students, is not realistic in the current climate.
'However, I think the change should be one that is fair to students from poorer backgrounds and heavily bursaried to that effect.
'It's not just students from poorer backgrounds, it's students from middle-income backgrounds who would miss out on student support and will essentially also be driven out of the education system.
'It depends on the outcome of the Browne Review, from which vital information is being kept secret from us.'
Sam Wakerford, Cambridge University Student Union education officer, said: 'If all the evidence submitted to the Review isn't made public, if we can't look at it and debate it in a public forum, then we don't see how the Review is to have any legitimacy at all.
'If they have any confidence in their decision-making, in their ability to interpret evidence and make conclusions, then the Russell Group's submissions should be public.
'Otherwise what is it that they have to hide?
'Unless they have something to hide, we fail to see why evidence to a review which could lead to one of the most radical shake-ups in how Higher Education is funded in decades, is kept from public scrutiny.'
He added: 'We're worried that if the top universities are seen as even more expensive places to study and a market in fees is introduced, then many bright students will not even consider coming.
'They will be put off applying to these universities by the fear of debt.'
Mazdak Alizadeh, vice-president of the University of London Union (ULU), said: 'For me, it's a question of fair access.
'People shouldn't have to make choices based on their financial situation and I think we will definitely see many students unable to afford university any more if the cap comes off completely and institutions can charge what they please.'