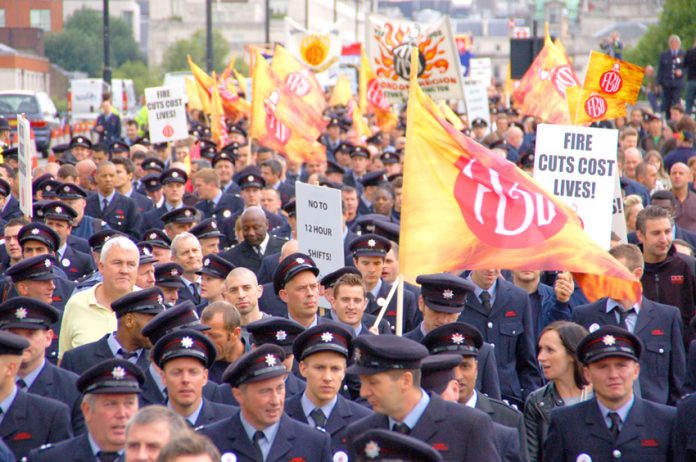 The FBU and the Chief Fire Officer met this week and agreed a way forward to maintain fire cover within East Sussex.
Recently, East Sussex Fire and Rescue Service (ESFRS) managers have failed to maintain fire cover within towns and villages of the county.
When challenged over their decisions by the FBU, they have refused to use previously agreed policies to maintain the fire cover that the public pay for and expect.
This decision has put the public's safety and firefighters' safety at great risk.
But on Tuesday, the Chief Fire Officer agreed that provisions and policies are now in place to maintain fire cover supplied by appliances crewed by fully trained personnel with the necessary equipment.
The FBU welcomes this decision.
However, the FBU are still dismayed that managers within the service refused to listen to the concerns of the FBU prior to the meeting with the Chief Fire Officer.
The FBU believe that the public's and firefighters' safety was needlessly put at risk.
Whilst the agreement to maintain fire cover is welcomed by the FBU, it does not consider it a robust way of maintaining fire and rescue cover as it relies on off duty personnel.
Should these personnel not be available then it would again affect cover.
Maintaining correct establishment levels of personnel to be able to cope with foreseeable shortfalls, together with pre-planning, must be utilised as far as the FBU are concerned, not relying on off duty personnel to prop up the service.
As previously stated, the FBU are concerned that within East Sussex there have already been reductions to frontline posts due to cuts being made and these cuts are now affecting the service's ability to maintain fire cover within the county.
The FBU are again calling on the Chief Fire Officer and the Fire Authority to revise their plans regarding further cuts to frontline firefighter posts.
Savings can and should be made without frontline post losses.
This was laid out in the letter to all chief fire officers and fire authorities in 2010 by the minister for fire and rescue, Bob Neil.
Over the last year deaths due to fire have significantly risen within East Sussex, and any further cuts in the opinion of the FBU will lead to further deaths and injuries.
Social deprivation and fire go hand-in-hand and therefore the most vulnerable in our society, including the elderly, children and lowest paid, will be put at the greatest risk if these further cuts go ahead.
The FBU is committed to protecting the public and protecting firefighters.
East Sussex FBU will oppose any job cuts with all means available.
On the 7th June the chairman of East Sussex Fire Authority, Councillor John Livings, issued a communication regarding cuts to the establishment within East Sussex Fire and Rescue Service.
East Sussex FBU wrote on the 8th June 2012 of their concerns over further reductions in posts.
Within East Sussex there have already been reductions to frontline posts due to cuts being made.
The FBU have raised their concerns with management and the fire authority that these cuts would heavily impact on the ability of East Sussex Fire and Rescue Service to provide emergency fire and rescue cover within the county.
The FBU's concerns are now being realised.
During recent months wholetime appliances have not been available for emergency incidents due to lack of crewing or fully trained personnel being available.
The FBU have repeatedly raised their concerns that by cutting firefighter jobs and having fewer fire engines available will delay intervention.
Any delay in intervention at an emergency will put public lives at risk and also put the firefighters at greater risk when dealing with the emergency.
The FBU and ESFRS managers have agreed policies to make up for short-term crewing deficiencies.
Following discussions between the FBU and managers it has become apparent that ESFRS managers have not been utilising these agreed policies for maintaining fire cover within the county.
It seems apparent to the FBU that ESFRS senior managers and indeed the fire authority of East Sussex are comfortable with the situation whereby whole villages and towns have no fire cover supplied by their local fire station and firefighters, thus relying on neighbouring stations and firefighters who would have long travel times and distances to attend any emergency.
The FBU are dismayed with the lack of fire cover and expect the public to share their concerns.
The public pay for a fire service through their council tax, and that service is now failing to deliver.
The FBU are again requesting that East Sussex Fire Authority look to make the necessary savings, that have been imposed by government, without reducing establishment any further and also without putting the public and firefighters at any further risk due to these cuts.
• Meanwhile, rail workers are in the thick of the fight.
The RMT said on Wednesday that it is demanding cast-iron guarantees from First Group that there will be no attack on jobs and working conditions in light of their winning bid for the West Coast franchise.
The RMT has already made it clear that any threat to members' livelihoods off the back of the transfer from Virgin will be met with an immediate ballot for industrial action.
RMT also warned the government that its shambolic handling of last Tuesday's fares increases and Wednesday's franchise award has added fresh impetus to the campaign for renationalisation of Britain's railways, as the public react to the news that they will be paying more to travel on worse services and all in the name of private profit.
RMT General Secretary Bob Crow said: 'From rail fares to rail franchising this rotten ConDem government is in total disarray and has turned the running of Britain's railways into a shambolic, profit-led lottery.
'In the past 24 hours, on fares and the West Coast, ministers have done more to fuel the campaign for renationalising Britain's railways than RMT could have dreamt of.
'Today we are seeking urgent and cast iron guarantees from First West Coast that all of our members' jobs are safe, and they should be under no illusions that any attack on the staff will be met with a ballot for industrial action.'
ASLEF said it was 'profoundly unmoved' by the outcome of franchise bids, such as Wednesday's announcement that First Group had wrestled the west coast railway from Virgin.
Speaking on Wednesday, the union's national organiser, Simon Weller,, said: 'What we are more concerned about is the waste of millions of pounds that these bidding wars produce .
'Virgin said this morning it had spent some £15 million to prepare its bid.
'Many experts say First Group has offered £1 billion more than the contract is worth.
'Fortunes have been spent preparing bids, employing accountants, retaining lawyers, paying consultants.
'This is money that could have been used to improve rail services.
'Instead, it flows out of our industry into the pockets of the investing rich.
'All today's announcement means to the travelling public is that it will cost them vastly more in fares than if there was no franchising.
'It has cost First Group over £15 million to win this bid.
'The passenger will be picking that bill up.
'If profits don't roll in and passenger numbers rise as First hope they will, they'll hand back the keys and the taxpayer will pick up the bill.
'Either way, they gain and we lose.
'That is the franchising process in a nut-shell. That is what privatisation has done to Britain's railways.
'Whoever won this contract is duty-bound by their investors to extract massive profits from the pockets of passengers, tax-payers and railway staff.
'Surely it is time to reconsider this sick, sad, stupid and wasteful franchise system?'