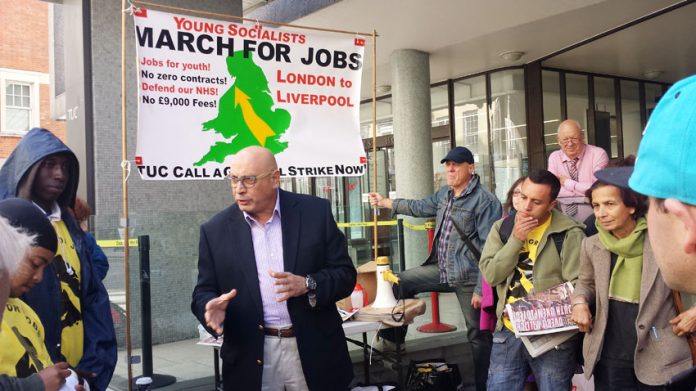 'BRITAIN will be judged by history for its failure to support the Palestinian people,' Palestinian Ambassador to the UK, Manuel Hassassian, said yesterday.
'For how long will the UK Government continue to exonerate itself from its political and moral responsibilities towards the Palestinians by using a language couched in ambiguity and slick diplomacy? Such a position will not give the UK credibility in its claim to support a two-state solution.'
'Last Thursday, the United Nations Human Rights Council voted in favour of four key issues in support of the Palestinian people's continued struggle for justice and peace.
'The four resolutions focused on self-determination, human  rights abuses by Israel, the accountability of Israel for its violations of international law and its continued building of settlements on Palestinian land.
'The resolution on settlements also proposed  setting up a database of all companies doing business in or with illegal Israeli settlements. The Palestinian Mission in the UK has little choice but to express its deep disappointment with the UK Government's abstension on the settlement vote and on the two others on Israeli violations of international law and human rights abuses.
'The UK Government has encouraged the Palestinians in their determination to use international law and other peaceful means to further support their rights. But when it came to the acid test, this support was just not there and the UK Government failed to uphold its obligations to the Palestinian people and did not vote in favour of all the resolutions.
'This was all the more regrettable as the vote was an ideal opportunity for the UK, along with fellow EU member states and the rest of the international community, to unanimously hold Israel accountable for its continued violation of Palestinian human rights and for its runaway settlement building project on expropriated Palestinian land.
Only last week, Israel announced two more land grabs in Hebron and Jericho.
'How long will the UK Government continue to shirk its moral responsibilities to do the right thing by the Palestinians instead of standing ineffectually on the sidelines? Assertive support for these resolutions and a positive vote could have been a chance to salvage any remaining prospects for establishing a two-state solution.
'The consequences of this continued inability or unwillingness to proactively support Palestinian human rights and and censure Israel will create more suffering and more despair for a people who have already have had to bear so much. Not only this, the UK Government will be judged by history for its continued failure to play a major role in the cause of justice and peace.'
The Israeli authorities on Tuesday levelled a privately-owned playground and uprooted several trees in the latest demolition to take place in the occupied East Jerusalem neighbourhood of Silwan, locals said. Silwan resident Khalid al-Zeir reported that armed Israeli forces escorted excavators and inspectors from the Jerusalem municipality at dawn onto a playground he built in the al-Abbasiyya area of the neighbourhood.
The excavators levelled his land and demolished a number of structures across the playground, including a single room used for storage, a poultry pen, walls, and fences, al-Zeir said, adding that a number of trees were also cut down. Al-Zeir said Israeli soldiers involved in the demolition hurled stones at him and attacked his acquaintance when the two attempted to access the area.
Al-Zeir said he was notified by Israel's Nature and National Parks Authority that his playground was built on a 'historically important archaeological area' where construction or changes to the landscape are prohibited. Jawad Siyam of the Silwan-based Wadi Hilweh Information Centre confirmed the demolition of al-Zeir's property, and said several trees and saplings belonging to the Simrin family were uprooted by Israeli forces without prior notice.
The Simrin family told the centre the land was used as a dump before the they cleaned up the area six years ago, building stone walls and planting trees.
Siyam said that much of Silwan was shut off completely by Israeli forces during the demolitions.
Palestinians living in East Jerusalem are under constant threat of demolition or displacement due to policies carried out by consecutive Israeli governments to establish a Jewish majority in the occupied Palestinian-majority city.
Palestinians' ability to build homes or expand existing structures legally has been severely limited by the Jerusalem municipality, and more than 3,000 Palestinian structures have been demolished since 1967, according the PLO Negotiations Affairs Department.
The Wadi Hilweh centre said in February that the Israeli authorities were escalating demolitions at Silwan in particular, and at least four demolitions have been carried out in the neigbourhood this month.
Meanwhile, the Israeli National Council for Planning and Building approved last week a massive building project planned by Israeli settlement organisation Elad in Silwan. The project, which is known as Kedem, is part of the ongoing City of David settlement enterprise championed by Elad, a group that since the 1980s has worked towards its self-professed aim to replace Jerusalem's indigenous Palestinian population with Jewish communities.
PLO Executive Committee member Hanan Ashrawi said the approval was a clear sign that Israel was 'deliberately isolating Jerusalem from its Palestinian environs and indigenous people and transforming it into an exclusively Jewish city.'
l The Gaza Strip was left almost entirely without power on Tuesday due to maintenance on power lines from both Israel and Egypt, and ongoing tax disputes on fuel for the enclave's near-defunct power station.
Muhammad Thabit, a spokesman for Gaza's electricity company, said that starting at 6am all lines supplying power from Egypt as well as two lines from Israel were disconnected, cutting off residents of southern Gaza and Gaza City from electricity. Thabit was unaware of how long the cut was expected to last.
Gaza's sole power station meanwhile was operating at just half capacity for the third consecutive day due to the shutdown of one of two turbines in the station, Thabit added. Thabit said the shutdown came after a dispute between Gaza's electricity company and the West Bank-based Palestinian Authority Ministry of Finance over taxes on fuel used by the station.
Thabit said the PA ministry, starting this year, cut funding of Gaza's fuel taxes by nearly 50 per cent. While Gaza's governing body Hamas is obligated to collect electricity bills from residents of the besieged enclave and send the funds to the PA, financial disputes have been ongoing since Hamas took over the Gaza Strip in 2007.
While the PA slams Hamas for failing to foot the bill, Hamas says Gaza's residents are unable to pay bills due to high rates of unemployment and the crippling siege imposed by Israel and upheld by Egypt, Thabit said.
Hamas's inability to cover these costs led to the power station closing for more than a month last year and led to condemnation of the PA by many of Gaza's residents.
Egyptian and Israeli electricity grids fail to cover the territory's energy needs and it has suffered from chronic shortages due to the near-decade long blockade.
War has also taken its toll, and during Israel's 50-day offensive on Gaza in 2014, the power plant was targeted, completely knocking it out of commission.