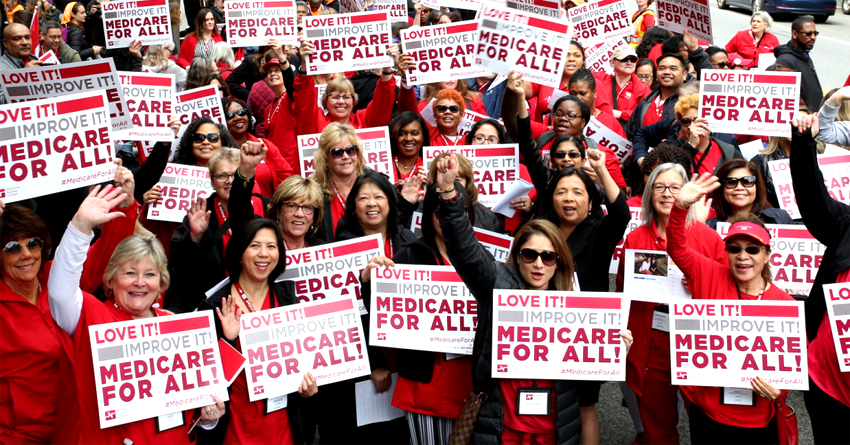 THE VERMONT US Senator Bernie Sanders wants to give federal workers the right to strike, to eliminate so-called 'right-to-work' laws, and at the same time to limit 'ultra-high CEO pay' for federal contractors.
He pledged to deliver this plan on August 3rd, at a forum in Nevada hosted by the American Federation of State, County and Municipal Employees – a major union.
And in point of fact, as a leading candidate for the Democratic Party's 2020 presidential nomination, Sanders offered to roll out a sweeping plan to expand the rights of workers and unions.
It not only offered federal employees the right to strike, but would also make it easier for them to form unions, to eliminate so-called right-to-work laws, and to allow unions in the same industry to jointly negotiate with employers.
Sanders, who is presently in the top tier of candidates for the party's nomination, is competing for union endorsements with former Vice President Joe Biden, Sen. Elizabeth Warren (Mass.) and Sen. Kamala Harris (Calif.).
His plan would also help woo organised labour in the critical early voting states of Iowa, New Hampshire and Nevada. Unions could then organise to provide crucial volunteers and cash to help put campaigns over the top.
The plan is based on the Workplace Democracy Act, i.e., legislation that Sanders has introduced every year since he first arrived in Congress in 1992.
'There are many reasons for the growing inequality in our economy, but one of the most significant reasons for the disappearing middle class is that the rights of workers to join together and bargain for better wages, benefits, and working conditions have been severely undermined,' Sanders' campaign wrote in rolling out the plan.
The campaign said too that Sanders would 'aim to double union membership during his first four-year term in office.'
Union membership has been in decline in the United States. Sanders and other progressives have long argued that the decline of unions has been a leading driver of economic inequality: for unionised employees typically make more money and are more likely to have health coverage and strong retirement plans.
By executive order, Sanders would require federal contractors to take steps to make their workplaces more employee-friendly. They would be barred from outsourcing jobs, from paying their CEOs over 150 times what their average worker makes – and required to pay workers at least $15 an hour.
He would also push to give federal employees the ability to strike for the first time.
Other steps would require a friendly Congress: Sanders would propose eliminating the section of the Taft-Hartley Act that allows states to adopt 'right-to-work' laws that undermine unions.
He would also seek to make union organising easier; with majority sign-up, also known as 'card check.' This could seek to bar corporations from forcing employees to attend anti-union meetings, and would push for a law guaranteeing the ability of public sector workers to collectively bargain.
The last provision could prove particularly popular in Iowa. In 2017, the state's Republican-controlled government passed a law that said public employees there could negotiate only over wages, but not for health care or other benefits.
Another major union priority included in the plan – which would require congressional approval – is sectoral bargaining, which allows unions across a single industry to bargain together and set universal standards for wages and benefits.
Then last Wednesday – and this time in Iowa – Senator Bernie Sanders rolled out an ambitious plan to strengthen organised labour in the US, setting a goal of doubling union membership in his first term as president.
Sanders was among the biggest names in a procession of Democratic presidential candidates who affirmed their support for unions, in a series of speeches at a labour convention near Des Moines.
'If there is going to be class warfare in this country, it's time that the working class of this country won that war and not just the corporate elite,' Sanders said.
More than a dozen candidates spoke at the convention, held by the Iowa Federation of Labour, AFL-CIO. For the Democrats, it was another chance to advance their argument that the economy is failing working people — and that strengthening unions is a critical step to empowering workers.
Senator Amy Klobuchar of Minnesota spoke of her grandfather, a union iron ore miner. Former Representative John Delaney of Maryland told the crowd of his father, a union electrician. Senator Elizabeth Warren of Massachusetts said she had helped graduate students, casino workers and airport workers unionise.
Senator Michael Bennet of Colorado rolled out a new policy plan focused on American workers, particularly those without a four-year college degree.
'In this election, it won't be enough to run against Donald Trump's lies and empty promises,' Senator Bennet said. 'We need to make crystal clear that the Democratic Party stands for working people.'
The candidates' speeches also put a spotlight on the continuing divisions over whether to move to a 'Medicare for all' system that would eliminate private health insurance – and on the ramifications that that would have for union members, whose leaders often negotiate generous health care plans with employers – but at the expense of raising wages or securing other benefits.
Several candidates argued against getting rid of private health insurance – a move supported by both Sanders and Warren – under 'Medicare for all'.
And former Vice President Joseph R. Biden Jr., who wants to allow people to keep their private insurance but give them the option of signing up for a government-run health plan, was among those to raise the issue.
'You've negotiated really hard for your benefits with your union with the employer,' he said. 'And my plan, you get to keep it – you don't have to give it up.'
Sanders' labour plan appeared designed to pre-empt that criticism. It would require that employers dedicate the savings they receive when they no longer fund union-negotiated health plans toward raising wages and adding other benefits.
The candidates appeared at the convention amid increasing concerns that the United States is at risk of slipping into a recession. President Trump said last Tuesday that he was considering 'various tax reductions,' including a payroll tax cut, to stimulate the economy, though he backed off those comments on Wednesday.
The candidates at the event last Wednesday generally stayed away from talk of a recession, but used the opportunity to emphasise their support for organised labour.
Senator Cory Booker of New Jersey said, 'The American dream is not possible without unions.' Mayor Pete Buttigieg of South Bend, Ind., spoke of 'the freedom to organise for a good day's pay for a good day's work.' Julián Castro, the former housing secretary, promised to appoint a labour secretary 'who will champion the ability of labour unions to organise.' Former Representative Beto O'Rourke of Texas said supporting unions was 'great for this entire country.'
Sanders called his new labour plan 'the strongest pro-union platform in the history of American politics.' It would allow a majority of workers to form a union simply by signing authorisation cards rather than winning a secret ballot election, which would make unionising substantially easier.
It would also end so-called 'right-to-work' laws that exist in more than half the states, which allow workers to opt out of paying union fees if they choose not to join a union – even if the union bargains for their contract. Unions argue that this allows workers to receive the benefits of membership without helping to offset the costs of providing such services.
Sanders would also create a system in which workers bargained for wages and benefits by industry, rather than with particular companies, as federal labour law currently requires.
That would make it possible to increase wages and benefits for more workers at once, and potentially ease employers' concerns that raising wages would put them at a disadvantage.
And Sanders would require employers receiving federal contracts to pay workers at least $15 per hour and to remain neutral in union organising campaigns.
The plan 'is an important recognition of the fact that tinkering around the edges isn't going to be enough to return power to American workers in our economy,' said Sharon Block, a former National Labour Relations Board member appointed by President Barack Obama, who is executive director of the Labour and Worklife Programme at Harvard Law School.
Also last Wednesday, the president of the Service Employees International Union, one of the largest and most politically powerful unions in the country, laid out a plan for changing federal labour laws that overlapped with Sanders' proposal.
In a speech in Milwaukee, the SEIU president, Mary Kay Henry, emphasised the need for industry-wide bargaining of the sort Sanders proposed, and said that candidates who declined to support the union's plan 'can't count on our support.'
Henry said in an interview that Sanders had answered 'the demands he's been hearing from fast food workers,' which the union has been working to organise.
The Sanders campaign worked closely with the SEIU and other unions on the plan before rolling it out, according to a campaign aide.
Making it easier for workers to unionise would generally benefit Democratic candidates, according to both supporters and opponents of such proposals. Union members often play a key role in canvassing voters, and members tend to vote for Democrats at higher rates than other voters with similar demographic characteristics.
'Research indicates that unions can shape the ways that their members think about politics,' said Alexander Hertel-Fernandez, a political scientist at Columbia University who studies the politics of labour.
Other candidates, including Mayor Bill de Blasio of New York, have also proposed significant overhauls of labour law.