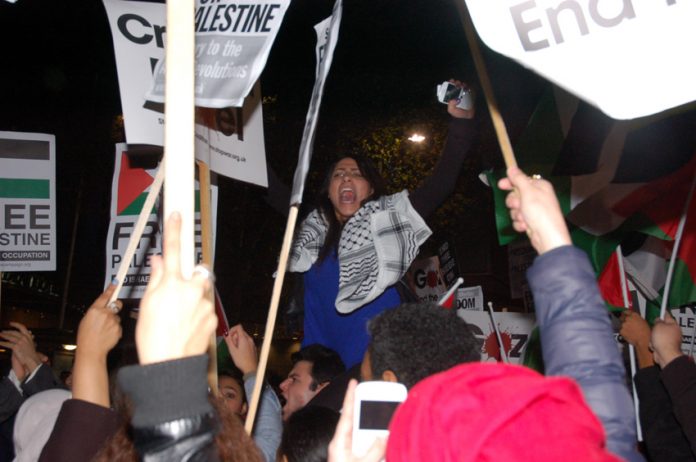 'FREE, free Palestine! Israel is a terror state!', over 2,000 protesters chanted at a picket of the Israeli embassy in west London on Thursday night.
They chanted: 'From the river to the sea, Palestine will be free! Zionism is terrorism! We are all Palestinians!'
The huge response to the emergency picket called by Stop the War coalition and Palestine Solidarity Campaign came in the wake of the wave of Israeli airstrikes, tank strikes and naval missile strikes that killed 18 women, children and militants, and wounded hundreds over 24 hours.
Hamas has vowed to avenge the death of its leading military commander Ahmad al-Jaabari, who was killed by an Israeli drone on Wednesday, and is preparing for a full-scale land invasion.
'It's amazing to see such a united spirit,' Zhara Jaffer from Portsmouth told News Line at the embassy picket.
She continued: 'It's inhumane what's going on in Palestine.
'Loads of innocent lives are being destroyed for no reason.
'I want to see an end to the occupation, an end to the deaths.'
Chris Darwa, an Australian living in London, said: 'I'm here because I'm supporting the truth.
'The media make much of Israeli deaths and play down Palestinian deaths.
'Eighteen Palestinians have been killed in 24 hours, mostly women and children.
'It's too much propaganda. It's nice to see so many people here tonight.
'There has to be non-violent action against Israel by workers in the West.
'They must boycott Israel. The Israeli bombardment is an atrocity.'
A young Kurdish mother from north London, Belgizar Toprak, added: 'I'm here because I want this war to stop.
'I want freedom for Palestinians and I don't want any more innocent people to die.
'I'm here because I'm a human being and I understand their pain.
'We need action, we need to boycott Israel.
'The British trade unions should take action against the British government because of its support for Israel.'
Taher Dirwi, from the Palestinian Forum in Britain, told News Line: 'I'm here to send two messages.
'First, to the Palestinians who are under attack from Israel in Gaza.
'We say to them "you are not alone, we are the British society, freedom lovers. We are all Palestinians and we support you in this hard time".
'We are the representatives of Britain not William Hague, nor the prime minister, who are equalising between the victim and the oppressor.
'The second message is to the prime minister and his foreign secretary, that "by equalising the victim and the oppressor you are partner of the war crime that is being committed by Israel".
'We tell Hague and Cameron "You will be responsible for this war crime. You are damaging UK society" because at least three million British people are from Arab or Muslim origin.
'The UK government statement is angering them.'
Muhammad Farouk, a half-Palestinian, half-Egyptian youth living in the UK, said: 'Israel has been doing this for a long time.
'For more than 60 years, they've been attacking Palestine.
'We can do nothing about it until we fight back.
'They attacked Gaza yesterday and today and today the Palestinians got them back.
'This is going to happen until the Israelis stop.
'It's time for a new Intifada. It's time for a change.'
Young Egyptian Nadia added: 'I'm here because Israel launched yet another attack on Gaza.
'I'm here to demand an end to the illegal entity of Israel and for freedom for Palestinians and their land back.
'Egypt should support Gaza militarily and open the borders.'
Mujahid Dattani, a Canadian from India living in London, said: 'The recent act of aggression by the state of Israel in the occupied Palestinian territory is what brought me here tonight.
'This picket demonstrates the unequivocal need to show the state of Israel that people who respect human rights and the rule of law will express their outrage.
'I would like to see the international community act upon the innumerable (UN) Security Council resolutions that Israel has trampled upon with impunity.
'Workers should boycott Israel and Israeli goods.
'The trade unions should lead this.
Suleiman Patel from East London told News Line: 'I believe the Zionist entity is an aberration.
'It steals and expropriates land from people who have lived there for centuries.
'The air strikes are nothing to do with rocket fire.
'The Israelis are using fighter jets against Gaza which has been under siege for years and has nothing.
'The Gazans have no way to escape.
'There has to be another Intifada. There's only one language the Israelis understand.
'Your can't have negotiations with someone who thinks they have racial supremacy.
'They defy international law for the Zionist state to exist.
'Workers here in Britain should boycott Israel.
'The trade unions should lead a boycott, they are supposed to stand up for those who are trodden down.'